Asvini Keerawella
Program Director, National Programs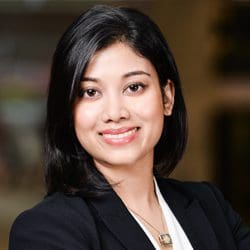 Asvini Keerawella
Program Director, National Programs
Asvini leads projects focused on the implementation of strategic priorities across the MaRS Venture Services team. Most recently, she's helped run the Women in Cleantech Challenge, a joint collaboration between MaRS and Natural Resources Canada. The goal of the challenge is to identify and empower top female innovators from across the country who are developing technologies to tackle the world's most daunting environmental challenges.
Prior to joining MaRS, Asvini worked at Oracle Canada where she headed projects that introduced customized software solutions to improve operational efficiency and client management processes. Before that, Asvini worked at a boutique consulting firm where she helped clients develop their learning and development strategy.
Asvini has an MBA from the Schulich School of Business, York University, and a B.A. in economics from the University of British Columbia.