Where Does The Money Go?
MaRS began as a public-private partnership. And a range of partners, from government and business—as well as individuals—continue to support our work. MaRS is an independent charitable organization (not, as people sometimes think, part of the government, a hospital or a university).
Your contribution supports our core mission: driving economic and societal prosperity by harnessing the full potential of Canadian innovation.
Please note that while MaRS actively supports entrepreneurs and their ventures through a range of services, as a charitable organization, we are unable to offer financial support to individuals or organizations through sponsorship dollars.
---
Charitable registration number:
MaRS is a registered charity. Our charitable registration number is 876682717-RR0001
---
How to donate to MaRS:
For more information about donating to MaRS, please contact Ron Dizy at rdizy@marsdd.com.
---
What is the impact of MaRS?
Check out this infographic: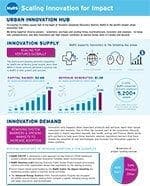 MaRS Results 2015 – Scaling Innovation for Impact