Learn about Meeting and Event Space
Is your organization looking for meeting rooms or event space? MaRS offers a variety of space and room options that can be tailored to suit your needs. Take advantage of our catering and AVS services to help complete your event.
You can also use our comprehensive Venue Guide, which gives an overview of the MaRS Centre event spaces, our team and other essential information you need to successfully plan your event.
Meeting Rooms
Looking for a meeting room? The flexible Collaboration Rooms (CRs) on the ground floor of the MaRS Collaboration Centre host groups in a variety of interaction formats, from small conferences to brainstorming sessions to meetings. State-of-the-art audio visual technology, wireless Internet connectivity, modern furnishings, warm wood accents, natural light—plus patio access in several CRs—make these rooms highly sought-after meeting venues. Each room offers versatility and various setup styles.
Overview:
| | | |
| --- | --- | --- |
| Collaboration Room | Staging | Capacity |
| CR-1 | Boardroom | Up to 10 people |
| CR-2a/2b | Flexible 900-square-foot room | Up to 48 people in round tables |
| CR-3 | Flexible 1,100-square-foot room | Up to 72 people in round tables |
| CR-4 | Video conferencing boardroom | Up to 12 people |
Event Space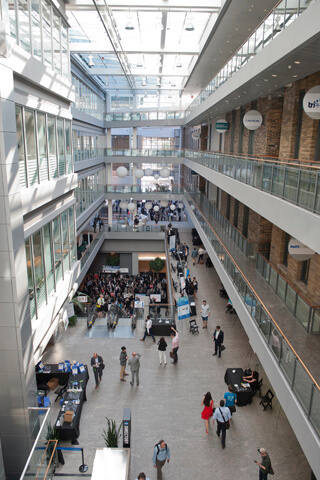 Looking for an event space? The MaRS Centre atrium and auditorium accommodate larger conferences and exhibition-style events with capacity for up to 350 people. Event spaces are multi-purpose and can be staged to suit your event.
Atrium
The MaRS Centre's spectacular four-storey, 62-foot-high glass atrium welcomes visitors entering the building. Natural light floods this stunning, contemporary space, which is anchored by the original brick façade of the old Toronto General Hospital. A blend of historical and modern architecture provides the perfect backdrop for events ranging from symphony performances and exhibitions to lectures and receptions.
Auditorium
Located on the lower concourse, the auditorium is a single-level, multi-purpose room with approximately 4,700 square feet of usable space and a maximum seating capacity of 350 people. A contemporary and warm space, the auditorium can be configured to suit your needs. Partitions are available to divide the room into three separate spaces. Portable risers can be used to create theatre-style seating. Multiple ceiling rigging points allow for easy mounting of stage lights and other equipment.
Lower Concourse
The lower concourse of the MaRS Centre provides a 4,500-square-foot event space that accommodates up to 300 people. Events can be arranged reception-style in this inviting and open space. This area can only be booked in conjunction with the Auditorium.
Rates & Capacity
Download our MaRS Event Space Rate Card and Capacity Chart to learn more about room cost and guest capacity. Please note there is a 20% discount for non-profits, government and MaRS tenants.
Interested in booking a meeting room or event space at MaRS?
Request Meeting Space