Last week, nearly 200 tech enthusiasts gathered in the MaRS Centre Phase 2 to explore health applications for wearable technologies. The sold-out event included many exciting announcements, discussions and demonstrations. In case you missed it, we've recapped the highlights below.
Paper launch: 'Wearable Technology – Leveraging Canadian Innovation to Improve Health'
Hadi Salah, life sciences and healthcare industry analyst for MaRS Market Intelligence, announced the release of our new Market Insights white paper. The free report, "Wearable Technology – Leveraging Canadian Innovation to Improve Health," discusses the thriving wearable startup ecosystem in Canada and highlights key innovators, researchers, investors, trends and challenges, with an emphasis on health applications.
Rebranding: We Are Wearables
Wearable Wednesday Toronto (WWTO) is a monthly meet-up group where wearable tech enthusiasts gather to discuss new devices, companies and applications in the wearables space. MaRS partnered with WWTO for this month's event and will continue to host and promote the group's meet-ups moving forward. Tom Emrich, WWTO organizer, took to the stage early in the evening to announce the group's rebranding as We Are Wearables, a name that better reflects the community-focused nature of the organization. He enthusiastically revealed that their expansion goals include providing education, collaboration opportunities and resources, in addition to the events they currently run.
Panel discussion: Wearables experts discuss challenges for health-focused startups
In support of our new Market Insights paper, the MaRS Market Intelligence team pulled together a panel discussion featuring:
Coming from diverse backgrounds, the panellists had contrasting opinions and perspectives on the wearables market. Attendees and hosts tweeted their favourite takeaways from the panel.
Demonstration: Thalmic Labs' Myo armband
After the panel, Scott Greenberg from Thalmic Labs took to the stage to demonstrate Myo, the company's wearable armband. In his demo, Scott used the movements of his arm to wirelessly control a quadcopter.
Myo senses electrical signals from the muscle activity in a user's arm and hand, including rotational movements. These signals are then interpreted by the unit and communicated via low-energy Bluetooth. Scott was able to control the movements of the quadcopter simply by gesturing. Learn more about the armband here.

Health applications for the Myo are easy to envision: the device's hands-free capabilities, combined with its Windows, Mac, iOS and Android compatibility, make it ideal for interacting with other devices in a sterile or aseptic environment. One potential use of Myo would involve physicians controlling other technologies in the operating room without the need to physically touch them, reducing concerns over contamination.
A number of Canadian wearables startups filled the room, taking the opportunity to demonstrate their technologies to attendees.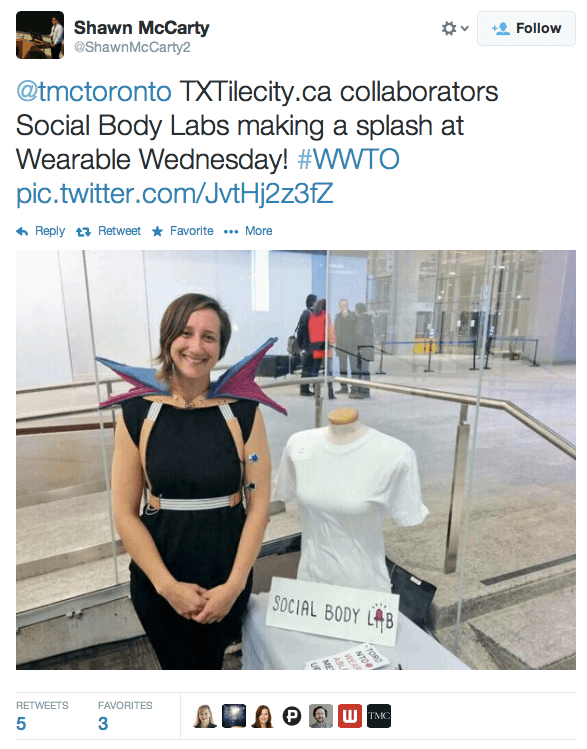 Innovation showcase: Canadian wearables on display
Take a moment to explore the startups' websites. Each exhibitor had a unique take on wearables!
What's next: More We Are Wearables events at MaRS
The first We Are Wearables event at MaRS was a resounding success that highlighted the strengths of Canadian tech innovators. Keep an eye out for the next We Are Wearables event, to be held in late April at MaRS.
Feature photo credit: Myo – Wearable Gesture Control from Thalmic Labs