Imagine a shareable city. What does it look like? Or are you asking: "What is a shareable city?"
The concept of shareable cities is a compelling interest of Cities for People, a new Canada-wide initiative that launched this month and is designed to make our cities more resilient. This month, Cities for People and Social Innovation Generation (SiG) co-hosted a national speaking tour featuring April Rinne, chief strategy officer of Collaborative Lab, and her approach to building shareable cities.
On February 11, April made her Toronto stop at MaRS in partnership with MaRS Global Leadership and SiG's Inspiring Action for Social Impact Series. Her message was poignant and clear: opportunities abound to build more shareable and sustainable cities through the collaborative economy.
It's time to seize these opportunities by "connecting dots, catalyzing ideas and building networks."
Dot 1: Learn
We must explore and engage in the collaborative economy, the space where the capacities, ideas, businesses, actions and policies for building resilient cities are fermenting and scaling. The collaborative economy includes all types of collaborative practice:
Dot 2: Embrace the shift
These practices leverage a major values shift from the burdens of ownership to the value of access that enables and requires a reimagining of our lifestyles, communities and marketplaces.
Dot 3: It's all about sharing
Valuing access prompts sharing assets and finding opportunities in idle capacity: all of our possessions (commercial or personal) that are underused or locked up by our proprietary ideals. Sharing unlocks wealth and value for our communities and ourselves, creating a sharing economy based on using existing assets more sustainably.
Dot 4: Connect needs with haves
When we think about how to match what we already have to what someone else needs more efficiently, new marketplaces and community connections are born and for innumerable reasons.
Savings and sustainability: An average car costs more than $700 per month, yet sits idle 23 hours a day. Why not create access to a pool of cars, optimizing their use and reducing costs and wasted resources? Enter Zipcar.
Exercise and community: Channel your passion for running to benefit your community by running to someone's house to help them out? They call it GoodGym.
Pet therapy and animal rights: Pets are left at home for hours during the day, while plenty of people want to play with or take care of your pet. What if you could connect? Yes, please BorrowMyDoggy.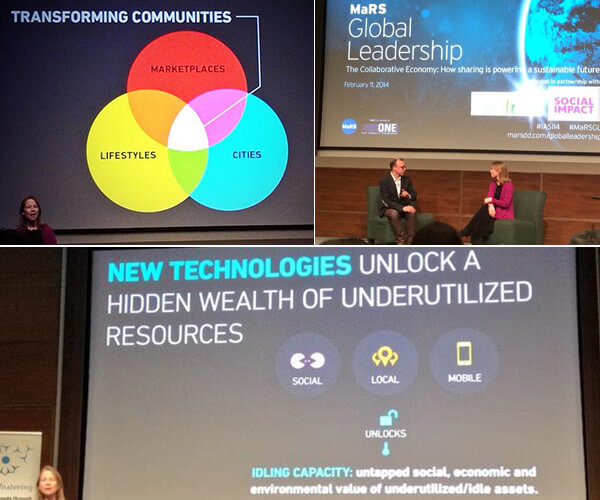 Dot 5: Know the drivers
What's common to these examples is their technology-enabled scale and scope, the defining characteristic of the collaborative economy. Three other key drivers are fuelling and powering this transformative trend.
A great power and trust shift away from centralized institutions toward networks of individuals and a human-centred peer revolution.
Economic realities remind us that "business as usual" can no longer be the status quo.
Environmental pressures and population growth demand that we transform how we see our habits, our businesses and our communities.
Connecting the dots: Powering a sustainable future and shareable cities
Collaborative platforms reimagine how we approach sustainability by transforming existing value chains and inspiring us to see abundance and opportunity, instead of scarcity, in the untapped capacity all around us. Cities can become meaningful enablers of the collaborative economy and platforms for sharing themselves, unlocking idle capacity at city hall and on our city streets. Municipal governments must jump in as regulators and service providers and to consider the following questions: How can we enable these collaborative economy innovations? How are they helping us to transform our service provision for communities? Who aren't we reaching?
These are the types of questions that Cities for People and April Rinne intend to provoke and help answer. You can watch her lecture video below.
The top 10 ways cities can become more shareable
To see what's happening in the Toronto collaborative economy, check out the Toronto Sharing Map