In This Section
downarrow
Seeding Success: Canada's startup accelerators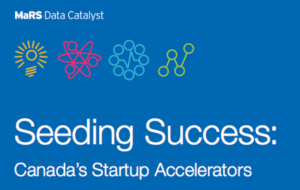 Accelerators. If you're an entrepreneur, you might be considering applying to one. If you're an investor, you've probably attended at least one Demo Day or maybe even invested in a graduate. And if you advise or work with startups, they're almost certainly on your radar.
MaRS Data Catalyst is excited to share with you Seeding Success, a report on the Canadian startup accelerator landscape.
You can download the report as a PDF here.
You can access the spreadsheet with our accelerator data used in the report on Google Docs.
Below, you'll find an infographic that contains a high-level overview of the data we found while doing our research. You'll also find some posts we've already published around our accelerator research.

Download the full report for more information. If you have any questions, please email the Data Catalyst team.
Helen Kula
Helen Kula is the former Manager of Data Product at MaRS Data Catalyst. While with Data Catalyst, she worked on acquiring, evaluating and linking data to build products that generate insight into Ontario's startups and the province's innovation economy. See more…
Recommended Content
Thank you. Your answers will help us customize the content to your interests.
Is this content relevant to you?