What is MaRS EXCITE?
The MaRS Excellence in Clinical Innovation Technology Evaluation (EXCITE) program is a part of the MaRS Health portfolio. We believe that innovations in health technology can significantly improve the care and well-being of patients everywhere and drive economic growth for Ontario. We work to break down the barriers between the health system and technology innovators to effect health system change.
Before taking their product to market, health technology innovators typically invest resources into testing their technology. Often, the results are sufficient enough to get licensing and regulatory approval, but not enough to show the value of the technology and convince the health system to invest and adopt it.
EXCITE connects health technology innovators with experienced, award-winning researchers to get the right evidence and data they need to show the value of their product and facilitates discussions with relevant health system stakeholders to determine what it takes to get their technology adopted successfully.
At the end of the program, companies will have:
a robust evidence package, called the EXCITE core evidentiary bundle, that they can use for both regulatory or licensing approval and reimbursement and purchasing reviews
experience connecting with the health system and relevant feedback concerning conditions needed for successful adoption of their technology
a commitment from the Ontario Ministry of Health and Long-Term Care to streamline the adoption of the technology into the health system (provided the results from the study are positive). This includes efforts to help the company achieve gross revenue within the first three years of completion of the study up to the amount invested to participate in the EXCITE program. To request a french copy of the letter, please email us at excite@marsdd.com.
See what EXCITE stakeholders have to say about the program:
Important Dates:
Application rounds are currently closed. Please stay tuned.
Please visit the "How to Apply to EXCITE" page for more details.
---
If you'd like to share EXCITE with your colleagues, download the EXCITE flyer.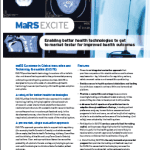 ---
Funding Opportunities for Health Technology Innovators in Ontario
If you are looking for funding, view the presentation below for a variety of programs, from seed funding to diffusion of technology, and more.