Our Approach
---
Mission:
Better lives. Stronger society.
MaRS Solutions Lab develops new solutions to improve the lives of people and strengthen the resilience of society.
Around the world, societies face complex challenges in a time of transformation. While we move towards a knowledge society, we see public resources diminishing, institutions in crisis and systems in need of change. But problem-solving capacity of society is on a record high – people are more educated and informed; technology enables society to perform complex, collaborative tasks cheaply, quickly and easily; there is more private capital for social good than ever before; and many people want to be engaged in creating a better world. But to create the change necessary to tackle complex social and economic challenges, we need people and institutions to work together to develop system-wide solutions.
As a public and social innovation lab, the MaRS Solutions Lab brings together governments, foundations, corporations, non-governmental organizations, academia and the greater community to help unravel complex problems from the citizen's perspective. We collaborate with users and stakeholders to develop, prototype and scale new solutions, and create opportunities to learn how to change the systems that help us thrive in the 21st century.
MaRS Solutions Lab was created in the spring of 2013 through a generous gift honouring the remarkable contributions of Dr. John Evans, Chair Emeritus and co-founder of MaRS Discovery District. The lab is part of a global movement where several countries are using public and social innovation labs to tackle society's most intractable problems. Such labs include MindLab (Denmark), Kennisland (Netherlands), Nesta Innovation Lab (UK) and The Govlab (US). For more on labs, read the MaRS report Labs: Designing the Future.
---
What We See:

As our world becomes increasingly complex, so too are our problems. Across society, there is a growing recognition that our traditional approaches to problem-solving are no longer sufficient to tackling complex challenges; challenges to which there are no easy answers, and answers that demand action by many different individuals and organizations.
---
What We Need:

MaRS Solutions Lab helps to understand complex problems in new ways. Complex challenges comprise of individuals (users), organizations (institutions), and their interactions with one another (the system). The first step to solving problems more effectively and collaboratively is to see it from these different perspectives. We then create space for experimentation, through facilitated processes, and, once promising ideas are identified, to prototype, test, and scale those solutions.
---
Our Approach:

MaRS Solutions Lab is a public and social innovation lab that helps to solve complex social and economic challenges. The lab brings together stakeholders from across society to help solve these problems collaboratively. We help governments to modernize their policies, institutions to find new insights and work collaboratively, and equip people and organizations with tools and techniques to create change.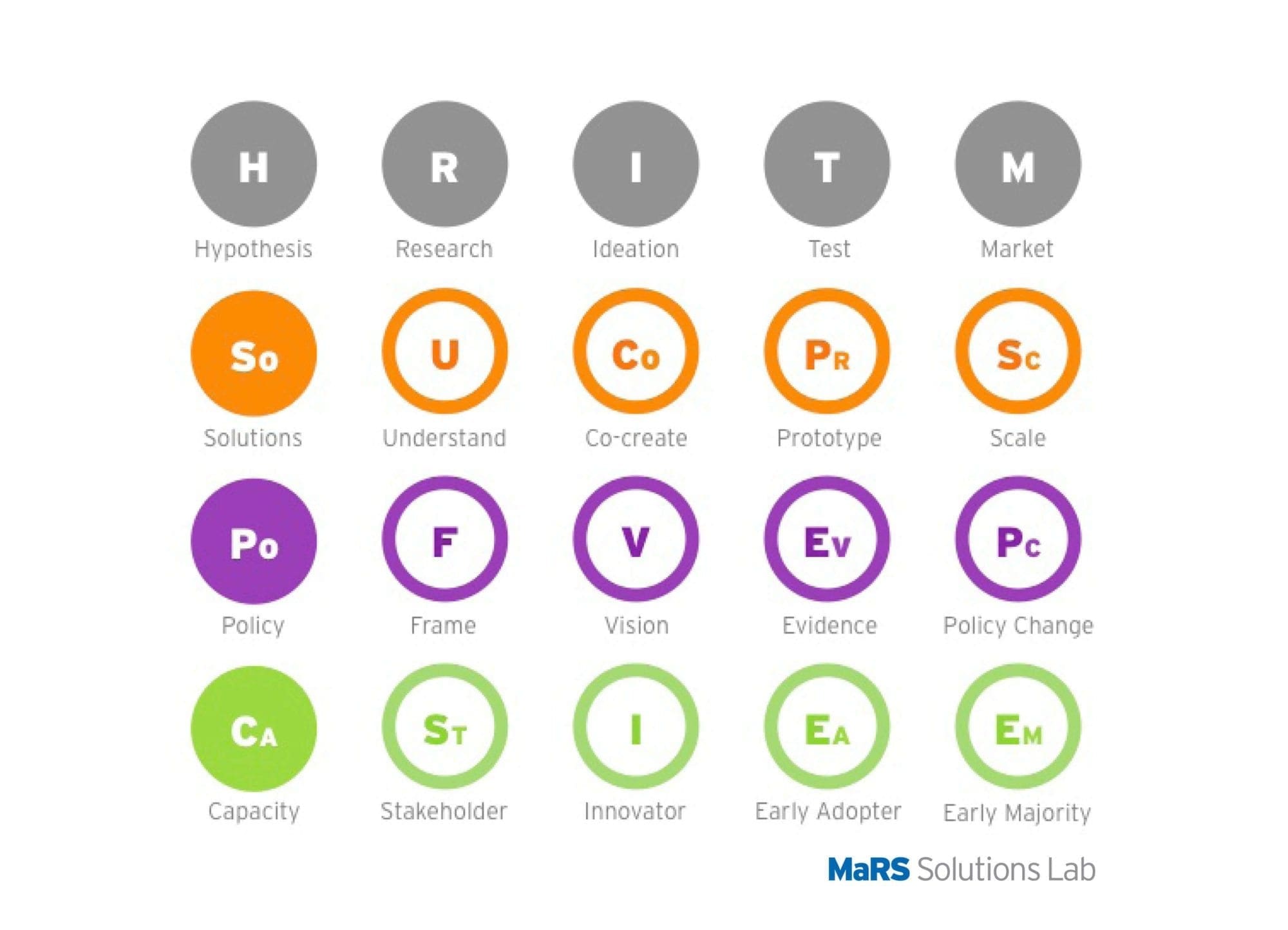 Blending together design and systems thinking, the "Periodic Table for Systems Change" is our process and strategy to address complex societal challenges. Incorporating the scientific method from hypothesis to market, the three streams of work – Solutions, Policy, and Capacity – complement one another to create system change. Since innovation does not follow a prescriptive plan, there are multiple variations in how to implement the various elements within the Periodic Table.
Solutions: At the MaRS Solutions Lab, we specialize in designing and facilitating the very process that brings about innovative thinking and ideas. We create space for experimentation and design a rigorous process that takes a diverse group of people on a journey to understand, co-create, and prototype solutions together. Then, we take solutions that work and help them scale to affect greater change.
Policy: Through convening stakeholders from across society including government and industry partners, MaRS Solutions Lab acts as a neutral convener that helps design policies and strategies that support innovation. We specialize in designing and facilitating complex engagements, bringing in insights from different perspectives (user, institution, and system). This process of bringing people in the loop early on also facilitates scaling later on to generate the greatest impact.
Capacity: MaRS Solutions Lab helps to build capacity for change through training, advice and events. Change does not happen in an instant. When a new idea is introduced, we require people and organizations to take up new thinking and change their behaviour. Therefore, it is necessary to build the capacity of people and institutions to welcome and apply new solutions. One crucial way to do this is by creating a movement so that the rate of adoption can be expedited from the initial stakeholder group to majority of our citizens.
---
Partners:
The challenges the MaRS Solutions Lab is working on cannot be solved by one organization alone. We collaborate with many partners from across society that provide expertise, capacity to act and kindly support our work.
Main partners:
Challenge partners:
Collaborators & Project partners:
…And many other individuals and organizations that are committed to create system change.

MaRS Solutions Lab's approach for systems change is licensed under a Creative Commons Attribution-NonCommercial-ShareAlike 4.0 International License.