The business and design of healthcare for our coming of age
Do you feel trapped between your job and caring for your family? Do you fancy a pillbox that reminds you to take your pills, or a mouse that measures your blood pressure? Can you imagine your life without your driver's license?
This year's Sanofi Pasteur Healthcare Venture Challenge had an unusual twist with a particularly wicked challenge: helping seniors live life to the fullest. The theme of the challenge was "Boomer Life to ZoomerLife: Re-Designing Healthcare for our Coming of Age."
On April 23, six teams of graduate students from York University's Schulich School of Business and OCAD University came together to pitch their designs and to demonstrate the empathy, creativity and entrepreneurial spirit that emerge when healthcare meets business and design.
You can watch the webcast here.
The day began with Dr. Samir Sinha, director of geriatrics at Mount Sinai Hospital and University Health Network and the provincial lead on Ontario's Seniors Care Strategy, addressing the ZoomerPlex studio full of seniors, policymakers, entrepreneurs, healthcare professionals, faculty and students with a passionate call to action: "Will boomers bankrupt our healthcare system? Only if we do nothing."
The design teams responded with intriguing propositions.
Changing Gears is a partnership with the Canadian Automobile Association that will deliver an integrated series of programs to help transition and counsel seniors who are at risk of losing their driver's licenses. The team's slogan: Lose your license, not your lifestyle.
The Beat is a computer mouse with an integrated blood pressure monitor sensor and hypertension medication reminder that works wirelessly with an online ecosystem of services. The device is designed to be a seamless part of one's daily activities that does not need to be worn.
Comfort Care is an online directory of curated home-care services and other caregiving resources designed for "sandwiched" women who are juggling work with care for both children and elderly parents. The director is created in partnership with Shoppers Drug Mart Women.
Pillar is a pillbox that holds multiple medications and features programmable visual and audio reminders while also tracking medical adherence. Pharmacists who fill and program Pillar can also access customer relationship tools.
Connected Care is an all-in-one diabetes personal information manager that tracks health status, provides links to personalized best practices, manages specialist visit schedules and provides checklists for those visits. The team's metaphor, that we deserve better information for the "war with diabetes," struck a chord in the studio.
Fulfil is a marketplace for multicultural home caregiving services provided by "Fulfillers," part-time domestic workers and personal support workers. Fulfil matches family caregivers to the Fulfillers who can best meet their cultural and caregiving needs.
The tough panel of judges consisted of:
Susan Eng, vice-president for advocacy at CARP Canada;
Grant Tipler, head of life sciences and health services at RBC;
Wendy Campbell, active retiree and author of the blog Creative Forces; and
Dr. Dorian Lo, executive vice-president of pharmacy and health at Shoppers Drug Mart.
In addition to the panel, the 150 guests at the event were given $100,000 of Boomer Life to ZoomerLife "money" to "invest" in the designs of their choice.
Paradigm shift
While the judges deliberated, MaRS' own Zayna Khayat treated the event attendees to a presentation. She warned the studio audience of the coming paradigm shift from a legacy healthcare system that is one-size-fits-none, institution-centred, physician-centred, paternalistic, reactive and volume-based toward a "democratized" system that is tailored, dephysicalized, disintermediated, empowered, proactive and value-based.
Zayna urged students, seniors and healthcare leaders to demand more of Canada's healthcare system and encouraged innovators to keep innovating. Her final tongue-in-cheek slide, depicting Isaac Cordal's "Follow the Leaders," a tiny cement sculpture of politicians discussing climate change, challenged the audience to either drown while doing the same or to rise with the paradigm shift.
The social wins
All of the teams were evenly matched. In the end, the judges made a consensus choice with Fulfil for fulfilling the major gap in culturally appropriate home caregiving services with fair labour practices. The Citizens' Choice Award, for the team that raised the most "money," went to Pillar.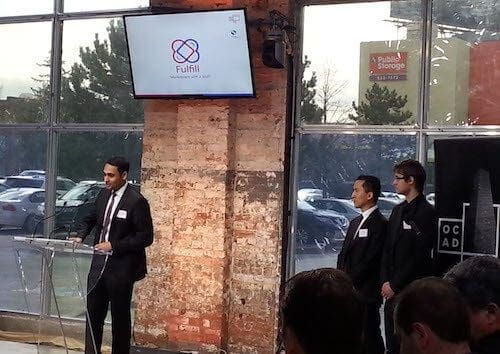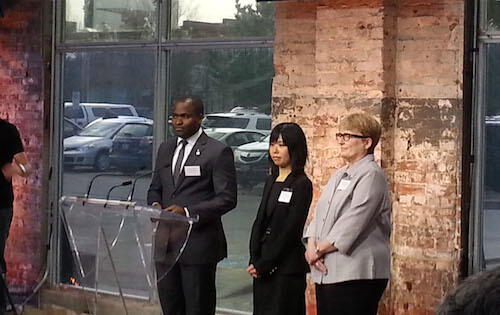 The final event of the day was a fireside chat led by journalist Mary Lou Finlay and Brenda Zimmerman, professor in the Schulich School of Business, with participants Ilse Treurnicht, CEO of MaRS; Jeremy Laurin, president and CEO of ventureLAB; and Helen Kerr, professor at OCAD University. The differences between the judges' and the audience's choice of venture did not go unnoticed. Right now many of the decisions surrounding our healthcare system tend to be skewed toward the system itself.
The panellists noted the different foci of these hybrid teams of healthcare, business and design. The teams were designing with the user in mind, but they also focused on families and relationships. The social aspects played much bigger roles in driving their design choices and directions.
Changing Gears targeted adult children and spouses of seniors at risk of losing their licenses, while The Beat played off of the importance of staying healthy to be there for one's family and Pillar warned of the devastating impact missed medications can have on families. Fulfil, Comfort Care and Connected Care all focused on supporting family caregivers and, in particular, "sandwiched" caregivers caring for both their children and their parents.
The teams also embraced Zayna's "democratization" paradigm shift with much of their efforts focused on empowering users, meeting the needs and circumstances of seniors and their families, and delivering on values rather than volumes.
When healthcare met business and design
The Health Industry Management Program (HIMP) is a specialization within the Master of Business Administration Program at the Schulich School of Business, York University. To celebrate HIMP's 10th anniversary, Brenda Zimmerman, director of the program, wanted to create an experience for students, alumni and supporters that would be both valuable and inspirational.
The idea was simple: bring together passionate people from healthcare, business and design to generate people-centred ideas and turn them into viable businesses or interventions that will scale. With support from the program board, Brenda teamed up with Kelly Parke, an instructor at the Schulich School of Business; Lenore Richards, director of the Master of Design in Strategic Foresight and Innovation Program at OCAD University; and Helen Kerr, to test this idea as a healthcare design challenge.
A partnership was formed with MaRS, ventureLab, Sanofi Pasteur and the Geriatrics Program at Mount Sinai Hospital, and Dr. Samir Sinha became a key driver who helped shape the program and provided insights into promising themes to explore. As the challenge developed, ZoomerMedia, CARP and Shoppers Drug Mart also joined in.
The challenge focused on several themes to help "boomers" become "zoomers"—that is, helping them to improve their healthcare experiences and live their lives to the fullest. The student teams had 12 weeks to design interventions for seniors themselves (rather than the healthcare system) with the intention to scale.
Each team was made up of two second-year HIMP MBA students and a student from OCAD's Master of Design in Strategic Foresight and Innovation Program. The teams included engineers, physicians, IT specialists, a journalist and students with expertise in psychology, sociology, art history, adult education and science.
Each team was also supported by advisors from the schools' faculties, as well as alumni and community members interested in aging and design. The MaRS Entrepreneurship Education team worked with the students on their business models and venture pitches.
Cultural clash was inevitable, but the team members began to learn from one another and to adjust their lingo and their ways of thinking. The business students learned to take time to understand the problems from seniors' perspectives and began to internalize design principles. The design students began practising GEPO (Good Enough Push On) and other business buzzwords. The end results of their clashes were markedly different in the best ways possible.
The future is already here
"It's just not very evenly distributed." —William Gibson
Our healthcare sector is not short on good ideas; however, the scalability of these ideas is often a stumbling block for innovators. Ontario healthcare veterans can all point to the many great ideas that have died or, worse, are still languishing in perpetual pilot land. Scaling ideas to meet the needs of our seniors across the province and the country has become increasingly crucial.
Brenda Zimmerman and the rest of her team hoped that bringing three schools of disciplines—healthcare, business and design—together could bring fresh perspectives to current issues, as well as sustainable interventions that continue to grow in the new paradigm.
The coming paradigm shift has not gone unnoticed in our healthcare system. Many of our healthcare leaders have begun experimenting with new approaches to delivering care. Cancer Care Ontario, University Health Network, the Centre for Innovation in Complex Care, Women's College Hospital, the Hospital for Sick Children and the Centre for Addiction and Mental Health are just a few of the institutions that are trying design-thinking and other alternatives for developing better care.
Are you getting ready for our healthcare system shift?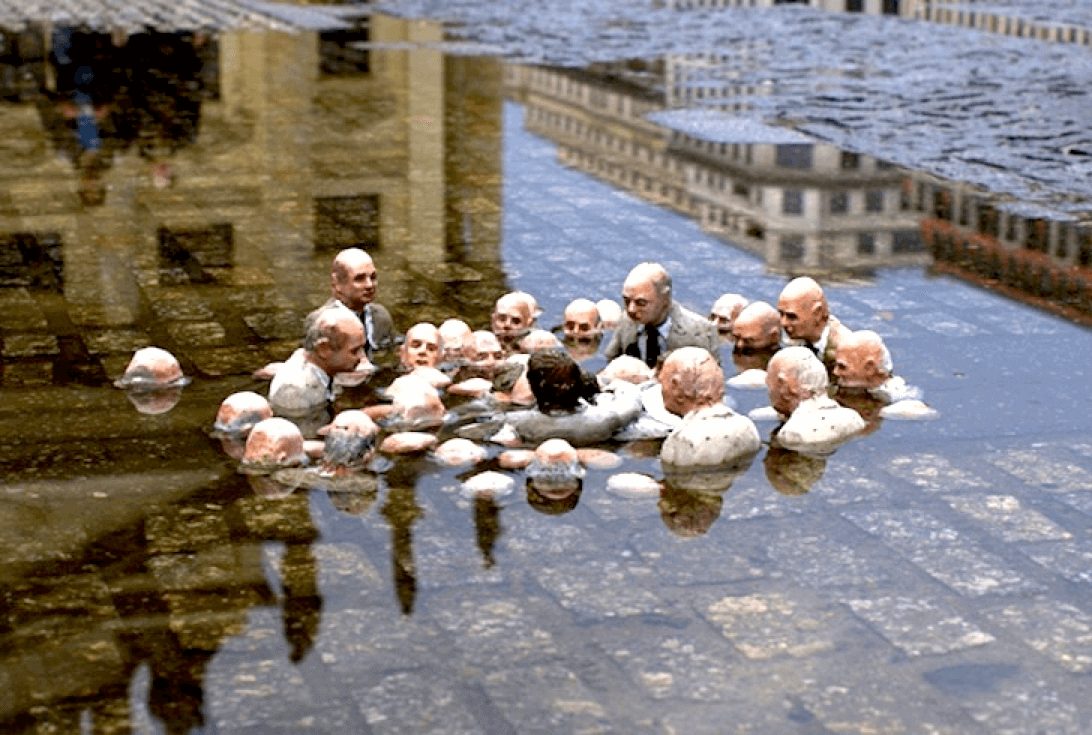 Filed Under