Allyson Hewitt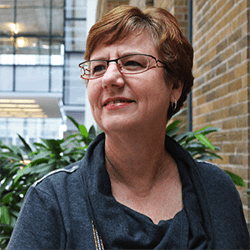 Allyson Hewitt
With support from the JW McConnell Family Foundation and the Province of Ontario, Allyson has assisted hundreds of social ventures to become economically sustainable and increase their social impact. She has developed and helps lead the social innovation programs at MaRS, including the national initiative Social Innovation Generation (SiG); the social finance programs of the Centre for Impact Investing; the MaRS Solutions Lab, a change lab designed to tackle complex challenges; and Studio Y, an initiative designed to support youth in thriving in the new economy. She has also been instrumental in growing the social innovation ecosystem; conducting public education; and influencing public policy. She also led an initiative to develop a pro bono marketplace for Canada.
Allyson is also the Social Entrepreneur in Residence at the Conrad Centre at the University of Waterloo, where she helps teach the Social Entrepreneurship and Corporate Social Responsibility courses in the Master in Business, Entrepreneurship & Technology Program. She is a sought-after educator, mentor and social venture competition judge for programs that include the Social Innovation Graduate Diploma and the Lougheed Leadership program at the Banff Centre. Allyson is also a member of the Dean's Council at the Ted Rogers School of Management at Ryerson University, where she helps lead the social responsibility work.
A life-long social innovator, she last worked at SickKids where she led Safe Kids Canada and was a passionate advocate for children.  She was also the Executive Director of Community Information Toronto where she initiated 211, providing streamlined access to human service information.  For her leadership on this social innovation she received the Head of the Public Service Award and several other prestigious awards for meritorious public service.
Allyson's academic background is in Criminology, Law, Public Affairs, Voluntary Sector Management and Organizational development, including Leading Change.
Contact:
T 416-673-8410
F 416-673-8181
Email: ahewitt@marsdd.com