Kathleen Gnocato
Director, Product Development & Strategy, MaRS Partnerships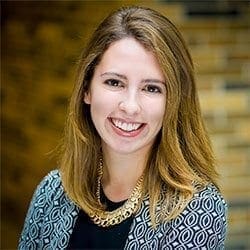 Kathleen Gnocato
Director, Product Development & Strategy, MaRS Partnerships
Kathleen Gnocato is Director, Product Development & Strategy with MaRS Partnerships. In this role, Kathleen convenes and supports start-ups, clients, and partners as they work together to navigate industries in the midst disruption and change. In this client-facing work, Kathleen is passionate about addressing the world's complex problems with innovation and positioning Canada as a leader in the innovation economy.
Leveraging her experience with complex problem-solving and human-centered design practices, Kathleen is responsible for the design and development of MaRS products and services to a range of clients. Clients include corporates, non-profits, regulators, government entities, electric utilities, large-scale generators, healthcare providers, and financial institutions. Kathleen also manages project delivery teams and internal resourcing to support the successful delivery of projects in Canada, the U.S. and South America.
Kathleen's professional background includes an advisory role at Canada's Permanent Mission to the United Nations in New York and collaborative projects for the UN Office for the Coordination of Humanitarian Affairs, the Foundation for the Defense of Democracies and the MaRS Centre for Impact Investing. With a passion for innovation and entrepreneurship, Kathleen is also the program manager of the Global Ideas Institute based out of the Munk School of Global Affairs.
Kathleen holds a Master's of Global Affairs from the University of Toronto's Munk School of Global Affairs and a BAH from Queen's University.