René Azeez
Senior Director, Strategy & Sustainability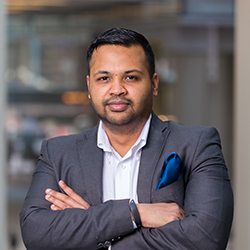 René Azeez
Senior Director, Strategy & Sustainability
René Azeez is the Senior Director of Strategy and Sustainability at the MaRS Discovery District where he leads the conception, prioritization, and execution of high-impact initiatives that drive value for the Canadian venture ecosystem and contributes to the long-term financial sustainability of MaRS. His MaRS experience has also included leading venture-facing teams responsible for driving engagement with the startup and growth stage portfolios across all technology and science sectors (health, cleantech, software, fintech, emerging technology), transforming operations to improve key performance indicators and corporate scorecard metrics, co-developing venture programs and products, designing and implementing departmental objectives and key results to drive organizational performance, and participating in ecosystem engagement and strategy.
He brings a wealth of experience to MaRS, having spent time in leadership positions as both a senior strategist and management consultant over the past 13 years. He led a consultancy team that developed high stakes go-to-market strategies for some of the world's largest pharmaceutical multinational corporations including Pfizer, Roche, and Baxter as a Senior Strategist with Publicis Health. As a Market Insights Manager with the Decision Resources Group (now Clarivate Analytics) he has also led global teams of analysts that produced syndicated and custom market research for the world's largest medical device multinational corporations including Johnson & Johnson, Medtronic, and Siemens to support IPO, global expansion and M&A, and product and pricing strategies.
René attended Woodsworth College at the University of Toronto, where he achieved an Honors BSc. in Developmental Biology. He also has an Executive MBA from HEC Paris, the number one ranked Executive MBA in the world (Financial Times, 2022), with a specialization in Entrepreneurship and Innovation. He was awarded the Best Award 2022 by HEC Paris in recognition of his academic performance.