Sarah Martin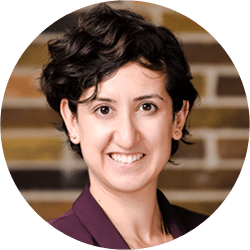 Sarah Martin
Sarah Martin is manager of partner success at the Advanced Energy Centre (AEC) at MaRS. In her role, Sarah works with the centre's partners and key industry players to address the barriers to adopting innovation in the energy sector. She helps effectively communicate the AEC's value as a neutral third party in this space, developing thought leadership and sector insights.
Prior to joining the Advanced Energy Centre, Sarah spent five years at the World Resources Institute (WRI) in Washington, D.C. At WRI, Sarah worked with the Global Energy Program and Governance Center of Excellence to investigate global energy and governance related issues in the sector. Her work concentrated primarily in South and South East Asia, focusing on integrated resource planning and renewable energy policy and regulation.
Sarah graduated with a degree in international studies from Glendon College, York University, where she also received a certificate of bilingual excellence. This was followed up with a masters in environmental studies from York University. She also spent a year in Paris, France, where she earned an international diploma from Sciences Po, Paris.