On a recent evening, 14-month-old Daniel went to bed at 7p.m.; 90 minutes later, he was awake and hell-bent on partying. As the clock struck midnight and the party was still raging, Saro Khatchadourian looked at his wife, Racha, bleary-eyed and said "I've got to get to bed, I have a work call at 7 a.m." 
Racha Tfaili looked back at her husband with the same weariness and said "So do I."
When 7 a.m. rolled around, the couple did what they now often have to do, as two full-time tech sector employees and as two full-time parents of a busy toddler: They split off, one to the basement of their home in Whitby, Ont., the other to the living room listening to a meeting on mute while Daniel enjoyed yet another episode of Super Simple Songs on YouTube.
"We're not winning 'Parents of the Year' this year, that's for sure," says Khatchadourian, who leads a global public affairs team at Cisco Systems Inc., and who, after our phone call, also had to manage a diaper explosion and subsequent toddler meltdown. He's on early morning calls, and late night calls and he's sneaking in work on Saturdays. There's zero time for him and Racha, who is just starting a new job after mat leave, to recharge.
The COVID-19 global pandemic has created a ticking time bomb for working parents: Their childcare options have been ripped away in the interest of public health and safety, they've become de facto homeschool teachers, and their work expectations have, in many cases, ramped up as companies pivot to the new realities of doing business during a global pandemic. As uncertainty still looms over what the next school year will look like, working parents are reaching their breaking point.
"Workplaces are not set up for dual working families" nor single parents, for that matter, says Jennifer Hargreaves, founder and CEO of Tellent, a job board and virtual networking platform. But this massive disruption does present an opportunity: And that's the chance to institute true flexibility for the long run.
"COVID has catapulted employers' institutional mindsets about flexible work into the future," Hargreaves says. "This can only be a good thing for how we work, and how we measure productivity." It can be utterly transformative for tech companies trying to adapt to an uncertain future in the short term and beyond. Here's how.
How flexibility can fix an unsustainable status quo
Tech giants like Facebook and Google set the standard for in-person employee perks like free lunch and ping pong tables galore. Countless tech companies followed in their footsteps, investing millions in their physical workspaces. But in the early days of the pandemic, many were reluctant to embrace work-from-home as their default setting, even as those behemoths (including Shopify here in Canada) adopted permanent remote work arrangements, says Stacy Parker, the managing director and co-founder of Blu Ivy Group, which helps companies develop their brands and workplace culture. "I think what shocked organizations is how quickly they were able to pivot and how effectively talent was able to drive productivity right out of the gate." 
Flexibility has emerged as one of the most appealing working conditions for employees: Blu Ivy's COVID Employee Experience Survey, conducted in April, found that flexibility is a top priority for 59 percent of respondents. Tellent's spring survey of HR professionals and recruitment managers reported that 88 percent think employees will continue to expect flexible work options after the pandemic ends and that companies will respond in kind. Prior to the pandemic, "people were criticized if they were home more than one day one week" one internal HR manager told Tellent. "This [experience] has transformed my thinking and how I evaluate working from home."
Ciaran, a software engineer in Ottawa who asked that his surname and the name of his global company not be used, has long been working from home, but had to shift his day to a 4 a.m. start since stay-at-home orders meant his three-year-old daughter couldn't attend daycare. His daughter's sleep regressed from the routine shakeup. "We haven't slept more than a few hours straight for four months." 
And yet, flexibility is what's been keeping him afloat. He had to chuckle to himself when the company's CEO, based out of San Francisco, sent a note praising everyone for working so well from home amid the pandemic. "I was like 'We've been doing this for years.' " This CEO is probably also noticing the massive financial incentives of remote work flexibility: Employers can save money on property rental space, and they can now hire employees from wherever they want.
If remote work wasn't really part of your company culture prior to the pandemic, instituting flexibility can feel like a daunting task. But it's really quite simple, and can start from the ground up.
The importance of talking to your employees 
Flexibility is not one-size fits all, says Hargreaves — it needs to be based on the employee's role, working style and responsibilities at home. So the best thing to do is to have a conversation with staff about what flexibility looks like to them. "Ask them 'How is work going to work best for you? How can you bring your A game? How can you be most productive? How can we support you in being the most productive you can be in these circumstances?'" Hargreaves says. 
And be sure to talk with all parents on staff — not just working mothers, she cautions. Women have been far more likely than men to bow out of work responsibilities to take on childcare or homeschooling during the pandemic, to the detriment of their careers. By talking to fathers as well about what flexible work arrangements would help them out at home, employers are (hopefully) helping to keep the "she-cession" from worsening.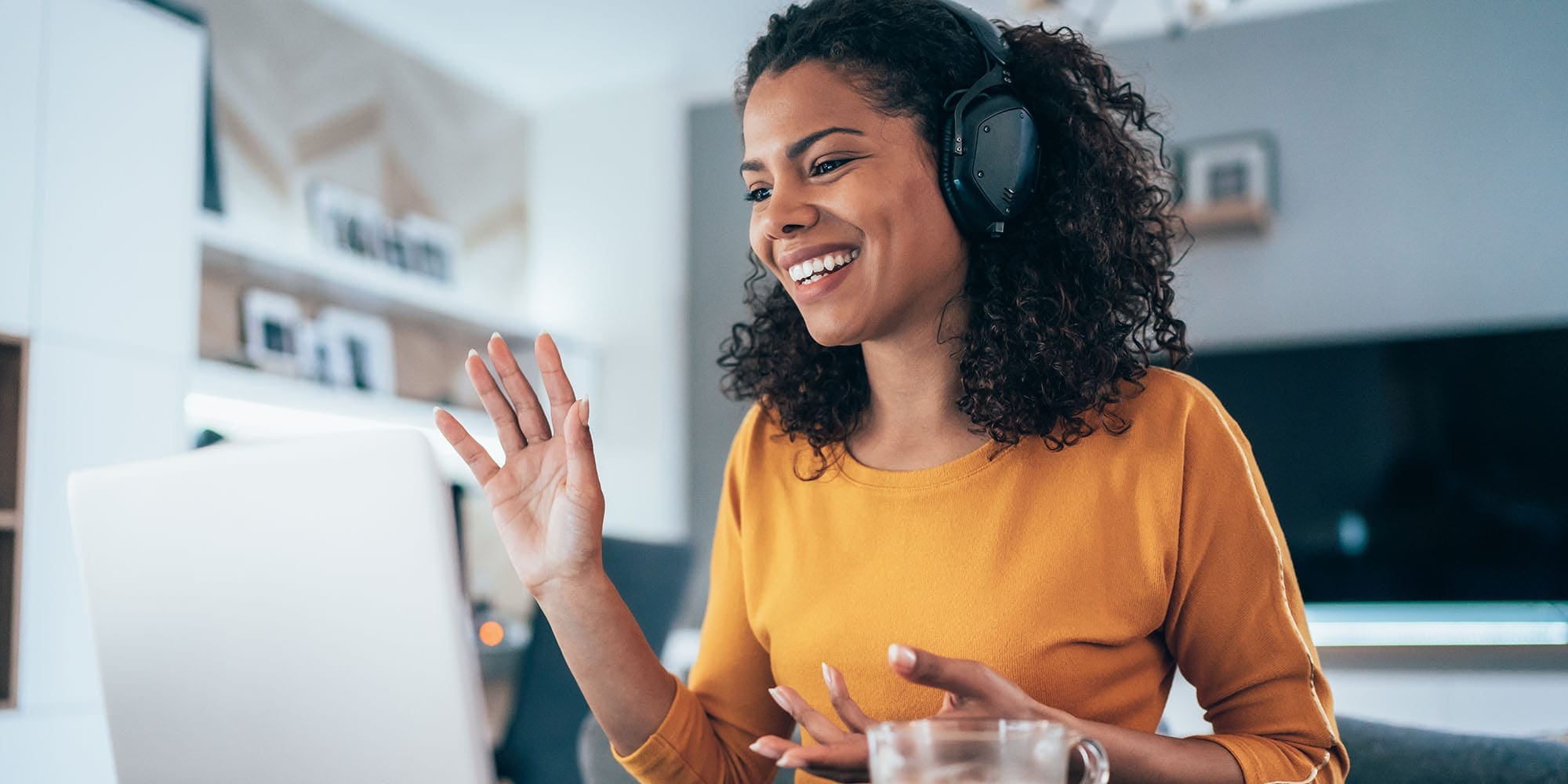 Stop measuring productivity in hours or face-time
"If you're viewing flexibility as taking two hours to homeschool or be with your kids, but make sure you make it up at the end of the day — that is not flexibility," says Hargreaves. "That is so incredibly stressful because what it's saying is what is most important is you put in the hours."
Sam Saad has felt fortunate that his workplace is focused on tasks, not time-in. The Hamilton, Ont.–based father of one-year-old Ezran and head of operations at Gatik AI no longer jets around visiting clients in Texas, California and Arkansas, nor does he have to commute to a downtown Toronto office a few days a week. Nowadays, he fills those former travel hours with quality time with his son and knows his bosses trust him to get his work done on schedule. That's a culture he wishes more companies would implement to ensure greater flexibility. "With Gatik, it's about management of tasks, not time — here's what you've got to get done by this date, here are the check-ins, and it's up to you to finish it. You want to work all night? Great. If you want to start at 7 a.m. and finish by 3? Fine," Saad says. Core hours for meetings may make sense, but the massive uptick in back-to-back Zoom calls is unsustainable for parents who have to homeschool or have to go deal with a finger-painting catastrophe, Parker says. 
Turn meetings into living documents 
When Max Tremaine's daughter Tina was born, the CEO of travel visa tech startup Sherpa had to get better at delegating tasks and arranging his day so he could get home for dinner and bathtime. When the pandemic hit and everyone worked from home, Tremaine transformed their weekly sales and success team meetings to documents on the platform Notion, which lets them contribute over the week. "If you truly want to be more flexible, things are going to have to be documented a lot more because people aren't all necessarily going to be in the room at the same time," he says. It also helps maintain clear communication, giving everyone on the team a reference point they can access whether they were in the meeting or not.
Trust your employees and work with them to prioritize 
There is no room for micromanagement in a work-from-home arrangement, Parker says. As the pandemic wore on, Gallup data revealed that middle managers — the prime cohort of employees with children at home — were among the least engaged. "I know a lot of tech managers and tech VPs that feel like "If I don't see you on a Zoom call, I'm not managing you effectively," she says. That needs to change. Hargreaves recommends regular check-ins (whether by video, phone, Slack or email) with a direct manager to set priorities for the week and discuss what flexibility is needed to get both work and childcare done. "That psychological safety needs to be there first," in order to have an open and honest conversation about priorities, Hargreaves says. This means employees need to feel supported in both dimensions of their lives.
Show leadership on flexibility
Employees are going to need to see their leadership teams' kids on Zoom sometimes if they're going to feel OK about blocking off time in their own calendars for childcare, Hargreaves says. "That cloak and dagger thing of 'Work like you're not a parent, parent like you're not a worker' — the entire veil has been removed" throughout this pandemic, she says. And that's a good thing. Employees should be able to see that their bosses are also taking time out of their day to take care of their kids, Parker says. They can also mandate vacation days and be vocal about taking time off to recharge and connect with their families. 
Saad says that he is always very open about his weekend plans and talks about how much he's looking forward to days off in hopes that it will encourage his employees to do the same. "I tell them I'm so excited to really disconnect with my family for a little while — and I know that when I come back, I'm more creative and productive."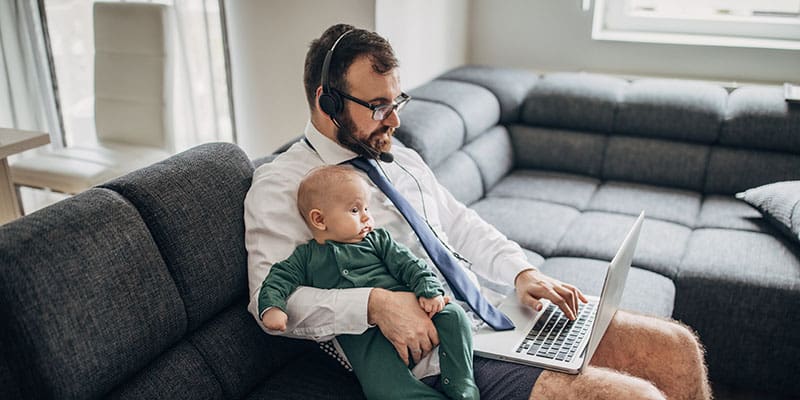 How employers can take care of their working parents
Being pulled in all directions under a cloud of guilt for not feeling like you're able to put in 110 percent at work or at home is not great for a working parent's mental health. Employers can help support parents by proving their commitment to being nimble as plans for the fall school semester take shape and by investing some of their savings on real estate into small tokens for employees, Parker says. "This is money that can be put aside for weekly, monthly, small and personal [tokens of] recognition — 15 gift cards for UberEats on a Friday after a hard week for everyone," she says. 
Employers  can think of little things that will take the load off a working parent's plate — maybe hire a children's entertainer to do a Zoom call with employees' kids for an hour once a month or go down to a four-day work week. Saad says the weekly in-person company huddles at Gatik have moved online and they always give shoutouts to employees who've excelled despite the circumstances. 
Dianna Lai Read, director of communications at Top Hat says the company expanded its lifestyle spending account, which typically helped pay for things like gym memberships, to include personal development courses and house-cleaning. They've had guest speakers talk about mental health and expanded mental health resources. There was discussion of helping working parents hire in-home childcare help, Lai Read says, but there wasn't enough uptake given fears around COVID exposure and also the fact that working parents are not in the majority at the company. 
Over the past few months, Lai Read's partner has been the primary caregiver to her 18-month-old, but she has nonetheless been blocking off an hour in the late morning to take her son for a walk. It's a chance for her partner to get a break, and she can stretch her legs, clear her head and connect with a toddler who's blissfully unaware of the precarious state of the world. "I do plan to keep it on my calendar after he starts daycare," she says. "I just need a break in the middle of the day — I need some air, I want to go walk the dog. And then I come back feeling reenergized." 
Daycare — and school for older children — will be the real saving grace. Ciaran, who is on the verge of burnout, sends his daughter back on Monday — which happens to be the first day of his vacation. "There'll be a lot of time on the couch," he says. 
Lai Read is excited for daycare too. As we hang up from our call, she's forced to field yet another toddler catastrophe: "He just peed on the floor, all over my foot."
Hundreds of Canadian startups have shifted their everyday business pursuits in hopes of bringing the COVID-19 pandemic to a decisive end. Learn more about them.