It's tempting to think the worst is over. But as many jurisdictions are beginning to loosen restrictions, the World Health Organization has issued a stark warning: physical distancing should stay in place "at least until a vaccine or very effective treatment is found."
We may have flattened the curve, but we are plateauing at a high level of infections. And a viable vaccine won't be ready until at least the fall — a target that, many experts say, is overly optimistic. As governments draw up plans to reopen their economies, it's becoming clear that the new normal will be anything but business as usual.
Testing will become a way of life
The formula for safely restarting the economy is deceptively simple: Test frequently, trace diligently, isolate rapidly. Countries that adopted that strategy early on, such as Germany, saved countless lives. Here, widespread COVID-19 testing will be essential for public health officials to quickly gauge whether easing the lockdowns is causing a resurgence of cases — the dreaded second spike.
Most screening is conducted using molecular tests that detect the virus' DNA to prove active disease. There are experiments with antibody assays to show who had the disease previously — the basis of so-called "immunity passports" — but early results have been mixed.
The major problem is one of scale. To control the virus, an army of public health workers will be needed to rapidly identify and isolate people with the disease. Canada has not set a target for the number of tests it needs to perform but the prime minister has called for "massive, rapid testing on a very wide-scale basis."
A scramble is now on to ramp up capacity. The federal government recently signed a contract with LuminUltra, a New Brunswick biotechnology company, to deliver 500,000 COVID-19 tests a week for the rest of the year. And Ontario has charged its new centralized health agency with coordinating the logistical nightmare of procuring, transporting and tracking millions of swabs, reagents and test results in a highly competitive market for medical supplies.
But testing will also need to be faster. It currently takes one or two days to get a test result back from the lab, which is an eon for a virus that spreads on a sneeze. On this front, there is progress. Pharma giant Abbott has created a machine that can produce a result in five minutes. Ottawa-based Spartan Bioscience has developed the Spartan Cube, a portable testing device that is small enough to be used anywhere from doctor's offices to airports and border crossings and can can return a result in 30 minutes. According to a recent statement, the company is "performing additional clinical studies to assess the sampling method and proprietary swab."
New ground rules for the office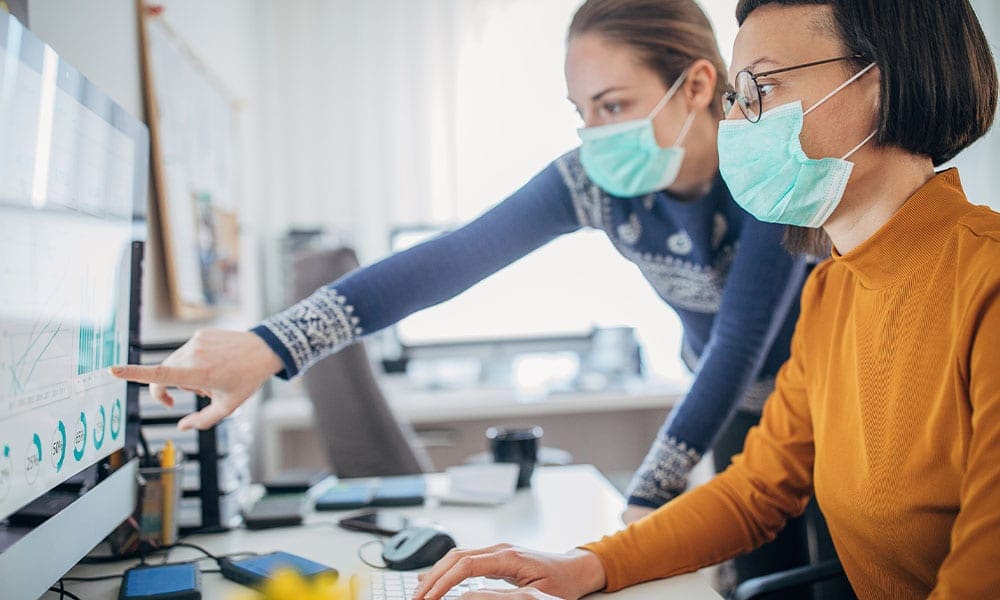 For the past six weeks, assistant professor John Trougakos and his colleagues at the Rotman School of Management have been tracking the thoughts and feelings of 700 Canadian workers. Early on in the lockdown, a divide emerged: While remote employees were stressed about social isolation, essential workers feared for their lives.
Trougakos now expects that the reopening of the economy will be accompanied by a surge of anxiety. "There's going to be a lot of stress and apprehension about going back to work," he says. "Companies will have to show they are taking safety seriously or people will not want to work for them."
South Korea, whose economy began to ramp up again at the end of April, offers a lesson in what might be in store. Companies are phasing in the return to work, face masks are mandatory and some firms have erected barriers between desks and cafeteria tables.
Similar adjustments can be expected here. But far less comfortable, from a Western perspective, is the close monitoring of employee health. In South Korea, businesses have been encouraged to nominate a "quarantine manager" to identify and report suspected cases. Naver Corp., one of the country's largest tech companies has deployed thermal imaging cameras and full-body sterilizers on its premises.
North American companies are now facing the daunting task of balancing their employees' rights to safety and privacy. So far, safety is winning. Walmart and Amazon are already using infra-red thermometers to take the temperature of staff as they enter stores and warehouses. Some organizations have started asking employees to certify they are symptom-free before coming into work each day.
Trougakos expects managers and employees will be locked in a delicate dance trying to determine the ground rules for physical distancing for some time. What happens if there are too many people in a meeting? Is leaning in to point something out on a monitor now a disciplinary matter? The questions are endless, and most managers are poorly equipped to deal with them.
"Managers aren't used to monitoring if an employee washes their hands," Trougakos says. "Nobody teaches you about physical distancing in business school." Not yet, at least.
Transit will be in trouble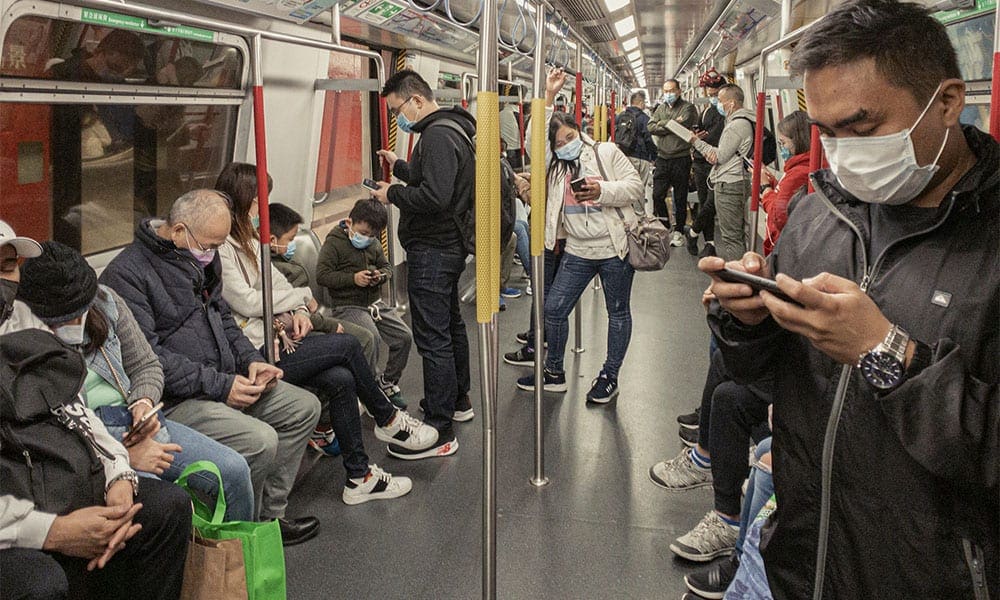 Ridership has plunged in most major cities, falling by 85 per cent in Toronto. As the economy reopens, transit systems will face two key questions: How soon can these riders can be lured back? And how can it be done safely?
Disease-wary commuters will almost certainly be put off by safety measures that could include mandatory face coverings, police-enforced physical distancing at stations and reduced seating on buses and subways. New York's MTA has penciled in 40 percent reductions in passenger numbers through September.
But services cannot simply be reduced to match the lower demand. Tests have shown that proper physical distancing of passengers reduces a train's capacity by 80 percent. More vehicles will be needed to move fewer people — even as transit systems hemorrhage money.
Those bleak numbers have cities casting around for solutions. Several are pushing active transport. Milan, one of Europe's most polluted cities, is trying to head off a spike in car traffic by converting 35 km of its streets into cycle paths and walkways. Edmonton, Montreal and Calgary have all turned over traffic lanes to bikes and pedestrians, at least temporarily.
Other cities are looking to technology. In Belleville, Ont., a software company called Pantonium provides an app that enables the city's buses to operate more like a ride-hailing service, routing vehicles to where passengers are at any given time. Its system allows contactless boarding using QR codes and has enabled Belleville to automatically cap passenger numbers on buses at no more than 10 during the pandemic.
Remi Desa, Pantonium's CEO, says he has seen a surge in interest in recent weeks; Saskatoon is launching the service in June, three months earlier than planned. Desa sees many transit systems having to make a particularly difficult pivot, shifting services away from downtown cores where remote-enabled office workers will be slow to return, and toward the edges of towns where many essential-service industries cluster.
"The reason that many people can work from home is because of these essential workers who have to take public transit to distribution centres or food processing facilities," he says. "Many cities are going to have to completely rethink how they operate."
Supply chains stretch to breaking point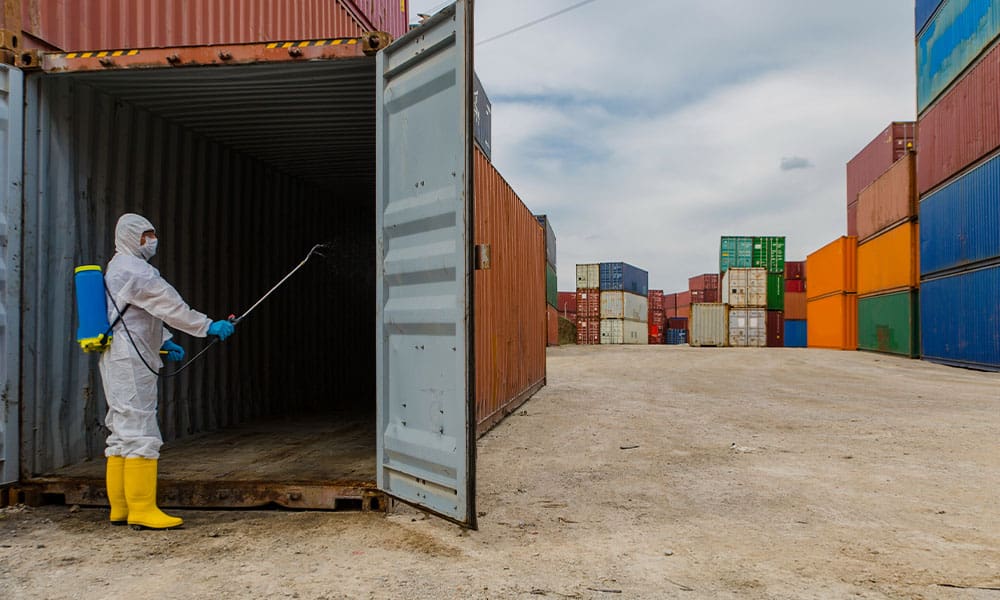 The pandemic has brutally exposed the weaknesses in global supply chains. More than 75 per cent of companies have seen their supply chains go awry as factory output in Asia slumps and manufacturers switch to making medical supplies. Companies are now desperately trying to figure out what is being disrupted, where and how.
Assent Compliance, an Ottawa-based tech company, has stepped in to help with a free tool that identifies which links in a company's supply chain are most at risk. Assent extracts location data from paperwork companies exchange with their suppliers and cross references it with information from WHO to highlight the contractors that are in COVID-19 hotspots. Its system recommends which suppliers should be checked on and which are probably okay.
Since just-in-time production took hold in Japan in the 1970s, retailers and manufacturers have been stretching their supply chains longer and running them leaner. At the best of times this is a high-wire act vulnerable to disruption. But COVID-19 just cut the rope.
Mark Morley, product marketing director at OpenText Business Network, which provides a cloud-based digital supply chain management platform, believes problems encountered now will push companies to invest in technology to give them better visibility into their supply chains. At the moment, there are millions of dollars of goods trapped in transport hubs like Dubai, and figuring out exactly where everything is and where it's going will be a nightmare. Internet-of-things technologies now coming online will enable companies to track not only the location of their shipments but also see details like the current temperature and humidity inside the container.
But Morley also sees another, more profound, shift being accelerated by the pandemic. Rising labour costs in China have been eroding the economic logic for sourcing goods there for several years, and with the risks highlighted by the pandemic, many firms may decide to look closer to home.  "Companies will be looking to simplify their supplier networks and shorten their supply chains," he says. "I think a lot of supply chain directors will start looking again at suppliers from places like Detroit or Mexico."
In and out of lockdown
With characteristic subtlety, the White House has dubbed its plan to accelerate vaccine development "Operation Warp Speed." But even the U.S. administration doesn't expect to have a viable vaccine until the end of the year. The truth is, the only thing quick about the recovery will be the spread of disease if we get it wrong. Experts are predicting it will take multiple rounds of loosening and re-tightening of restrictions. Last week, California opened its beaches for the first time since March, only to announce they would be closed again a few days later because of overcrowding. This economic Hokey Pokey will likely persist for months. It's going to be a long road back.