Klass Capital relocates to MaRS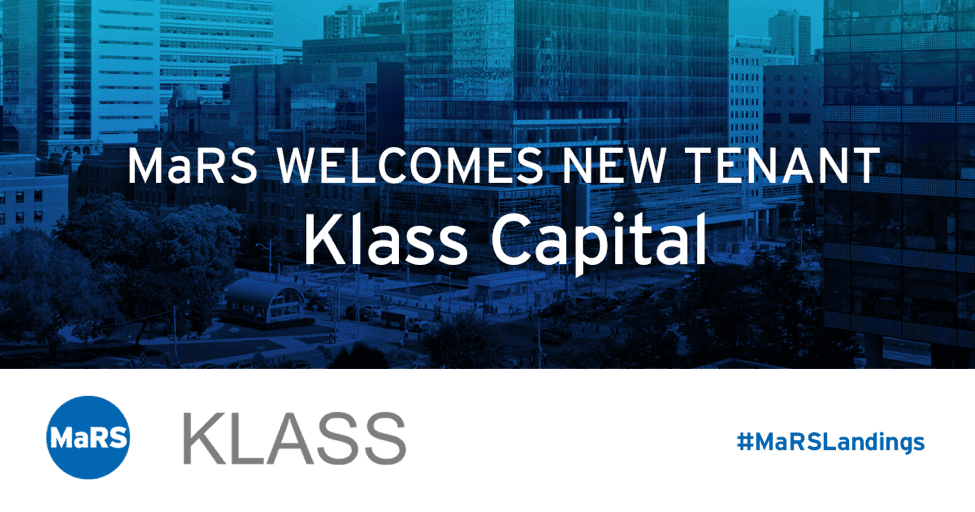 Klass Capital, a private equity firm that invests in enterprise software companies, is relocating to MaRS Discovery District. The firm selected MaRS as its new home to take advantage of the centre's technology community, networking events and innovation expertise.
Quick facts:
Klass' enterprise software investment focus fits with MaRS' clusters, particularly within Financial Technology and Work & Learning.
Klass plans to build out its operational expertise at MaRS by expanding its talent program, which has placed over 100 people in Klass portfolio companies since 2013, as well as by developing its public relations capability.
Quotes:
"I am pleased to welcome Klass Capital to MaRS. Klass Capital plays a vital role in the local tech ecosystem and as a tenant and member of our community it will bring fresh opportunities and resources to our network."
– Salim Teja, Executive-Vice President of MaRS Ventures.
"We view MaRS as Toronto's pre-eminent technology hub. At MaRS, Klass will be surrounded by innovative startups, have the opportunity to connect with aspiring entrepreneurs and advisors, and have its finger on the pulse of technology trends. Given our expertise in enterprise software, I believe we will be able to contribute to the MaRS community in a meaningful way."
– Daniel Klass, Managing Partner of Klass Capital.
---
About Klass Capital:
Klass Capital is a Toronto-based private equity firm that acquires and provides growth capital to mission-critical enterprise software businesses. The firm invests between $2–20 million of equity in businesses that have achieved over $1 million in sales. Klass has $150 million of permanent capital to invest and plans to deploy approximately $20–40 million per year over the next five years. Klass moves quickly, has a collaborative approach and strongly believes in adding value to its partners. Klass has built a portfolio of 16 high-growth enterprise software businesses.
About MaRS Discovery District:
MaRS Discovery District (@MaRSDD) in Toronto is one of the world's largest urban innovation hubs. MaRS supports promising young ventures that are tackling key societal challenges in the health, cleantech and information and communications technology sectors. In the last three years, these ventures have raised $1.3 billion in capital and earned $640 million in revenue. In addition to helping startups launch, grow and scale, the MaRS community is dedicated to cross-disciplinary collaboration, commercialization of discoveries and driving ideas to impact.
Media contacts:
Lara Torvi
MaRS Discovery District
(416) 673-8100
ltorvi@marsdd.com
Kevin Climans
Klass Capital
(647) 341-2190
kevin@klasscapital.com