MaRS Catalyst Fund, backed by Virgin Unite Canada, to begin investing in business as a force for good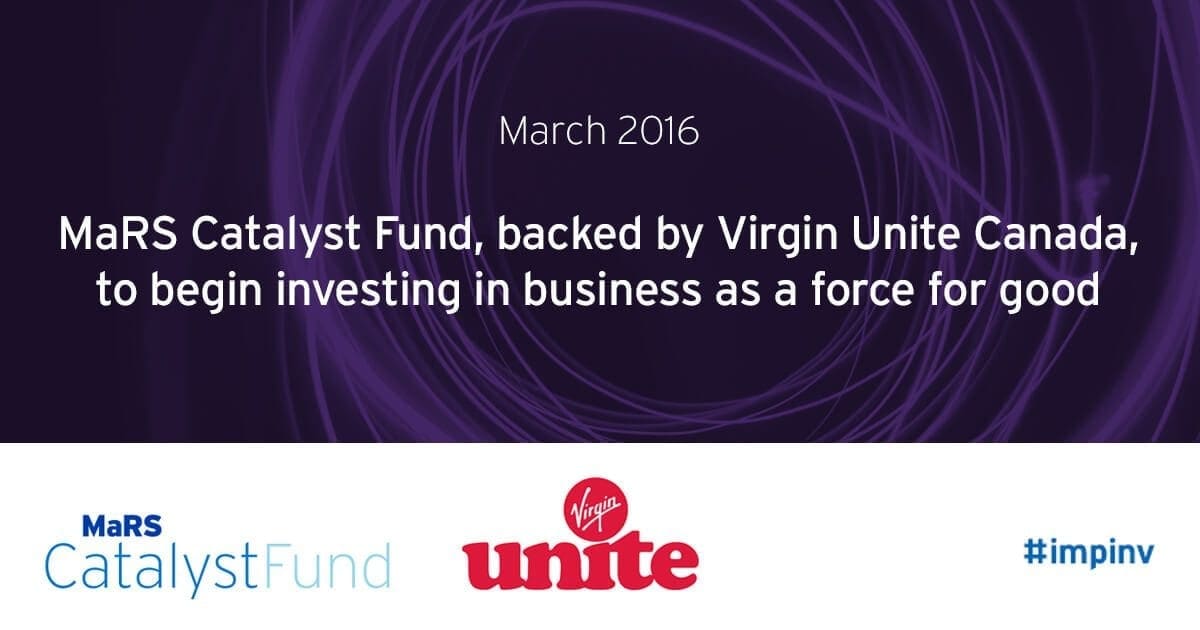 Overview
A new Canadian investment fund that puts people and planet alongside profits is about to make its first investments, providing an important source of capital to businesses that are helping to solve entrenched social problems.
The $5-million MaRS Catalyst Fund, run by Toronto's MaRS Discovery District and backed by Sir Richard Branson's Virgin Unite Foundation, will invest in early-stage Canadian companies that are motivated by a desire to tackle a social or environmental issue and have the potential to generate strong profits.
MaRS Catalyst is a major step in the fast-growing field of social finance, the new kind of investing that puts the advancement of society alongside financial returns as a key goal.
The fund will leverage the investment pipeline and expertise at MaRS, Canada's largest innovation hub, to find promising ventures and help them grow. It is currently looking to close two seed-stage investments for $250,000 each in the health and education markets.
Quick Facts
The fund is managed by the MaRS Centre for Impact Investing, Canada's leading authority on social finance. It addresses the significant gap in financial support for early-stage Canadian ventures and will focus on firms in clean technologies, healthcare and education and employment.
Sir Richard Branson launched the fund at MaRS in late 2014 when Virgin Unite, the non-profit foundation of the Virgin Group, and Vancouver-based Mindset Foundation provided $1 million in seed capital for the fund.
As well as focusing on early-stage ventures in health, cleantech and education and employment, the fund looks for opportunities that closely align with the MaRS venture services group, which employs 20 sector-specific advisors to support both pre-deal diligence and post-investment business growth and mentorship.
Having made its first closing at $3 million, MaRS Catalyst expects to invest in 10 to 12 ventures in total, and is in final negotiations for the first two investments, which it plans to announce in the next few months. It expects to close its second round later this year.
Quotes
We have no shortage of entrepreneurs who are finding innovative ways to push social progress or tackle environmental problems while making profits, but there was a gap in the market for early-stage funding. MaRS Catalyst is helping to address that. —Kathryn Wortsman, Investment Director, MaRS Catalyst Fund
Business as usual should no longer be an option, we have to make business a force for good. By supporting entrepreneurs that put their people, and the planet first, we're going to help build successful companies. The MaRS Catalyst Fund is well placed to give these aspiring leaders the investment and mentorship they need to get ahead and find a new way to do business. —Sir Richard Branson
Over the last decade we've seen enterprises springing up all over the world that are taking on tough social and environmental challenges. We have to nurture these inspirational companies if we're to create a sustainable future and the MaRS Catalyst Fund is a key component of our approach to doing that in Canada. The fund is uniquely placed to help these businesses grow and positively impact their communities as it connects with MaRS Discovery District and other innovation centres across the country. —Rosanne Gray, Managing Director, Virgin Unite
Additional Resources
Learn more about the MaRS Catalyst Fund
Learn more about Virgin Unite
Contacts
Media enquiries:
David Paterson
Communications associate, MaRS Centre for Impact Investing
dpaterson@marsdd.com
647.255.1515
Enquiries from ventures:
Jennifer Stoneburgh
Senior associate, MaRS Catalyst Fund
marscatalystfund@marsdd.com