MaRS partners with Boston's Greentown Labs to support cleantech ventures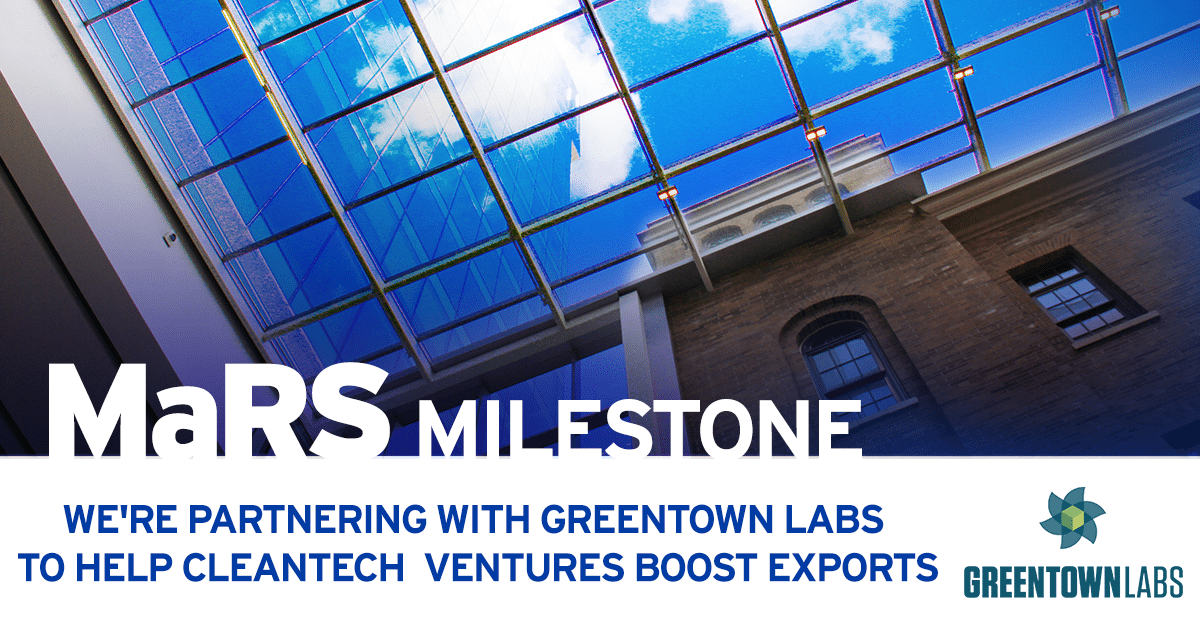 TORONTO, November 8, 2017 – MaRS Discovery District today announced a partnership with Greentown Labs, the largest cleantech incubator in the United States.
As part of the partnership, the two organizations have agreed to help their respective cleantech ventures enter each other's markets though introductions to local investors and potential partners and customers. MaRS in Toronto and Greentown in Somerville, Massachusetts, will offer each other's ventures a "soft landing" by making temporary workspaces available where inbound entrepreneurs can interact with peers and learn more about the local market before deciding to establish a permanent presence.
Peak Power, a Toronto-based company providing energy storage as a service, is already working closely with Greentown Labs to increase its presence in the Massachusetts market. Just this month the company was accepted as a member and tenant. "This partnership between MaRS and Greentown Labs provides Canadian cleantech companies like Peak Power an invaluable resource to extend our reach in target US markets where barriers to entry are perceived to be high and initial cost of setting up a presence prohibitive," said Derek Lim Soo, CEO, Peak Power. "The ability to access local experts with knowledge of regional market dynamics provides companies the ability to enter new markets quickly and focus on delivering on their value propositions."
MaRS and Greentown also plan to hold joint events that showcase the technologies of their cleantech ventures to corporate and venture capital communities in the northeast United States.
This collaboration is one of several that MaRS has established in the region to help Canadian cleantech ventures boost export opportunities to the US. On November 1, MaRS announced a comprehensive partnership with Grand Central Tech (GCT), the largest innovation hub in New York City. GCT serves as an extension of the expert support and services that MaRS offers to Canadian entrepreneurs out of Toronto, and also offers temporary workspace to MaRS Growth and Scale stage ventures looking for a physical site in NYC.
Earlier this year, MaRS partnered with ACRE, a clean energy incubator operating out of the Urban Future Lab at New York University. Like Greentown Labs, ACRE is helping Canadian cleantech ventures navigate the NYC ecosystem and make the right connections with investors and partners. Greentown Labs and ACRE are both part of the Incubatenergy Network, a national network of mostly U.S.-based cleantech incubators focused on accelerating the transition to a sustainable future by supporting more than 500 cleantech startups around the country.
Quick facts
Greentown Labs has supported over 120 companies since its inception. These companies have raised US$260 million in funding.
MaRS works with hundreds of high-growth cleantech ventures that are addressing a range of complex global challenges—from improving energy storage, generation and distribution to defining the future of transportation. These companies raised $210 million in funding in 2016 alone.
Quotes
"Partnerships like the one we are celebrating today help to foster innovation and clean growth on both sides of our border. Agreements like this are an excellent demonstration of the great potential unlocked through closer collaboration. When it comes to the question of climate change, working together is imperative. The Government of Canada is proud to support MaRS as it continues its superb work helping clean tech start-up ventures grow and expand."
—The Honourable Bardish Chagger, Minister of Small Business and Tourism and Leader of Government in the House of Commons
"MaRS works with many Canadian cleantech ventures that see Massachusetts and other parts of the northeast US as a strategic market, partly because of the progressive clean energy policies coming out of the region. Partnering with a well-respected, expert organization like Greentown Labs will help our companies plant roots in the Boston area and will complement similar partnerships recently announced in New York City that are giving our ventures more opportunities in an important economic region."
—Salim Teja, president, Ventures Services, MaRS
"Efforts to expand opportunities for Canadian clean technology companies beyond Canada are working. Support for the export of Canadian innovation is beginning to produce results, and by collaborating with organizations like Greentown Labs we are assuring that our cleantech entrepreneurs are well represented across the border."
— Jon Dogterom, managing director, Cleantech Venture Services, MaRS
"Greentown Labs and MaRS are dedicated to helping cleantech companies scale their innovations and reach markets in Canada and the United States. This collaboration will create opportunities for startups on both sides of the border on many levels. It will help them draw greater attention from corporates and venture capitalists, while also supporting job growth and overall economic development in both countries which is a win for all."
— Emily Reichert, CEO, Greentown Labs
Additional resources
Contact
Lara Torvi
MaRS Discovery District
media@marsdd.com
416.673.8152