New Chinese partnership to unlock market opportunities for Ontario energy and water innovation
The Advanced Energy Centre (AEC) at MaRS Discovery District, the Water Technology Acceleration Project (WaterTAP) and the China Energy Conservation and Environmental Protection Group (CECEP) are pleased to announce the signing of a Memorandum of Understanding to strengthen their working relationship and to jointly explore potential deployment opportunities for Ontario's advanced energy and water technologies in China. The MoU signing comes as part of Premier Wynne's trade mission, which aims to attract new investments and build on Ontario's strategic relationship with China.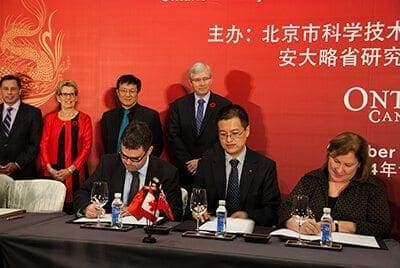 "The AEC is delighted to be collaborating with WaterTAP and CECEP to facilitate the adoption of energy innovation at home and abroad. This collaborative relationship provides an opportunity for us to leverage energy innovation in Ontario into international markets and to learn from insights into China's experiences in this sector," said Ron Dizy, the AEC's Managing Director.
The tripartite MoU seeks to facilitate regular communication and knowledge exchanges on the energy and water market landscapes. This new relationship has a view to delivering cutting edge energy and water innovation to CECEP, a Chinese State-Owned Enterprise and the largest player in China's energy and environmental technology market. The collaboration equally seeks to explore how cutting edge Chinese technologies could help deliver greater efficiencies and reduce energy costs in Ontario.
"Today's announcement is an example of the global strength of Ontario's clean technology sector. Our expertise will help people in China and in Ontario create a cleaner environment, build a stronger economy and offer a better future for our children and grandchildren," said Brad Duguid, Minister of Economic Development, Employment and Infrastructure.
This agreement creates an opportunity for joint ventures aimed at advancing energy and water innovation and creating new products that impact the energy landscape on an international scale.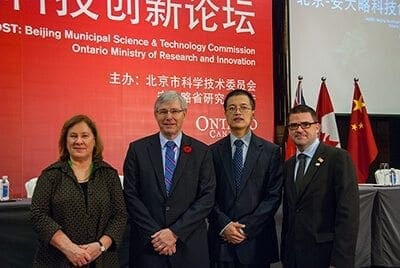 "WaterTAP looks forward to working together with the AEC and CECEP to provide opportunities for innovative water technology companies to collaborate across countries and sectors," said Dr. Brian Mergelas, WaterTAP's CEO.
Through regular communication, consultation and knowledge exchange, the Advanced Energy Centre, WaterTAP and CECEP will open the door to new opportunities for Canadian ventures looking to expand in global markets.
—
About the AEC
The Advanced Energy Centre is a public-private partnership with the mission of fostering the adoption of innovative energy technologies in Ontario and Canada, and leveraging those successes and experiences into international markets. The AEC works with over 150 Canadian startups and SMEs in the cleantech and energy sector, and its role is to actively develop partnerships that will help bring these technologies to global markets. Within Canada, the AEC works to identify and remove systemic barriers to the adoption of energy innovation. The AEC is part of the MaRS Discovery District ("MaRS"), one of the world's largest urban innovation hubs. MaRS is a non-profit organization that works with partners to catalyze, accelerate and amplify innovation, providing expert advice and market research, and connections to talent, customers and capital. To date, MaRS startup companies raised over $1 billion in capital, earned over $500 million in revenue and created over 6,500 knowledge economy jobs.
About WaterTAP
WaterTAP exists to champion and support Ontario's status as a world water technology hub. The organization brings private sector experience to the challenge of helping water technology entrepreneurs, utilities and investors make the connections and find the resources they need to keep Ontario's water sector prospering. Ontario is home to more than 900 water technology companies, supported by more than 200 research centres, incubators, accelerators and programs that encourage innovative water and wastewater technologies and services. Ontario contains or borders on about one-fifth of the world's fresh water. Several of its water sector technology clusters, including membrane filtration and ultraviolet disinfection, are world leaders.
About CECEP
CECEP, established by the Chinese Government for the promotion of energy efficiency, is the largest technology-based and service-oriented industrial group in the energy saving and environmental protection field in China. CECEP focuses on energy saving, environmental protection, clean energy and resource recycling, and aims to provide comprehensive solution and one-stop service package to its clients. To this end, CECEP applies the strategic prominence and strength of a government operation to catalyze the shift towards an energy saving and environmentally friendly society. The group provides products and services to public and private sectors for energy saving and environmental protection, contributing to the sustainable development of China's national economy.
For more information, please contact:
Lara Torvi
Manager, Media & Community
MaRS Discovery District
416.673.8152
ltorvi@marsdd.com