Last Wednesday, the Entrepreneurship 101 season closed with the 2014 Up-Start! Competition. It was a very impressive end to our 30-week series. With a $15,000 cash prize powered by KPMG and an in-kind package valued at more than $35,000, generously supported by Hill + Knowlton Strategies, Gilbert's LLP and MaRS, it's no surprise that all 12 finalists were on point and determined to deliver their best.
The winning team, Vessel Innovations, includes Andre Furlotte, CEO and Product Architect; Keith Lobo, Chief Technology Officer; Deeson Patel, Chief Information Officer; Boniface Angelo Yogendran, Chief Operations Officer; and Keegan Lobo, Chief Financial Officer.
The team presented BarTop: a quick, accurate, easy-to-use bar inventory system designed to solve a clear and widespread problem in the hospitality industry—the loss of up to 20% of alcohol inventory on an ongoing basis.
Until now, there has been no real cost-effective or easy solution to the problem. Given the thin margins and high costs inherent in the notoriously competitive industry, losses due to inventory mismanagement are significant and unnecessary erosions of potential profits—and sometimes even affect the sustainability of operations. BarTop provides cost savings, accountability and transparency in operations for hospitality business owners, from small to large, and may have other applications in other industries in the future.
Team member Andre Furlotte gave us a quick look into what inspired the startup's first-place idea, how the Entrepreneurship 101 series has helped them and what they've learned about pitching their business.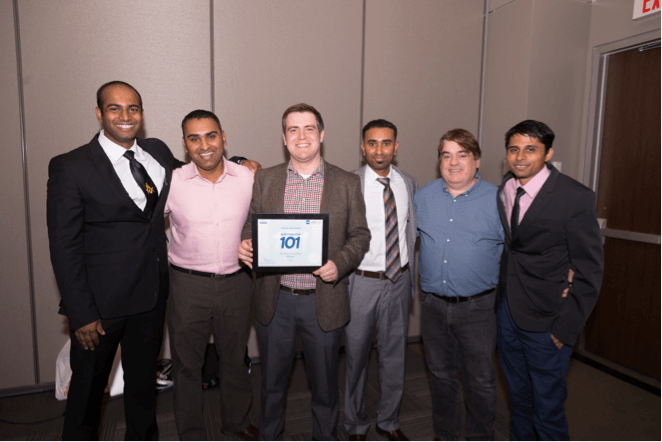 What is the inspiration behind your product, BarTop?
It was inspired by seeing the frustrations of the owners I've worked for over the years as a bartender and my own as a manager. I realized early in my career that there was a real need for an inventory method that was quick enough to be used daily but also unobtrusive and easy to use. The solution hit me one day as I was putting a bottle of The Glenrothes back on the shelf behind the bar I was working at. I remember it like it was yesterday, even though it was well over five years ago.
What has been the most meaningful and impactful aspect of participating in Entrepreneurship 101?
The most impactful part of participating in Entrepreneurship 101 was that it gave us a path to start with. Although we were doing well with developing the tech side of our business, the business itself was very murky. MaRS and Entrepreneurship 101 gave us the framework to build on, and gave us the resources we needed to discover our way.
What has been the most meaningful and impactful aspect of participating in the Up-Start! Competition?
The most important part of participating in the Up-Start! Competition was, frankly, the deadline. Having a date to look forward to and plan for drew the aggression from us that we needed to attack our model. It provided pressure to perform, challenged our faith in our concept and as a result gave us real conviction in our idea. We all agreed as the big day approached that it wasn't the prize that we valued so much, as the process that revealed the true prize: a refined business model.
What tips or lectures from Entrepreneurship 101 did you find to be most relevant?
For me, the most relevant lecture was a simple one: the value proposition. As someone with little background or education in business terms, the basics were crucial. I guess over the years, dreaming of starting a business, I over-complicated my vision of how it would work. Starting with refining my value proposition gave me a point of entry to an otherwise esoteric way of life—something I'm very grateful for.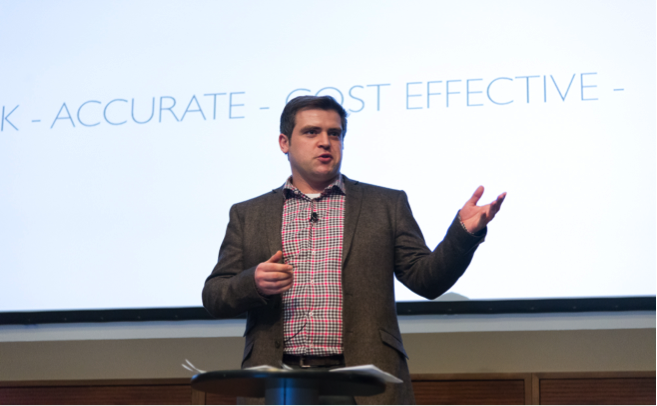 What advice do you have for other startups in the process of pitching their businesses?
My advice for others in the process of pitching their business is to be mindful of the simple points of the process—this is where you will find the grandeur of your potential—and to have unwavering faith in your idea while questioning its viability at every turn. I found that every time I thought I had found a flaw, I reminded myself of how real our opportunity was by rebutting it.
What advice do you have for people interested in starting their own business?
My advice for others who are interested in starting a business: One, go to MaRS. I'm not just saying this because they awarded us a prize. There is a real community of like-minded people there whose enthusiasm will give you faith and show you a way. And two, focus on solving a real problem. That's the beauty of business and its strength.
For more information on the Up-Start! Competition, watch this video.
Produced by MaRS Discovery District.
The next Entrepreneurship 101 series begins in September 2014.
Resources:
Want to connect?