Last September marked the start of the 10th year of the Entrepreneurship 101 program. The 2014-2015 season of our free weekly lecture series wraps up on May 20, with the ninth annual Up-Start! Competition. The finalists have followed the Entrepreneurship 101 course as we've covered topics including funding, marketing, market intelligence and recruiting, among many others.
Under the guidance of MaRS advisors, 10 companies have spent the past few months perfecting their pitch presentations. On May 20, our 10 finalists will pitch to a panel of judges for the chance to win $15,000 from MaRS and in-kind sponsorship from DLA Piper (Canada).
The finalists will have 10 minutes to pitch their business ideas using the concepts learned from Entrepreneurship 101. The businesses fall under one of the three venture services at MaRS: information and communications technology, health and cleantech.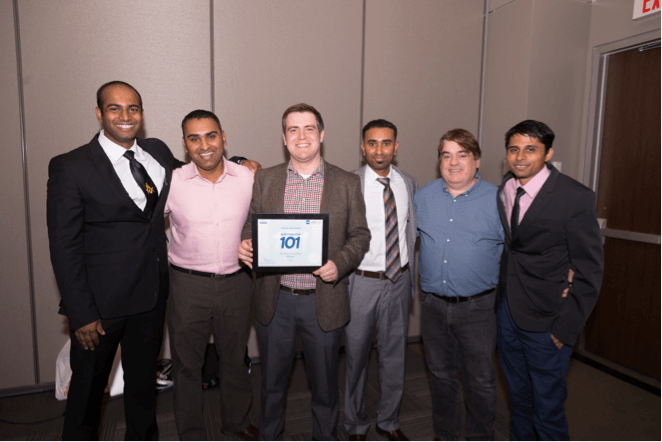 Read about Vessel Innovations, last year's winner, here.
Meet this year's finalists:
Bladetech Hockey
Bladetech Hockey's innovative spring-loaded hockey skate blade improves player health and performance by absorbing the forceful impacts the skate makes with the ice, thereby cushioning the player's body.
HealthSwapp
HealthSwapp is an app that enables patients to access, view and track their personalized home rehabilitation program, including exercise videos and health literacy information sent to them by their healthcare practitioner.
FuelWear
FuelWear designs intelligent electrically heated clothing that adapts to the wearer's environment and activity level. Its patent-pending technology allows the wearer to remain at a comfortable temperature in various conditions without having to add or remove layers of clothing.
EyeCheck
EyeCheck is working to eradicate preventable blindness around the world by making vision screening fast and mobile. Using just two photographs, EyeCheck is able to provide accurate prescriptions for eyeglasses.
Yas3 Music
Yas3 Music is a novel media file, application and distribution system that provides ad-supported music for free to fans. The platform enables artists to build their brands, promote their tours, increase merchandise sales, and engage and interact with their fans, while also generating revenue for themselves and their record labels.
Cleanopy
Cleanopy is an add-on device for baby cribs and strollers that offers continuous protection from air pollution. It protects children from unnecessary health risks by monitoring and purifying the air they breathe.
ShapeTrace Labs
ShapeTrace is a cloud-based solution for construction managers. Using a mobile device and its cameras, the application prevents errors from becoming fiascos by using 3D imaging to compare an original design with what was actually built, enabling construction managers to make smart decisions faster.
CondoCloud
CondoCloud is a convenient online platform that enables property managers to tender repairs and maintenance work. The platform reduces costs for property owners by encouraging competitive market pricing, promoting transparent governance and reducing the risk of fraud in condominiums.
myHealthSphere
myHealthSphere is the company behind Dooo, a software platform that helps users to thrive from nine to five. Using mobile or desktop devices, Dooo encourages employees to build healthy habits that improve mood, productivity and overall health outcomes.
dibs
dibs uses real-time feedback and a suite of usage analytics to create intelligent environments that adapt to meet users' needs. By offering users unique insights into their spaces, dibs gives them the power to save money, work smarter and live better.
See what our past winners have been up to: Vessel Innovations, Revelo Electric Bikes, THP Agency and Eve Medical.
Register to see the competition live
To see the pitches in person on May 20, register here.
Read more