It seems that every day we learn about a new, cool thing 3D printing can do for us. Whether it's printing human organs or housing developments, the technology continues to impress and fascinate us. It has entirely transformed the way that we think, design, and create in order to solve problems.
One example of a 3D printed product that is solving a problem is the OwnFone, the first mobile braille phone. In a world where approximately 285 million people are visually impaired and practically all smartphones on the market have flat touchscreens, this product is very important. Each phone is custom tailored to the user and 3D printed to his or her specifications. The user can select the names and contact numbers of up to 12 people and select the tactile element he or she prefers, such as braille, elevated letters or pictures that will appear on the phone.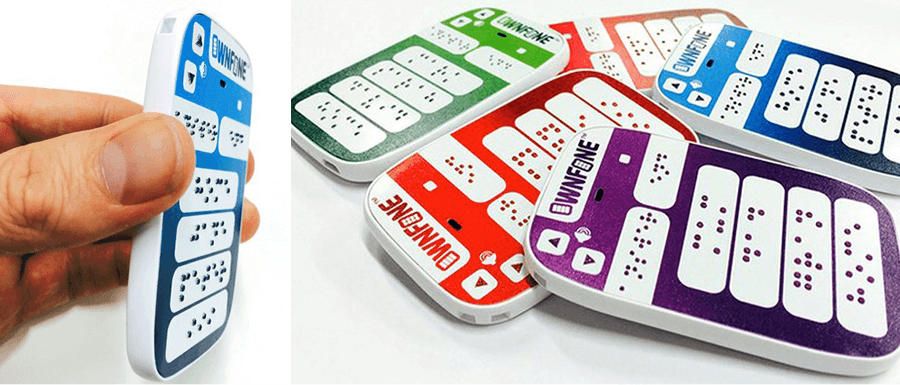 OwnFone is an excellent example of a company that is using 3D printing to reach niche markets and of what can be achieved when you truly integrate accessibility into the core of your product's design. As 3D printing becomes more readily available, companies are running out of excuses and can no longer avoid addressing issues of accessibility.
Working to overcome accessibility challenges
The 3D printing industry has grown considerably in recent years, due to the decreasing price of consumer 3D printers. For example, you can now buy the new fifth-generation replicator from MakerBot online for approximately $2,900. Not only have 3D printers become more economically accessible to the general public, but complementary use of equipment and software have become available as well. For example, the Xbox Kinect can be used to scan 3D objects or people and the Leap Motion device can be used for creating and manipulating designs with the movement of the user's arm.
The power of 3D printing to solve accessibility challenges is being leveraged around the globe. For example, the upcoming Takkun Olam Make-a-thon­­ (TOM) event in Israel. Starting on June 29, TOM will bring together over 230 engineers, occupational therapists, designers and artists to meet for an intense and stimulating creative experience. These teams will work to use 3D printing and design to address the needs of people with disabilities. They plan on tackling everyday challenges by developing open source solutions and prototypes. Some of the projects the gathering will focus on include redesigning crutches, customizing keyboards and experimenting with prosthetic arms.
Take a course in 3D printing
From a business perspective, cost savings in 3D printing can be found primarily at the prototype level. Instead of investing money in the manufacturing of injection moulds or individual parts, entrepreneurs can now create product designs and fine-tune them as they go. You can read more about business models that are currently being explored, along with interviews with seven Ontario-based startups using 3D printing, in our MaRS Market Insights report, Layer-by-Layer: Opportunities in 3D printing. 
There are also online and offline resources that make 3D printing more accessible for everyone, not just for businesses. Being an engineer or architect is no longer a prerequisite for becoming a designer and creating a model. Websites like GrabCAD offer shared databases of open-source computer-aided design directions that anyone can download and send to their device for free. If you don't own a printer­, you can still access the technology. The Toronto Reference Library even has two 3D printers available for use that charge users per minute. The library also offers a series of 3D printer certification courses.
In fact, 3D printing courses and workshops are now available throughout Toronto. One company offering both creative services and educational workshops is Hot Pop Factory.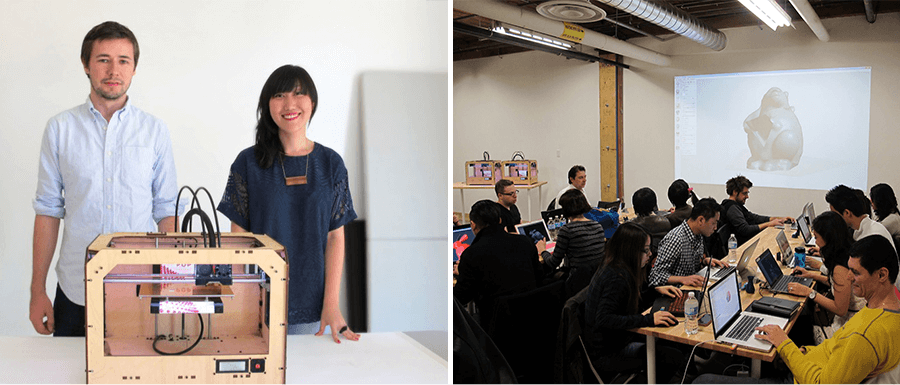 I sat down with Bi-Ying Miao, co-founder of Hot Pop Factory, to talk about the company's digital fabrications and interactive workshops, as well as the challenges of 3D printing.
What inspired you to start Hot Pop Factory?
Bi-Ying: We worked in architecture previously and used 3D printing to make models of buildings. Three years ago, when consumer 3D printers came to market, we realized we could probably afford one ourselves instead of spending the hundreds of thousands of dollars that it would take to get our hands on an industrial scale 3D printer. We experimented with it to figure out how far we could push the technology in terms of designs and geometry. We then ended up making a collection of 3D printed jewelery, and that's how it all started.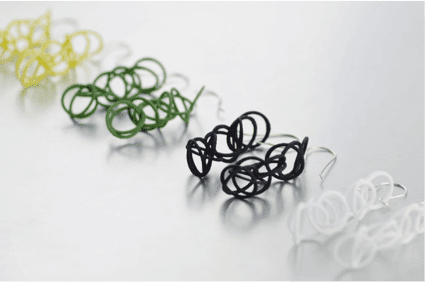 What services does your company offer for entrepreneurs and startups?
We find that a lot of startups in hardware and wearable tech do not have industrial designers on board. When they're ready to start working on a prototype and to become accessible to the public, say for a Kickstarter campaign, we help them figure out the industrial design and esthetic for their product. We then help them produce a prototype and short run production to fulfil their campaigns. We can do the design and manufacturing all under one roof.
Is your company working to print any products that solve problems for users with accessibility concerns?
I've been working on a braille project with the City of Toronto and I'm also really excited about 3D printed prosthetics. It's the customization aspect that is appealing and that allows for the process to start addressing people's unique needs. For example, someone might need a certain type of hearing aid that fits his or her ear properly, and 3D printing is a great way of bringing that to reality. You can create something that a user is proud to wear rather than something that is unattractive and doesn't help them express their personality.
What kind of equipment and software does you company use?
We have five consumer 3D printers in house from MakerBot. We also have manufacturing partners for when we need to do industrial-scale printing. We can work with nylon, stainless steel, silver, gold, wax and different kinds of specialty plastics. We also have a laser cutter, which is another kind of rapid prototyping process. The laser cutter cuts out sheet material with a high temperature laser. It's a subtractive method, rather than an additive method like 3D printing, so it's actually faster and more flexible. Our laser cutter can cut wood, Plexiglas, leather, textiles and cork, and we use it in conjunction with the 3D printers.
In terms of software, we use Rhino 3D for a lot of our design work. In our beginner workshop we teach MeshMixer to allow beginners to actually get into 3D printing, and we use Autodesk 123D software in our intermediate course.
Could you tell me a little more about your workshops?
Our workshops are geared toward everyone. We take all of the challenges of 3D printing and put them in the background, allowing people to access the technology in a way that takes all of the limitations out of the picture. We also have an intermediate class where we make it more challenging. In that course, students have to design a precise object with real dimensions; there are no templates and they work from scratch, just like an industrial designer would.
What challenges and limitations are the 3D print industry currently facing?
There are more than people realize. There's a huge education gap. Not everyone can make 3D content, it's a very esoteric territory in terms of the skills that are involved in creating 3D printable, original content. The other limitation is the technical aspect; 3D printing is a very young technology. The speed is also challenging because it's a very slow process. If you want to make anything that is of significant size, it becomes very expensive. There are also barriers in terms of the geometry you can achieve with consumer 3D printers with both the printer itself and the software.
There's also a restricted number of materials, especially those that are food safe, meaning they are approved by the United States Food and Drug Administration. Finally, there are also challenges with full colour 3D printing at the moment. It's something that a lot of people expect when they think about 3D printing because of all of the things they imagine having colour, but many of the current processes are colourless.
Do you believe that experience using 3D printing technology is a valuable asset?
Thinking in 3D is something that not many people are used to doing, but it's important in everyday life. Usually when a graphic designer is working, they are required to work within the two-dimensional plane on their computer screen. Once you print something that you've designed it is tangible and I find that really powerful. In many industries, it's also something very practical to make products that are completely customized. However, I believe it's not only about practical skill, but also about creativity. For example, a designer could transform something 2D into something completely personalized and 3D for their clients.
Where do you see the future of 3D printing going in the next 10 to 15 years?
The future of 3D printing is going to be a mass customization. One day I think our physical possessions are going to be made just for us. Right now we're seeing this a lot in the medical industries and the accessibility fields because in those sectors there is a special need for customization. But I think that over time, as the technology becomes more mature and the cost of 3D printing comes down, it will start infiltrating our everyday products. From watches that fit your wrist perfectly to a pair of jeans that you'll never have to try on because you've done a 3D scan of your own body, the things we own in the future will be made exclusively for us.
MaRS is very excited to be hosting Hot Pop Factory this coming fall for a series of hardware workshops. Keep an eye on the MaRS event page for details.