The winners of the MaRS and CIBC Inclusive Design Challenge: Access to Work tackle the chronic unemployment and under-employment that many people with disabilities face.
---
For far too many Canadians, employment remains out of reach. Despite having highly developed workplace skills or advanced education, many Canadians living with disabilities continue to face chronic unemployment and under-employment.
The latest figures from Statistics Canada show that of the more than three million Canadians of working age who identified as living with a disability, only three in five are employed — there are some 645,000 qualified workers who can't find suitable work. The pandemic has made the situation even more challenging: About one-third of employed Canadians with disabilities reported losing work last year. Plus, the long-term effects of COVID-19 could also increase the number of Canadians who have disabilities. This means there could be even more qualified workers struggling to find employment, even while the economy looks to rebound amid a labour shortage.
To address this gap as well as improve accessibility, MaRS partnered with CIBC to find innovative solutions.
"Addressing employment barriers for people with disabilities through an innovation challenge is a new way of doing things," explains Tim Rose, CIBC's senior manager of the inclusion team. Often, the private sector supports accessibility initiatives by donating to not-for-profits that focus on getting people with disabilities into entry-level jobs. That's important and effective, says Rose. But it's not enough.
"Until you see people with disabilities in senior management positions, in hiring positions, or in positions that have upward career trajectory or advancement, then you're not going to see a ton of change. It's through that leadership that we'll start to see change at the ground level," says Rose. That's why he's excited about the results of the MaRS and CIBC Inclusive Design Challenge: Access to Work. More than 60 ideas were submitted, all focused on moving workers, or potential workers, with disabilities closer to meaningful work.
In total, $100,000 was awarded to five companies who are preparing individuals with various disabilities to gain employment, whether that's through connecting them with work or educating employers about what disability brings to the workplace. Here are the winning solutions: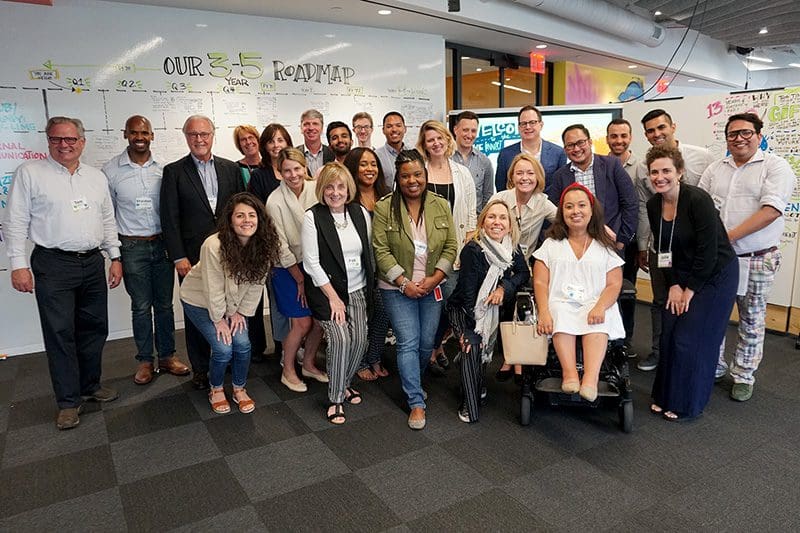 Lime Connect shows employees and companies how disability can lead to success
Lime Connect has been helping post-secondary students and professionals who have disabilities grow their careers since 2006. The New York–based non-profit, which has a worldwide membership of 19,000, is working to rebrand disability through achievement by connecting skilled workers with companies. "We basically are a matchmaker," explains Susan Lang, founding president and CEO of Lime.
It can be difficult for people with disabilities to find work or move up in their professional fields, she says, noting that many people with disabilities worry that disclosing their disability will decrease their chances of being hired or promoted. Through workshops, mentorship programs and one-on-one coaching sessions, Lime's members receive professional development in such areas as interviewing skills and career advancement as well as advice on disclosing a disability and bringing your full self to work. Lime also supports its corporate partners so that they can successfully onboard, develop, promote and retain employees with disabilities.
With the $50,000 it received as the grand prize winner of the challenge, Lime plans to build a new online hub to help members communicate, participate in training and learn about new career opportunities. Lang describes it as "LinkedIn on steroids."
"We know we're really just dipping our toe in the water," she says, adding there's many more people with disabilities for them to reach. "Many people who join Lime describe it as life-changing. They tell us it's the first time they feel they belong. This award will help us scale what we're doing, build that community and reach more people."
SenseTech Solutions uses virtual reality create real-world employment solutions
When Robert Ingino and Ali Raza Syed were studying engineering at York University, they became interested in finding a way to apply game development to help people in real-world scenarios, and founded SenseTech Solutions in 2018. This GTA-based venture, which won $20,000 through the challenge, develops virtual reality and simulation experiences to help people with disabilities prepare for jobs interviews. Many of the products are designed specifically for individuals who are blind or have sight loss, although they can be used by those with different disabilities. Other simulations help users practise taking transit independently, or prepare seniors to participate in fire drills safely. SenseTech also has a product that simulates attending school with different visual impairments, increasing fully-sighted individuals' awareness of these conditions.
Zera Café offers employees a start in the food industry
Eve Rochman wanted to provide meaningful work for people with neurodevelopmental conditions. And despite the challenges brought on by COVID-19, she opened this inviting and inclusive catering company in Montreal in spring 2020. Fittingly, Zera means "seed" in Hebrew, and the social enterprise offers training and employment for people who have developmental disabilities, with the goal of prepping them for a career in the food industry. The company, which was awarded $20,000, prepares vegetable-based, modern Israeli cuisine.
Liebs & Co. helps companies become more inclusive
To help improve the corporate hiring process and ultimately create more inclusive workplaces, CEO Max Lieberman has developed interactive learning programs. These training modules are available in audio and visual formats with closed captioning and described video, and cover various forms of disability, the history of social responses to disability and the responsibilities of employers and employees in accommodation at the workplace. Liebs & Co., which received $5,000, is aiming to spread best practices, not only to increase the number of people with disabilities who are hired, but also to build supportive workplace cultures where everyone can thrive.
SPOT helps all workers benefit from the gig economy
The flexibility of temporary work could be ideal for workers with disabilities, who may not be able to work for long contracts. But it can still be hard for them to find work. To address that, Darren Perlman and Daniel Copeland launched an app in 2019. SPOT, which stands for Spontaneous Paid Opportunities Today, gives workers control over which work opportunities they'll accept. With clients such as Shipfusion and Canada Cartage, SPOT features many jobs openings for warehouse or delivery workers or brand ambassadors. Workers can specify how far they're willing to travel for work, and are paid within five business days of completing a job. SPOT, which also was awarded $5,000, plans to add accessibility features to their gigs so workers can find jobs that fit their abilities and needs.
The path forward
Many employers still don't understand the assets that workers with disabilities bring to organizations, Rose says. Using a personal example, he cites his experience of living with cerebral palsy spastic quadriplegia with giving him the work ethic, creativity and public speaking skills he uses in his job today. "My disability is a strength," he says. "It's made me a better employee."
If more Canadians with disabilities are going to reach their full potential in the workforce, the private sector needs to show leadership, says Rose. "The private sector is a critical player in this, and that's why this challenge is so exciting." Over the coming years, CIBC and MaRS will be working with these winners connecting them with customers and investors as well as providing mentorship and tailored services, with the ultimate goal of creating a community of change-makers.
While changing the status quo will take time, Rose is optimistic. As the last 19 months have shown, companies and organizations can quickly reimagine how and where work happens. Change, he says, is possible. "It's going to be slow, but that doesn't mean we shouldn't do it, and that doesn't mean that we shouldn't look for innovative ways to change the system."
The next phase of the MaRS and CIBC Inclusive Design Challenge is focused on finding solutions that improve support at work for people with disabilities. Reserve your spot for the launch of the Support at Work Challenge here.