About 30% of the world's population, roughly 2 billion people, are using the Internet for communication, information and commerce. There are approximately 500 million people who are on Facebook. One third of all payments in Kenya are made through a mobile phone.
The stats continue to grow and technology-enabled innovations continue to drive a new global economy. In this economy, however, our youth are being left behind. Youth unemployment is at record highs in many countries (from 14% to over 50%). The digital revolution is transforming how our youth play, access information, communicate and learn. None of these statements are new and they are part of the global conversation that has been occurring for a while now.
Yet the digital revolution has not deeply penetrated and transformed our education systems yet. This is the part that amazes me.
Education blogger Will Richardson's statement that "simply adding a layer of expensive tools on top of the traditional curriculum does nothing to address the learning needs of modern learners" very bluntly describes how complex the problem is. Tech enablement is not enough (e.g., Massive Open Online Courses [MOOCs], flipped classrooms); it must be paired with a shift in curriculum. It requires a whole new pedagogy.  This is the basis of the work being done by the 200+ edupreneurs in the edtech cluster at MaRS and a philosophy our MaRS edtech team has embraced.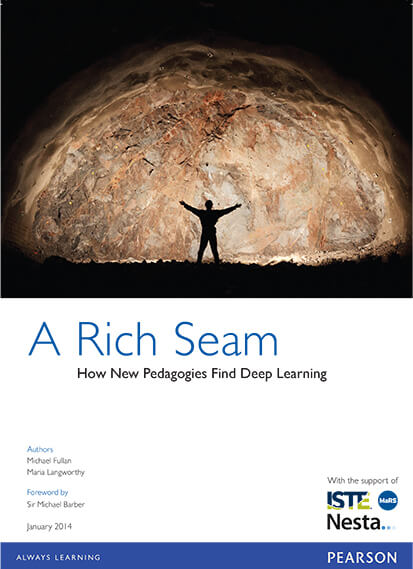 New report: A Rich Seam – How New Pedagogies Find Deep Learning
A new report titled A Rich Seam: How New Pedagogies Find Deep Learning is remarkable in its attempt to define a new desired outcome of the education system: "deep learning" and the current state of an education system in flux. It is remarkable in its attempt to describe examples of pedagogical changes that are starting to occur inside the system and the core components required for their success. The report, published by Pearson and in partnership with MaRS Discovery District, ISTE and Nesta, attempts to describe examples of pedagogical changes that are starting to occur inside the system and the core components required for their success. Co-authored by professor Michael Fullan and Maria Langworthy, the term deep learning is being used to define the outcome of the transformed system. Michael and Maria define deep learning "as creating and using new knowledge in the world."
I love applying this term to education. My inner geek thinks of it as a set of algorithms in machine learning that attempt to learn in multiple levels of representation, corresponding to different levels of abstraction. In education, the levels of representation are content, process and context, and the levels of abstraction can be thought of as locations: being in the classroom, in the community and in the world.
What is the aim of deep learning?
Michael and Maria write that "the explicit aim is deep learning that goes beyond the mastery of existing content knowledge. Technology has unleashed learning, and the potential for students to apply knowledge in the world outside of school; new pedagogies leverage all of this in the formal learning process."
In this new model, teaching focuses on the learning process with teachers as partners, helping students explore deep learning tasks. Success is measured by students' capacities to create knowledge, build proactive dispositions and lead their own learning as life-long learners, rather than standardized tests.
Sounds great, doesn't it? If only we could achieve that with our education systems in the snap of a finger. Education is a complex social system with many layers of influence, both good and bad. This paper proposes examining the system across its four layers (students, teachers, school leadership and policy-makers) through the implementation of three integrated core components that lead to deep learning for all students. The paper gives us a starting point on the journey to a system that enables this new pedagogy.
Key takeaways

The report describes three main phenomena that are driving the potential for education systems change:
New pedagogies that represent new learning partnerships between and among students and teachers. These include deep learning tasks and the use of pervasive digital resources.
New change leadership based in a new theory of inherent change that is more organic and spreads rapidly under the right conditions.
New system economics that deliver the new outcomes in a high-yield manner relative to cost.
The report culminates by recommending that students, teachers and policy makers take the following actions to start on the journey towards deep learning:
For students – to define their own learning goals and push their teachers to be fellow learning partners.
For teachers – to adopt an approach to try to learn from and with their students.
For policy-makers – to reduce negative accountability in favour of pedagogies and assessments linked to deep learning.
Recommendations for edupreneurs

What is important for edupreneurs to learn from this paper is that there is a rich seam of innovation occurring throughout the system already, inside individual classrooms, inside schools and, in some cases, inside whole systems.
We need to look to these emerging models for inspiration and assistance in finding their coveted "product-market" fit. We need to help the system find ways to scale the most promising innovations by committing to measuring their learning outcomes. Further, we need to find ways to bring their unique innovations to the system in a way that is consumable by the system, the language proposed within this paper is as good a way that I have seen to assist in that communication gap.
This paper is a catalyst in advancing this critically important discussion from inside the system out. It has given us a framework to discuss, develop and start on the path of implementation towards an education system that meets the needs of our youth. Read the paper here.