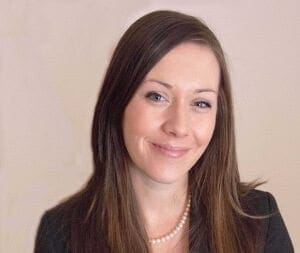 I often hear recommendations to think carefully before diving headfirst into entrepreneurship, and many entrepreneurs I meet have done just that. However, there are instances when following your heart, not your head, works just as well.
In the case of Emily Branton, President of Link2Feed, it was a great decision. Following her heart has allowed Emily to leverage her training, expertise and passions in an area of need: the food banking market.
"People should have told me to be an entrepreneur," said Emily recently. "I was never able to follow the rules." The irony of that statement is that Emily did follow a traditional educational path, studying communications and drama at the University of Windsor with the intention of becoming a high-school drama and English teacher. But it wasn't long before Emily realized that she was in a saturated market—most of her peers had similar aspirations.
Then she did what any entrepreneur, accidental or not, would do: She pivoted.
Emily jumped into public relations, working for non-profits, and also took some accounting classes. She loved the non-profit space, but recognized that there were some significant gaps in business thinking in that area. It was observing this gap in the market that led Emily to develop an appreciation for business, and she very intentionally went about trying to learn more. It wasn't long before she fell in love with business and began thinking of ways to leverage her communications and business knowledge in the non-profit space, primarily to drive social change. "I wanted to be the next big not-for-profit leader," she told me.
To better equip herself to be that leader, Emily did an MBA. That experience further solidified her passion for and interest in social enterprise. She became increasingly convinced that there must be more to business than just making money. To process what she had learned—to allow it all to percolate—Emily took some time out of her immediate environment and went to Europe. For five months she studied full time as an exchange student while travelling across Europe on her days off. That experience changed her perspective on life and gave her room to do things on her own terms.
That's when the entrepreneurial bug started to bite.
Emily says that her time in Europe taught her that life isn't just about your career, but also about doing the things that truly matter to you. Returning to Canada with a fresh perspective, Emily had several consulting and market-research engagements before joining Innivity Marketing Group, then the parent company of Link2Feed. At the time, Link2Feed was an Innivity side-project with one staff member assigned to it, but it was growing. When Emily was offered a position with Link2Feed, she took the opportunity knowing the impact she could make on Link2Feed's growth and social mission. Her growing knowledge about food banking and what data and research could do for the industry drove her forward. Pulling on her previous experience, Emily saw the business opportunity in Link2Feed and how it could be profitable, as well as the potential for social impact. Finally, the two sides of her that had been in conflict for so long found common ground. From there, having followed her heart and equipped herself with useful tools and knowledge, Emily took on the project full time. In January of this year, Link2Feed separated from Innivity, and Emily emerged as an entrepreneur.
It doesn't matter that Emily didn't start out wanting to be an entrepreneur or even thinking about the food banking space. What matters is that she saw a need to be filled in the market, kept learning and growing, took advantage of opportunities and allowed herself to develop a different perspective. In her words, "It's more than entrepreneurship. It's a chance for me to change the world."
For more insights from Emily's journey as an entrepreneur, join us at Entrepreneurship 101 on November 12 for the Meet the Entrepreneurs Panel on Social Innovation.
Want to connect?