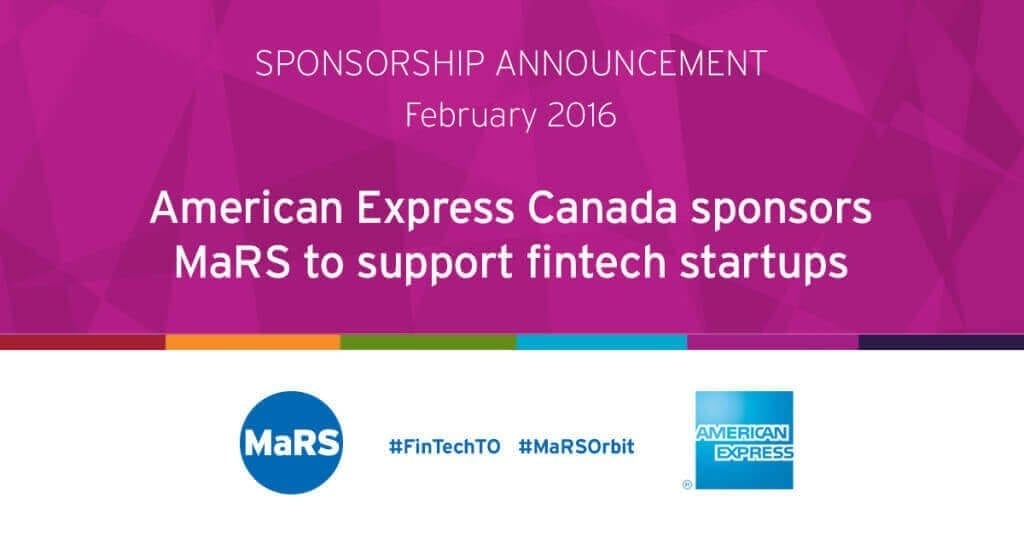 MaRS Discovery District today announced that American Express Canada has joined MaRS' Financial Technology ("FinTech") cluster as a sponsor. American Express is one of the most recognized and valued card issuers in the world. American Express Canada will work with Canadian market ready financial services technology firms to further digital marketing and services innovation. The collaboration will provide Canadian consumers with more options to meet their financial needs as well as enhanced digital capabilities.
Quick Facts:
American Express is an active player in the fintech ecosystem, including a recent investment in Vancouver-based fintech startup Trulioo.
Joining MaRS FinTech will enable American Express Canada to connect with consumers and contribute to growing enterprise fintech innovations focused around lending, alternative payments and loyalty.
Quotes:
"By working with American Express Canada we're connecting MaRS FinTech with a leading payments partner," said Adam Nanjee, Head, MaRS FinTech. "This collaboration will vastly expand the resources available to our fintech community enabling our innovators to transform financial services for the better."
"We are delighted to be teaming up with MaRS and its network of startups," Aileen Kheraj, Vice President, Lending Products and Partnerships at American Express Canada. "Working with MaRS will enable us to accelerate momentum across a variety of innovation initiatives and deliver best in class services for customers."
About MaRS Discovery District:
MaRS Discovery District (@MaRSDD) in Toronto is one of the world's largest urban innovation hubs. MaRS supports promising young ventures that are tackling key societal challenges in the health, cleantech and information and communications technology sectors. In the last three years, these ventures have raised $1.3 billion in capital and earned $640 million in revenue. In addition to helping startups launch, grow and scale, the MaRS community is dedicated to cross-disciplinary collaboration, commercialization of discoveries and driving ideas to impact.
MaRS' Financial Technology (FinTech) cluster connects the financial services sector with startups developing next-generation technology in emerging payments, financial services, peer-to-peer transactions and alternative lending.
About American Express in Canada
American Express in Canada operates as Amex Bank of Canada and Amex Canada Inc. Both are wholly owned subsidiaries of the New York based American Express Travel Related Services Company, Inc., the largest operating unit of the American Express Company. Amex Bank of Canada is the issuer of American Express charge and credit cards, with outstanding products like The SimplyCash™ Card from American Express®, The American Express® Gold Rewards Card, and the American Express® AIR MILES®* Credit Card. American Express opened its first offices in Toronto and Hamilton in 1853. For more information, visit AmericanExpress.ca or connect with us at Facebook.com/AmericanExpressCanada and YouTube.com/AmericanExpressCAD
Media Contacts:
Lara Torvi
MaRS Discovery District
(416) 673-8100
ltorvi@marsdd.com
Maggie Dunlop
American Express Canada
(437) 836-6051
maggie.dunlop@aexp.com