Note: This post originally appeared on SocialFinance.ca. It has been reposted here with permission from the author.
Over the past six months, I have had the privilege of leading the implementation of 2013's Social Finance Awards. In this time, I have had the opportunity to support sharing the stories of landscape changing initiatives doing incredible work across Canada.
After much excitement—and constant checking of the latest voting results—we announced the winners of the 2013 Social Finance Awards on December 5. There is something so special about being able to take the time to recognize the efforts of the trailblazing leaders catalyzing the social finance landscape across Canada—so without further ado, here are the winners!
Social Finance Innovator Award – "Most Promising Collaboration" in Canada
The Social Finance Innovator Award is an annual people's choice award presented to trailblazing innovators in the Canadian social finance landscape based on a theme selected by SocialFinance.ca.
Winner: Rise Asset Development
Rise Asset Development is a public-private partnership that provides microfinancing and mentorship to entrepreneurs living with mental illness and addictions. The Rotman School of Management and the Centre for Addiction and Mental Health were the founding partners of this social finance collaboration. By leveraging collaboration as a tool for scaling, Rise has grown to three cities and looks forward to expanding to many more in the future.
Runner-up: Ontario Catapult Microloan Fund for Social Ventures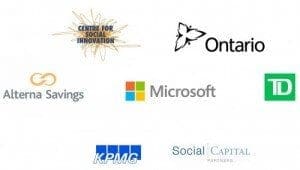 The Ontario Catapult Microloan Fund for Social Ventures (or Catapult for short) brings government, business and a non-profit together to support intrepid change-makers working across sectors from farming to finance and everything in between. The Centre for Social Innovation, an established leader with a strong reputation in the social innovation space, has partnered with the Province of Ontario, Alterna Savings, Microsoft Canada, TD Bank Group, KPMG and Social Capital Partners to implement this first-of-its-kind program. It is the unique set of investors that have mobilized to support Catapult that makes this such an exciting and promising model for future impact funds and microloan programs.
Second Runner-up: Sarona Asset Management Emerging Market Fund-of-Fund Program

Recently, Sarona launched a new impact fund of funds program focused on investing growth equity in companies infused with progressive social and/or environmental values in emerging markets. The partners in this initiative include MEDA, the Canadian government, OPIC, the United States government's development financial institution, the MaRS Centre for Impact Investing and a number of limited partners.
Social Finance Excellence Awards
The Social Finance Excellence Awards is a series of awards recognizing players who have demonstrated a strong commitment to building the social finance sector in Canada. The winner of each award is determined by SocialFinance.ca-based nominated organizations and a predetermined set of data-based criteria.
Excellence in Community Development: Awarded to a financial player (such as a fund, community development financial institution or credit union) that has made a significant impact in community development through the deployment of capital in impact investments.
Winner: Vancity Credit Union
Excellence in Mission Investing: Awarded to a foundation that has demonstrated a strong commitment to achieving the Canadian Task Force on Social Finance recommendation of capital deployment to mission-related investments.
Winner: Edmonton Community Foundation
Excellence in Sector Talent Building: Awarded to a Canadian educational institution that has demonstrated a commitment to developing new sector talent and expertise through offerings in social finance.
Winner: Schulich School of Business at York University
Throughout the year we have the opportunity to continue highlighting and sharing the stories of all the nominees. We look forward to following their success in 2014!