In just nine years, Toronto-based Bitstrips went from a make-your-own-comic website into one of the world's biggest cartoon brands.
If you don't know about Bitstrips' app Bitmoji, your kids definitely do. As one of the world's most popular apps—it has held the #1 spot in the iTunes app store in 75 countries—Bitmoji integrates with popular messaging services and allows you to create a personalized digital avatar. When you send a text, you can share your cartoon avatar along with a cute expression in an emoji that says "lol wat?", "see you soon" or "love ya!"
Earlier this year, Bitstrips was acquired by social network giant Snapchat in a cash-and-stock deal worth a reported $100 million U.S.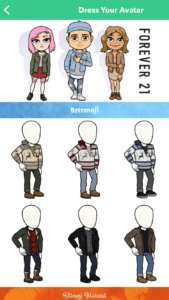 Bitstrips' CEO and co-founder Jacob Blackstock—who prefers to be called by his nickname "Ba"—says that teaming up with Snapchat was a no-brainer.
"Bitmoji really blew up last year and grabbed their attention, and one thing led to another," he says of the Snapchat deal. "They were a natural fit because, like us, they're a company that gives people ways to express themselves creatively and visually."
Aside from enhancing and personalizing the texting experience, the sharing of emojis through Bitmoji also provides insights into how people communicate privately. Based on how often their cartoon expressions are shared, Bitmoji can gather a picture of how many people are going on a trip, how many people are sick, and even how many people are falling in love.
"When we first started seeing the reports in the beginning, it was nice to see that people were saying more positive than negative things to each other," Ba says. "There were other small, obvious but fascinating insights, like it's most popular to say 'Happy Birthday' to someone in the morning."
What kind of messages are among the most shared today?
"Overall, statements of affection are among our top-communicated terms—particularly 'I love you.'"
Bitstrips and MaRS
Early in the company's foundation, MaRS played a part in helping the company establish itself. During the late 2000s, Bitstrips monetized their make-your-own-comic website as a learning tool. Bitstrips' first client was the Province of Ontario, and the company turned to MaRS advisors to fuel their growth.
"We found ourselves at a juncture," he recalls. "We started talking to MaRS advisors after our company grew out of my living room and into an office with a few employees. They helped us learn how to grow as a company."
Pivoting your way to success
While their early days as a learning application showed promise, it's only when the company pivoted into the messaging space, first on Facebook in December 2012 and later on iOS and Android smartphones, that it reached its potential.
"We knew we needed to bring the language of comics to the places people were communicating with each other, on text applications," he says. "The world was catching up to the way we were thinking about things and the world of communication technology was evolving in parallel with the rise of emoji and stickers and chat apps."
The app soon became a global phenomenon and the company a multi-million-dollar success.
If you ask Ba, Bitstrips was always meant to be this successful.
"This was always the plan," he says. "At the company, we all made great personal sacrifices to get here, and we wouldn't have done that if we didn't believe in what we were doing. It was not a surprise to me that we became the biggest cartoon brand in the world."
Many company founders make similar sacrifices and are fueled by similar beliefs—so what were the keys to his success?
"Success is a combination of having as much confidence as you can and having the sheer will to keep pushing during the times when things are stacked against you. Your confidence will waver. There will be those times. The not-so-simple act of not giving up is one of the things you need to possess."