When I got an email invite to the Building the Future of the Connected Car event, presented by MaRS and BNOTIONS, my first thought was about the current system I had in my own car. It has all the fun stuff: Bluetooth for my music, phone calls and text messages, a built-in AUX port and satellite radio, all controlled with a touchscreen. I show it off to everyone and always thought I had the best technology available. After attending this event at MaRS last week, however, I realized that my car is not even close to the cusp of where the connected car is today.
The event brought together developers and attendees to brainstorm and pitch a vision for a future connected car experience. From new safety controls to making cars more sleek in design, the innovators in the room offered inspiring ideas and pushed the limits to think bigger than now, bigger than today. And with a Tesla in the room, we had plenty of inspiration! I came to the event ready to join a group and brainstorm our pitch—with only 90 minutes to do it!
The speakers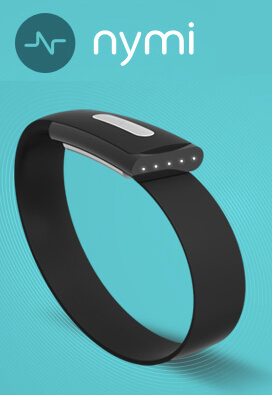 Before the pitches, we heard some great speakers talk about where technology is headed in this realm. First up were Andrew D'Souza of MaRS client Bionym and Helen Papagiannis of Infinty AR, who had a fireside chat about Bionym's Nymi band and the future of the connected world (such as wearable technology). Andrew discussed the proliferation of biometric technology­ (think the iPhone 5's fingerprint unlock), the trend of personalization (think Google Now), the trend of connectivity (think Nest) and the success of all three due to their ability to simplify pains in life.
In fact, it was these trends that led to the birth of the Nymi—a combination of biometrics, personalization, wearables and connectivity that uses the rhythm of your heart to securely communicate your identity—and which, according to Andrew, are the reason it will succeed in such a fragmented wearable market. To take it one step further, Bionym offers a software development kit that allows for endless opportunities with the Nymi band—for example, the ability to open car doors. Andrew hopes developers will think big!
Justin Moon of LixarIT built upon similar ideas, mainly that car experiences should be personalized and connected, although in a slightly different way. A connected car should not replicate current mobile experiences, it should offer its own experience: a car experience that is augmented by your mobile device.
The pitch
Of course, after hearing about the possibilities of Nymi, everyone wanted to win one. The group that I was a part of was in agreement that the No. 1 problem with cars both now and in the future is safety. The numbers behind vehicle deaths worldwide are astounding. At the top of the list of problems is impaired driving, which includes drunk driving, falling asleep at the wheel and, more recently, using your phone while driving.
Our solution was to consolidate current technology to detect and warn against each of these aspects. More specifically, our solution involved installing a camera on a car's dashboard that would focus on the driver's eyes to see if he or she is looking forward or falling asleep, as well as sensors on the steering wheel to determine any alcohol levels in your sweat before you start to drive and sensors in the car to gauge driving patterns. Upon detecting any of these impaired aspects, the car could safely pull itself over or direct you to the nearest rest stop. It could also put notifications on your dashboard and flash pictures of your family with the end goal of Death Prevention (which was also our team name).
Each group pitched compelling ideas, from being able to order drive-thru food from your car to the gamification of driving to changing the way we park. The judges definitely had a tough decision to make. Luckily enough, the safety and connectivity aspects of our idea resonated with the judges and each group member walked away with a Nymi band!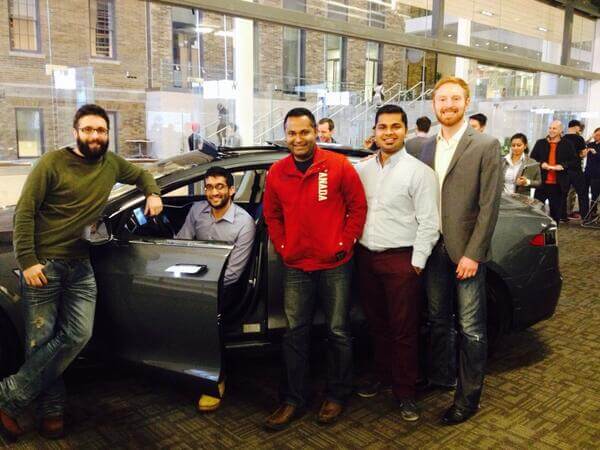 Justin said it best—"The experience will win"—and this event was an experience like no other. It brought together some great talent and speakers who sparked creative ideas and conversation, which truly showcases the high level of innovation that surrounds and personifies both BNOTIONS and MaRS. I know that I left the event feeling inspired and excited and feeling like I was a part of the future. Of course, winning always helps!