"The only way to be a better scientist and businessperson is to be open to new ideas."
---
Over the course of her career, Molly Shoichet has received many honours: Officer of the Order of Canada, Laureate for the L'Oréal-UNESCO for Women in Science International Awards, and Ontario's first Chief Scientist. She's also incredibly humble about it all. "Looking back on my life, it seems like I had some sort of plan," Shoichet says. "It didn't feel that way when I was living it."
When she's not winning awards and representing Canada on the world stage, Shoichet is busy teaching chemical engineering at U of T, leading a team of researchers at therapeutics startup AmacaThera, and steering MaRS in its mission to foster meaningful innovation.
But if Shoichet's life didn't have a plan, how did she get here? In our latest edition of MaRS career diaries, the scientist and entrepreneur puts it all under the microscope.

Growing up in Toronto, my parents challenged me to succeed. They valued education and gave me the same avenues as my older brothers. Both my parents were entrepreneurs — my mom ran a manufacturing company with her siblings. (To this day, I get excited walking into plants and seeing people make things.) I'm so grateful to come from a hard-working family with strong ethics.
I'm a big advocate for women in STEM. It's a constant in everything I do. "Girl power" has been my mantra since I was a child. I understand the power of sharing stories, and I want people of all genders, ages and ethnicities to be heard.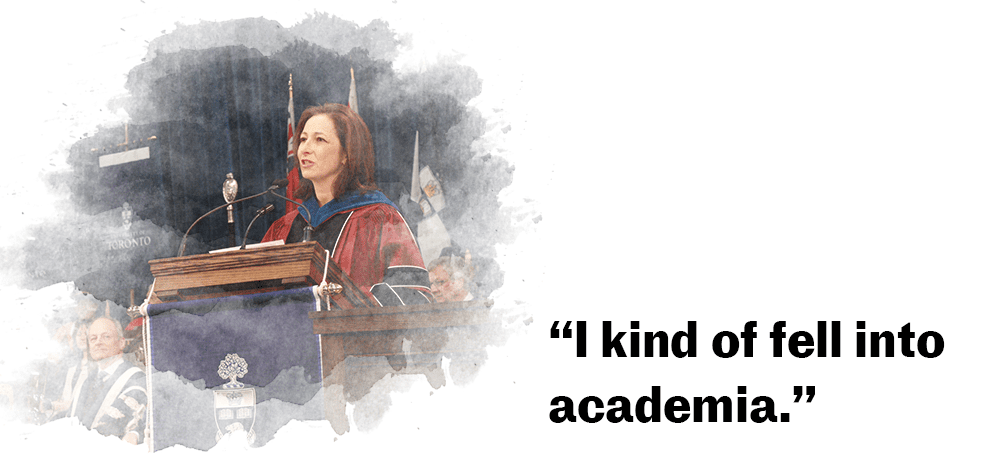 I suppose science came naturally to me. The more you do something, the more you excel at it. For me, science is about asking questions and making observations. And as a child, I found it in everything: making mud pies, watching my brother make tiny explosives out of cotton and so on. I pursued chemistry in high school. That's when I made my first polymer, a hydrogel. It was so cool knowing that I had created a chemical reaction, seeing it swell. From there, I went to get my degree in polymer science and engineering.
I didn't know what a career in research would look like. Most of my classmates at MIT were going off to work in industry, at places like Dupont and 3M. I had a brief stint at a biotech company and kept running into U of T professors at conferences. They told me about all these jobs back home. The research was exciting, so my husband (a Harvard Business School grad) and I took a chance and moved to Toronto. You could say I fell into academia. I've never looked back.

It was just an idea. And now I have the honour of sitting on the Board of Directors. Being a part of MaRS is really an extension of my research and entrepreneurship. It's a multiplier effect: the things we do impact so many startups across Canada and they, in turn, impact millions of lives around the world. It's painting with a bigger brush. Life is also about the people you meet, and the people at MaRS have taught me so much.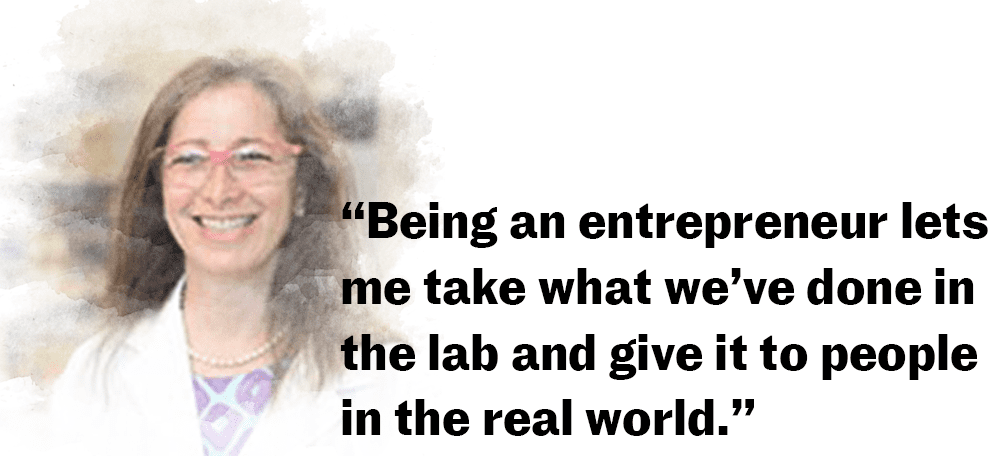 In 2015, I co-founded AmacaThera with Michael Cooke. We incubated the company in my lab and saw it as a chance to make a tangible difference. That still drives everything we do. Today, we're headquartered in JLABS @ Toronto, a beautiful space operated by Johnson & Johnson Innovation. One of the projects we're working on is the reformulation of a well-known pain medication, developing it as an alternative to prescription painkillers — a key source of the current opioid crisis.
I'm really so lucky to live and work in two worlds. In academia, the goal is to advance knowledge; to solve things no one else has solved. With AmacaThera, our mission is to develop products with societal benefit; to make something tangible for regular people.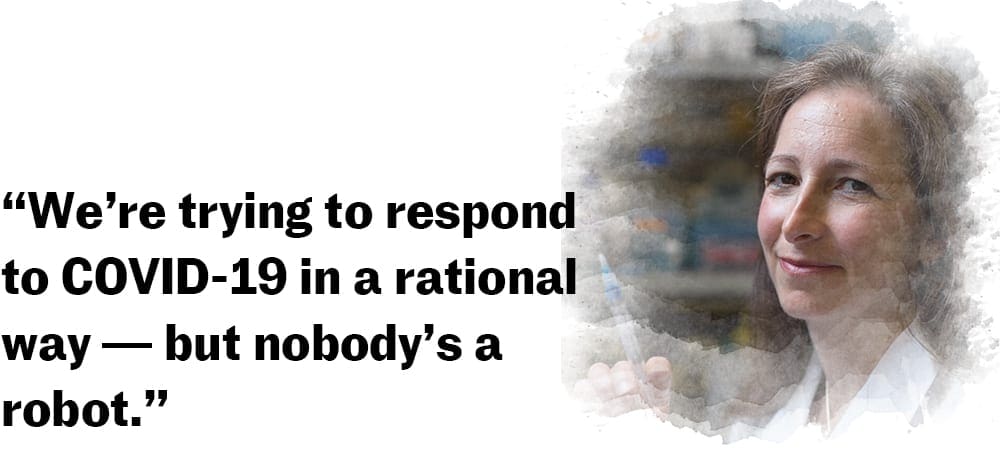 I shut down my lab on March 20, at the beginning of the lockdown. It was a crazy week: so many forms to fill out; so many protocols to ensure safety. Amidst the chaos, I asked what we could do as scientists to help the situation. We're not virologists, but we pivoted some of our research to better understand different disease treatment and inform those tackling the pandemic. That let us partially reopen the lab.
The coronavirus emergency has touched every aspect of life. There's so much fear of just living the way we normally live. I'm trying to not let that affect my work and family. We were wearing masks in the lab before it was mandated. I've been safely visiting my 92-year-old mother. The data is clear. We have to respect this disease. But it can't control everything we do.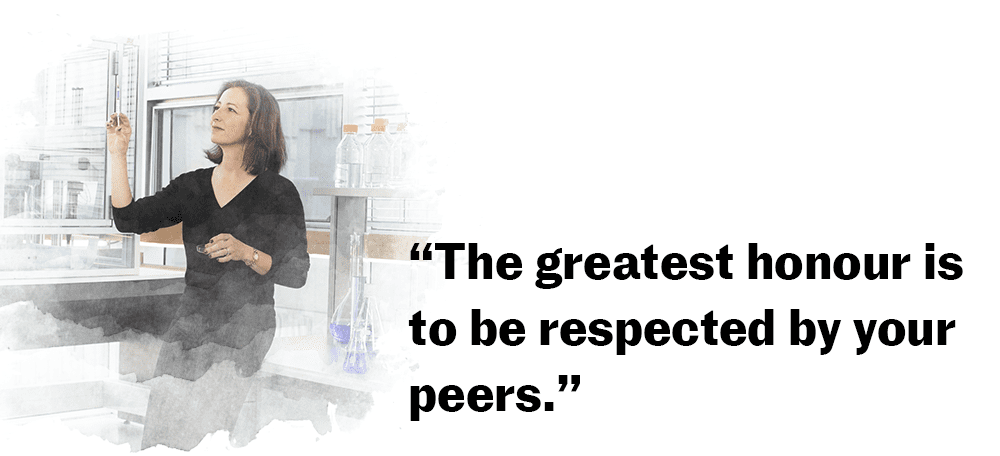 The only way to be a better scientist is to learn constantly and be open to new ideas. One of the greatest privileges of being a professor at U of T is learning from the brilliant students we attract. It's similar as a businessperson — it's about communication and collaboration. I believe in inclusive leadership, getting in the trenches with my employees. But I also have to make decisions. You know you're a good leader if people are willing to follow you.
When your peers believe in you, you get amazing opportunities. Last year I was elected as a fellow to the Royal Society, the world's oldest scientific academy. I signed the same book as Darwin and Newton! I've been asked to advise the prime minister and his cabinet, served on many boards — it's remarkable. It's not like I've ever gone to war for my country, but I hope I've helped Canadians in my own way.
Visit the MaRS tech job board to stay informed about the latest career opportunities in Canadian innovation.