The MaRS Centre is full of scientists and entrepreneurs who are disrupting the status quo in areas that have long-established practices and processes, such as banking, drug discovery and teaching. Our health team is tackling an area that has been an issue for those looking to provide a better healthcare experience: the innovation procurement process or, in laymen's terms, how healthcare organizations buy innovation.
In August 2016, we proposed an experiment to healthcare providers and tech innovators. We asked them to step away from writing tenders and requests for proposals, and to try using co-design as a way to bring innovation into the healthcare setting. We wanted to see if a co-design process could:
produce solutions that are a better fit by involving end users and all stakeholders in shaping the solution;
level the playing field for small- and medium-size enterprises that have a hard time competing against larger companies that can offer better prices; and
reduce risk in the procurement process by encouraging iterative prototyping and evaluating against specific outcomes before committing to purchase.
We knew we were asking a lot of these teams. They would need to invest significant time and resources trying out this first-time co-design method without guarantee of success. Despite these risks, we had 20 teams take on the co-design process with enthusiasm. From December to February, the teams followed the co-design roadmap we laid out for them and also attended workshops and webinars at MaRS.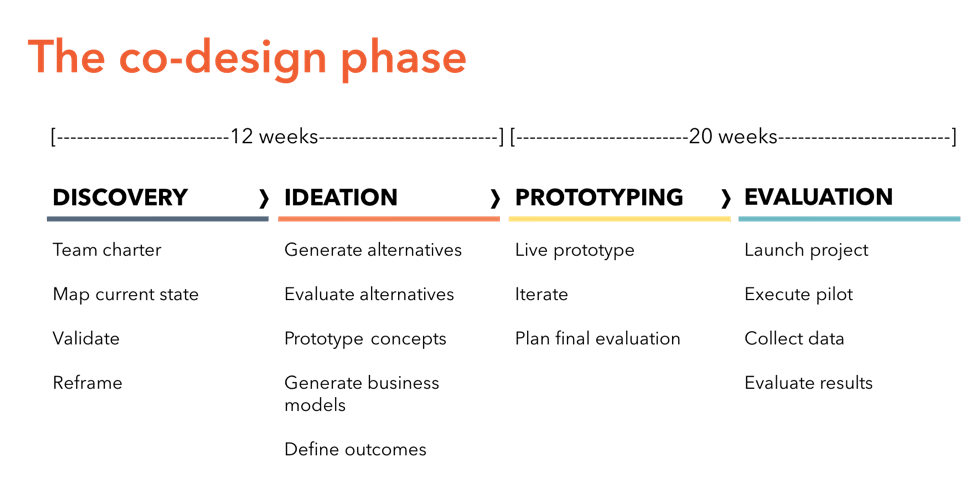 After 12 weeks, 17 teams came back to MaRS to pitch their plans. Our advisory board awarded grants to four teams based on a set of criteria that included:
their ability to demonstrate that they achieved the best possible understanding of the challenge, the stakeholders and the beneficiaries;
their ability to demonstrate that the proposed solution is desirable, feasible, viable and user centred;
how the solution they propose produces value for both the provider and the vendor; and
the quality of their evaluation and procurement plans.
Here are brief descriptions of the four successful projects.
Reducing gaps between patient visits and income insecurity for PSWs
VHA Home HealthCare provides home care for 91,671 clients on an annual basis and employs over 2,300 personal support workers (PSWs) and nurses. Maximizing its PSW workforce has been an ongoing challenge for VHA. Currently, schedule coordinators scroll through employee calendars to find matches for their clients. This manual and arbitrary process often leaves schedulers feeling overwhelmed and PSWs unfulfilled and dissatisfied, leading to employee turnover.
To address this challenge, VHA staff worked with AlayaCare to engage with its PSWs and schedulers to better understand the current constraints around the scheduling process. Together they identified important factors related to successfully matching PSWs with clients, such as languages spoken, history with the client, case loads and optimal travel routes. The team decided that an ideal solution to this problem would be to leverage AlayaCare's capabilities in machine learning. Their co-designed application will enable VHA staff to optimize schedules and routes for their PSWs to produce an increase in PSW utilization by 10 to 20%.
In a recent press release, Drew Wesley, the director of information management and technology at VHA, said: "We're confident that the solution AlayaCare and VHA Home HealthCare developed together to solve these challenges will be a game-changer in the home-care industry." Read the full press release.
Improving the patient flow before and after surgery
After surgery, patients receive critical care in post-anesthesia recovery rooms (PARRs). These rooms are occasionally closed due to scheduling and staffing issues, which can lead to a poor patient experience and can also result in having to delay or cancel surgical procedures. These closures cause frustration among staff and physicians, as well as increased expenses due to overtime.
To solve this challenge, staff at Michael Garron Hospital and QoC Health examined the experiences of a PARR room administrator. After evaluating several potential changes to the PARR administrator's experience, the team arrived at an optimal solution: a web-based application that allows the user to view a prediction of a patient's flow through entry, treatment and exit layered over a visual comparison of resource allocation (nursing, porters, beds etc.) to patient volumes with the goal of determining optimal resource management. The team hopes to expand this application to other areas of the hospital and has designed the solution with this goal in mind.
Re-imagining how long-term care front-line staff communicate and care for patients
Trinity Village front-line staff record their interactions with patients on multiple paper-based and electronic documentation systems that are located on separate computers throughout the facility. The process is inefficient and takes time that could otherwise be spent with patients.
At the beginning of the program, the Trinity Village project team thought they could increase efficiency by having mobile devices readily available throughout their facilities. Together with VitalHub and Trinity Village staff, the team realized that they needed to reimagine the way data is captured, used and shared among staff. Instead of entering information per compliance requirements and administrative systems, they designed a patient-centric, care-driven system. The co-designed solution is still accessible through mobile devices, but the existing forms are being replaced with a tool that allows staff to schedule and assign tasks more collaboratively so that more time can be spent with patients instead of on paperwork.
Increasing engagement between physicians and administrators
Markham Stouffville Hospital (MSH) struggles with a problem that many organizations face: staff engagement. For many physicians, their first encounter with medical administration happens during their very first shift, sometimes at night, when they are presented with a pile of paperwork and onboarding forms to review and fill out.
MSH staff and VitalHub recognized an opportunity to create both a more enjoyable orientation process and a platform that enables administration to keep physicians engaged by sharing information in an accessible and convenient manner. The smartphone application allows physicians to access and complete onboarding materials before their shift starts as well as information such as hospital policies, floor plans and staff directories. The app will also allow physicians to ask questions and share feedback with administrators.
Looking forward
All four projects are set to finish development and testing in the next few weeks. Should the evaluations be successful as defined by agreed-upon outcomes between the healthcare providers and vendors, the teams will come back to MaRS on July 21 to pitch for another round of funding to support the purchase of the solutions. Meanwhile, the MaRS team is busy reviewing the insights gained from this first cohort to determine whether this co-design experiment was a success. We are looking forward to sharing our findings soon.
About the Innovation Partnership: Procurement by Co-Design Program at MaRS
A partnership between MaRS Discovery District and the Ministry of Government and Consumer Services, the initiative offers healthcare service providers the opportunity to participate in the development of technology tailor-made to address the particular problems they face while complying with the Broader Public Sector Procurement Directive. This project is funded in full by the OntarioBuys program. OntarioBuys makes investments to support innovation, facilitate and accelerate the adoption of integrated supply-chain, back-office leading practices and operational excellence by driving collaboration and improving supply-chain processes in Ontario's broader public sector.