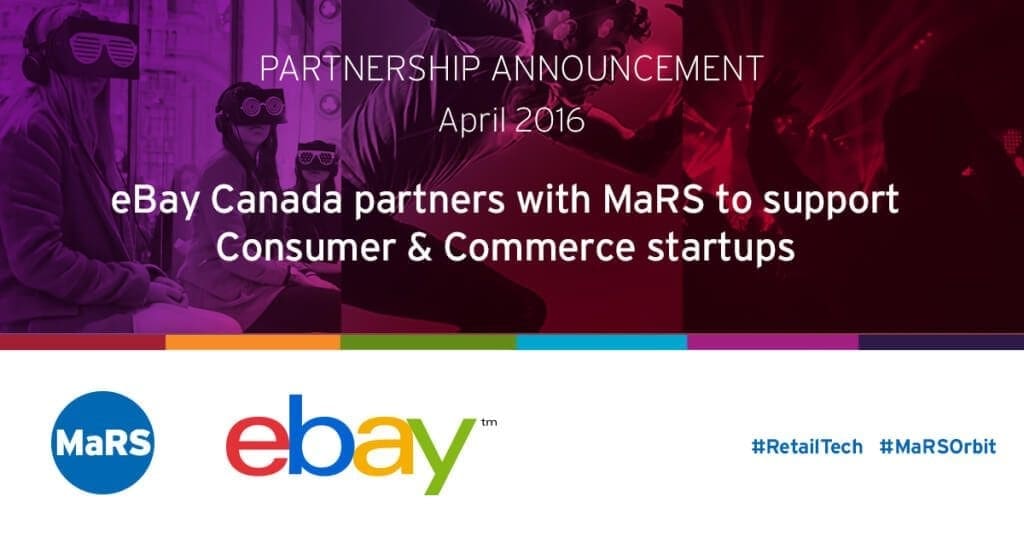 MaRS Discovery District today announced that eBay Canada has joined MaRS' Consumer and Commerce cluster as a partner. The partnership unites a global leader in commerce and technology with the most ambitious entrepreneurs driving innovation across the industry.
The collaboration will allow Canadian retail and digital commerce startups to draw upon the global reach, collective talent and intelligence of eBay Canada – helping them grow and achieve enough scale to guarantee staying power, worldwide.
Quick Facts
eBay has 162M active buyers and 800M listings globally
Canadians sell more than 1M items on eBay every month, and buy more than $1B every 12 months
99.8% of eBay Canada small and medium-sized businesses export, versus 10.4% of traditional Canadian SMEs
Quotes
"In the next five years, commerce will become a truly global experience, but barriers such as duties and tariffs, currency and complex regulatory frameworks create a challenging cross-border trade environment," said Sue McGill, head of Consumer and Commerce at MaRS. "eBay is the world's largest online marketplace with a presence in nearly every country across the globe. By enabling the flow of knowledge and expertise between our ventures and eBay's team, we are building the skills needed to scale a company globally."
"We are thrilled to be joining the MaRS community through this partnership," said Andrea Stairs, managing director, eBay Canada. "First as a pioneer and now as a leader, eBay has played a central role in the development of e-commerce globally and in Canada. Working with MaRS, we look forward to helping the next generation of commerce startups develop strategies to drive growth and tap into the global consumer market."
Andrea is also joining MaRS' Consumer and Commerce Advisory Board. The advisory network is anchored by leading industry executives who have successfully led some of the world's leading brands through transformational growth.

About MaRS Discovery District
MaRS Discovery District (@MaRSDD) in Toronto is one of the world's largest urban innovation hubs. MaRS supports promising young ventures that are tackling key societal challenges in the health, cleantech and information and communications technology sectors. In the last three years, these ventures have raised $1.3 billion in capital and earned $640 million in revenue. In addition to helping startups launch, grow and scale, the MaRS community is dedicated to cross-disciplinary collaboration, commercialization of discoveries and driving ideas to impact.
MaRS Consumer and Commerce cluster is dedicated to building high-growth ventures that are radically reshaping the way we live, shop, communicate and play. The cluster connects startups to strategic partners, customers, investors, industry advisors and more.
About eBay Canada
eBay (NASDAQ: EBAY) is the world's most vibrant marketplace for discovering great value and unique selection. eBay connects millions of buyers and sellers around the globe, empowering people and creating opportunity through Connected Commerce™. Our vision for commerce is one that is enabled by people, powered by technology and open to everyone. We partner but never compete with our sellers and create stronger connections between buyers and sellers with product experiences that are fast, mobile and secure. eBay is visited by more than 8 million unique Canadians per month (comScore Media Metrix: February, 2016). For more information, visit ebay.ca.
Media Contacts:
Lara Torvi
MaRS Discovery District
(416) 673-8100
ltorvi@marsdd.com
Camille Kowalewski
eBay Canada
(416) 969-2628
ckowalewski@ebay.ca