Join us at the next MaRS Mornings on April 12. Hear insights from John Baker, President and CEO of D2L, the company that created the online teaching and learning platform Brightspace.
On March 9, Nanoleaf's CEO, Gimmy Chu, spoke at MaRS Mornings, recapping his journey of realizing the impact of doing social good as an entrepreneur. Being the boss of a company that produces the world's most efficient light bulb can make you happy, but not for the reasons you may think.
As a kid, Gimmy thought that being a boss meant you could do whatever you want, which in theory sounds great, but in reality means that you're putting in a lot of hours and faced with challenges everyday with no-one to give you direction. But at the same time, you're in a position to make a real difference. This is why Gimmy enjoys being an entrepreneur and running a company with an environmental focus in an area that he is passionate about.
Gimmy studied at the University of Toronto and was first engaged in the energy space through his involvement with the solar car team where they built a working car powered by solar. After working seven years as a technology consultant, Gimmy reunited with his solar car teammates, Tom Rodginer and Christian Yan. They had gone their separate ways after graduation, but felt that the knowledge and skills that they had gained over the years put them in a good position to do something big and impact the world. This brought them back together to work again and start Nanoleaf.
Lessons learned along the way
Considering they started as a company of three with no R&D budget and just a small amount of life savings, it's inspiring to see where they are now. Driven by their passion and a few core values, with some luck, hard work and a beautiful product, the Nanoleaf team has learned and accomplished a lot in just four years.
Gimmy shared some of his key learnings:
Making the product is one thing, but bringing it to the market is another.

A product may be created to address a key challenge, such as sustainability, but understanding and incorporating customer drivers is important for uptake and to deliver on impact—and you need to get your product out there in order to make any impact. Nanoleaf's original campaign focused on being "green" and the benefits around it. While being green is one of the biggest passions for Gimmy and his team, and is a key foundation and element in their product design and packaging, they recognize that "being a green company is not sexy." The team found that focusing on the "green" elements can be alienating and motivates customers for the wrong reasons, by selling them on guilt. Nanoleaf learned that despite its intentions to do good, it had to market its product in other ways.

Focus on function and innovation.

Gimmy suggests that you can stay true to your passions and values without putting them at the forefront to sell. Once you have customer engagement, it is easier to upsell and educate customers on the other benefits of your product. After their first campaign, Nanoleaf focused on the efficiency and design of their light bulbs, which have received international recognition and have been sold to customers around the world. Appealing to the mass market with its unique designs, Nanoleaf has been able to broaden its impact on energy usage and remove preconceptions that eco-products compromise people's lifestyles.

Hardware is hard.

As Gimmy reminded the audience, "hardware is called 'hard' for a reason." Aside from designing and creating a cool product, there are many facets to building a hardware company. Managing the supply chain, choosing a manufacturing partner, negotiating business relationships, branding, marketing, distributing—these are just a few areas that Gimmy highlights as not having considered when he started out. Having the right people and connections are important, but you should also expect to do your homework and put in time to make things work. Gimmy remembers packing a lot of boxes when he had to fulfill initial orders, and reading articles and books, such as Branding for Dummies, to become familiar with the marketing side of the business.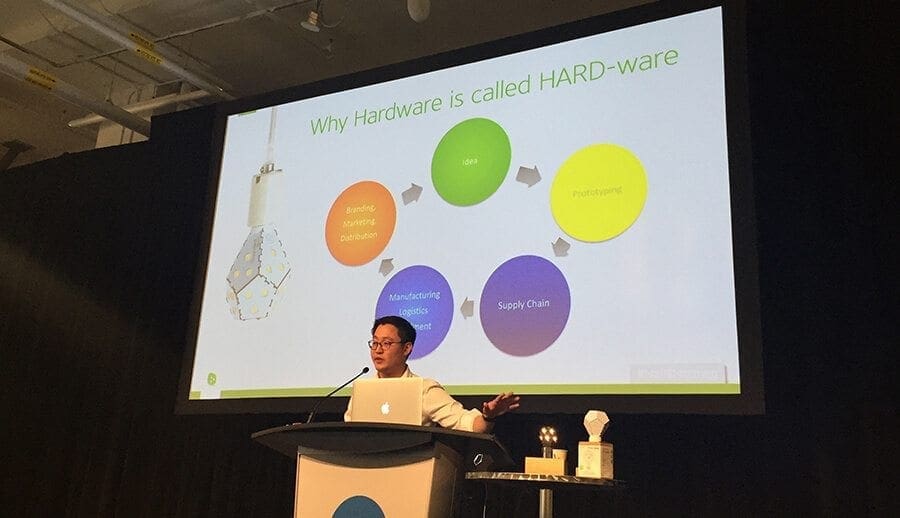 Green growth for Nanoleaf
Since its launch, Nanoleaf has grown from a team of three to a team of more than 30 with three offices, nine products and two international awards. They're now moving into the connected home space with their Smarter Series light bulbs that can be activated by your phone, and with new ways to experience lighting with their colour-changing LED panel lights, the Aurora.
Gimmy and Nanoleaf's passion to do good and innovate is inspiring and refreshing and it'll be exciting to see what bright ideas they'll come up with next.