We're not going to be chauffeured around by driverless cars anytime soon, but autonomous delivery vehicles are poised to hit the road.
---
Long before Uber, Tesla or Waymo, there was VaMoRs: a five-ton Mercedes-Benz van that can credibly lay claim to being the world's first autonomous vehicle. Developed by German engineer Ernst Dickmanns, VaMoRs made history in 1987 when it cruised down a stretch of autobahn at nearly 100 kilometres per hour, guided by an array of primitive sensors, bulky cameras and enormous computers. It wasn't exactly consumer-ready — but it was roadworthy, attracting lots of hype, and lots of cash from European governments intent on creating the world's first self-driving car.
But the excitement fizzled just as fast — at least, until a few years ago. "What we were seeing starting around 2015 was all this hype again that self-driving cars were just around the corner," says Ignacio Tartavull, who worked in 2018 and 2019 as an autonomy engineer with Uber's Toronto-based Advanced Technologies Group (ATG).
Indeed, only four or five years ago, predictions abounded that autonomous vehicles would soon make humans little more than passengers. As recently as 2019, Elon Musk was promising that Uber would have "one million robotaxis on the road" by 2020 (it currently has none, and sold ATG last year).
"This all made me so excited," says Tartavull. "Who doesn't want to join a project on the verge of changing society? And then I joined ATG, and it became obvious, 'OK this is more challenging.'"
While autonomous vehicles have become far more adept than VaMoRS, the final technological push needed to make them viable in complex urban environments hasn't quite materialized. "If an autonomous vehicle follows a route in downtown Toronto, the car might not even move if it's being operated conservatively," says Raghavender Sahdev, CEO of Toronto-based NuPort Robotics. "There's just too much getting in the way."
But even if we're unlikely to be chauffered around town by self-driving vehicles any time soon, autonomous technology has come far enough to transform other aspects of our transportation system. "There is still a lot that we can accomplish with the technology we have now," says Sahdev. "The answer right now is to simplify the problems we want to solve with it."
The most profound short-term impact is already shaping up in the shipping business. Thanks to expanding e-commerce demand, a looming labour shortage in the trucking industry and a growing focus on efficiency and improved environmental practices, autonomous vehicles present big possibilities for the future of freight.
For NuPort, and a growing number of other companies, the biggest opportunities are to be found in the so-called "middle mile" in commercial supply chains: short routes between warehouses, distribution centres and similar facilities, often traversing industrial parks and suburban areas.
NuPort plans to retrofit Class 8 trucks (i.e., 18-wheelers) with autonomous-driving capabilities. They'll serve fixed, repeatable routes, between five and 20 kilometres long. The company has grown from its two founders to a 10-person team, and is currently negotiating a partnership with a major Canadian retailer on a pilot project (Sahdev hopes to announce details soon).
Sahdev identifies a host of benefits for clients, including reduced shipping costs and route optimization that can improve fuel efficiency and get products between locations faster. And of course, there's safety. "There are a lot of deaths every year due to Class 8 trucks," he says. "Part of what we want to do is develop this technology in a harsh environment like Canada, where our systems can make these routes safer and more sustainable."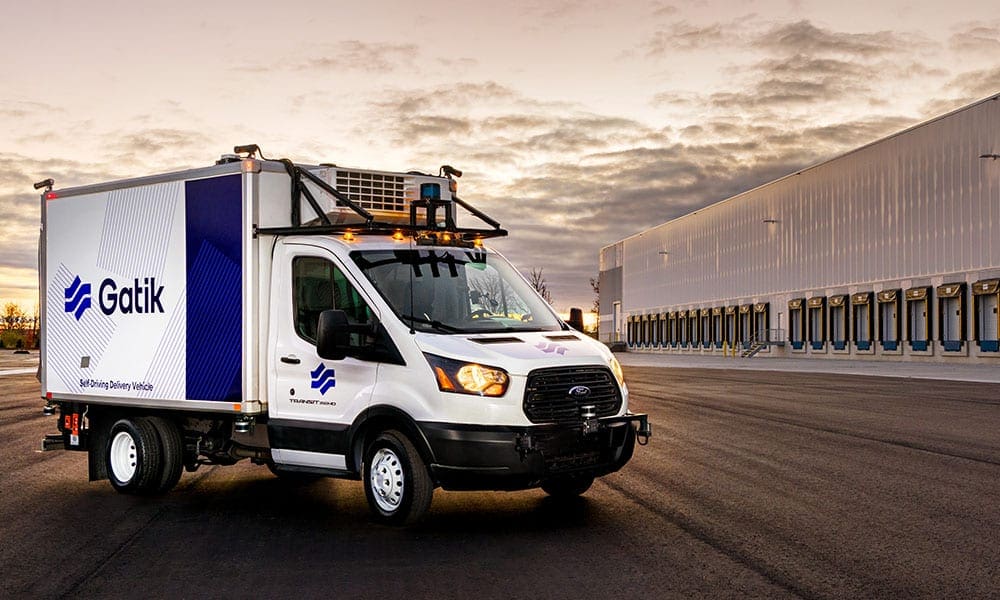 Safety is also top-of-mind at Gatik, a company with headquarters in Palo Alto and offices in Toronto. Gatik also focuses on middle-mile logistics, though its trucks are decidedly more diminutive: box trucks which move goods from distribution centres to retail locations. Each truck is outfitted with a battery of sensors and cameras, and a LiDAR system, to help guide the vehicles on fixed routes — optimized beforehand for distance, traffic congestion and simplicity of driving. The company has been working with Walmart in Arkansas since July 2019, and with Loblaw for more than a year. In January, they began servicing five routes in the GTA for the grocery giant, delivering products from distribution centres to retail stores. This deployment is Canada's first autonomous delivery fleet.
Gatik's approach demonstrates the possibilities — and limits — of the current technology. Gatik takes pains to keep its routes as straightforward as possible, staying on local streets to minimize highway merges, and minimizing maneuvers such as unprotected left turns (a truck will take three right turns instead). Safety oRemove featured imageperators ensure that the trucks can handle the unexpected — but the goal is to eventually remove the human element altogether.
But those constraints don't negate the advantages, says Brad Gillette, Gatik's head of operations. In addition to the battery of benefits identified by Sahdev, Gillette positions Gatik as a potential answer to the trucking industry's chronic labour shortage.
Trucking is one industry that hasn't suffered much due to COVID-19 — according to Statistics Canada, driver employment surged through last summer and into winter, even as employment in other industries faltered. Before the pandemic, industry association Trucking HR Canada was already saying that Canada faced a shortage of 20,000 drivers, projecting that to grow to 25,000 by 2023. With e-commerce demand growing in the wake of COVID-19, the association more recently claimed that number could be reached even sooner.
"We're not there to replace jobs," says Gillette, "but to address a shortage that's a real and growing problem for supply chains."
Of course, there is one looming impediment: social acceptability.
"If you drive down the road and you see a tractor trailer with a full load coming at you, and there's no driver, you've got to be comfortable with that," says Gillette. "Having society get to that point is a hurdle as well."
It seems unlikely that any number accident-free miles or successful tests will change that. In 2018, a self-driving Uber test vehicle struck and killed a woman in Arizona, an accident that nearly ended the company's self-driving program. "It blew my mind that after doing a million miles we had one accident and then almost the entire project was cancelled," says Tartavull, "There's very little tolerance for that risk." In other words, even when autonomous vehicles can drive as safely as humans, or moreso, the risk of robo-accidents is still a tough sell.
That's why Gatik's next move could be so important. Last year, the state of Arkansas granted Gatik permission to remove safety operators from its vehicles. The driverless pilot program is the result of a close collaboration between state regulators and the company, which has operated accident-free since starting in 2019. What happens during the pilot could inform whether other jurisdictions, including in Canada, allow for fully driverless vehicles on their roads too — which will be necessary if the cost savings promised by autonomous technology are to be realized.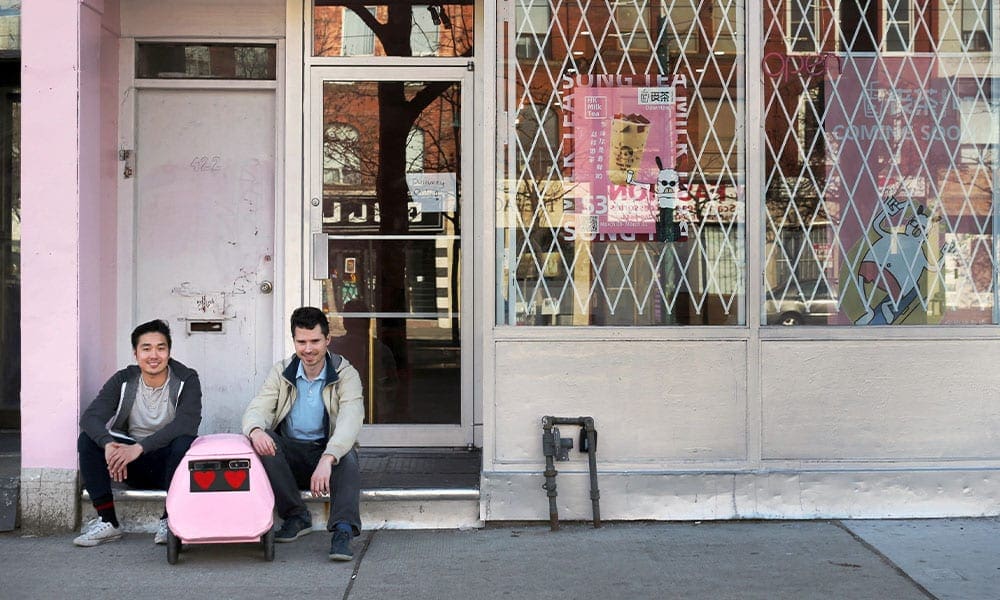 That still won't address the technology's viability in denser, more chaotic urban areas, of course. But that may be where companies like Tiny Mile come in, focusing not on middle-mile but last-mile trips, from retailers to consumers.
Since last year, Tiny Mile has been dispatching knee-high pink robots called Geoffreys around downtown Toronto, carrying takeout orders from a handful of restaurants the company has partnered with. The average delivery distance is around two kilometres. (The 'bots are named after artificial-intelligence pioneer Geoffrey Hinton. Tartavull personally asked him if he could appropriate his name).
"The last mile is the most expensive, the most labour-intensive and most polluting part of the supply chain," says Tartavull. "And it's only growing, with food-delivery apps and ghost kitchens. The vision is to bring down the cost of delivery down to just a few cents in the future."
The Geoffreys are not fully autonomous, though they're smart enough to stop on their own and not roll into traffic. Instead, they're piloted by an employee working out of the company's offices, observing the world from the perspective of the Geoffreys' cameras. But the application could provide a low-stakes way to hone autonomous navigation in a complex urban environment, with hundreds of thousands of addresses and infinite possible routes.
"If you crash a car, that's a big problem," says Tartavull. "If you crash a 10-pound robot carrying bubble tea, that's okay."
More than 30 years after VaMoRs, it's still impossible to say when — or if — we'll ever see fully driverless vehicles on public roads, allowing us to nap on the way home from IKEA or catch a movie as we cruise to the cottage. But by simplifying the problem to suit a simpler solution, autonomous shipping presents possibilities both to utilize, and improve, today's tech.
"These simplified applications are the first step to making this technology work in the real world," says Nuport's Sahdev. "I think we will get to full self-driving cars one day. But for now, this technology is already going to make transportation much more efficient, and much safer."
How artificial intelligence and machine learning can augment the supply-chain industry is just one of the topics that will be explored at the MaRS Supply AI event on March 24. The event is proudly sponsored by Deloitte. Find more information here.