Note: This post originally appeared in Yonge Street Media. It has been re-posted here with permission.
Giving is harder than taking. Still, we keep on giving. Billions. $8.5 billion to be exact. Or at least that's what Canadians gave to charities in 2011, according to Stats Canada.
Look around you. That guy across the street, or the lady driving your TTC bus— just about anyone might be among the tax-filing Torontonians that on average donates $2,119 of their hard-earned cash to charity annually, so someone in need might see the world as a slightly warmer place.
There's no question that we give. But how we do it is changing and a handful of Toronto startups have moved in to modernize the sphere.
"I'm a Millennial. My generation grew up with the idea of beautiful user-based software, we grew up with the designs of Facebook and Twitter, the ease and accessibility of DropBox and we have those same expectations of online giving," says Anisa Mirza, CEO and cofounder of Giveffect.
"Think of us as the Shopify for non-profits," she says pointing to the platforms ability to give fundraisers metrics on their donors – gender, age, geography and page views/donations received – as well as add elements like social gamification features, loyalty perks, badges and rewards.
The 27-year-old talks a mile-a-minute. Like the philanthropic tech gazillionaires that have inspired a generation of entrepreneurs, Mirza uses the same verbiage – Disruption! Change! – when she talks about Giveffect's potential. It comes off rehearsed, but the truth is, the crowdfunding platform specifically crafted for charities will likely do both.
Before building out the concept for Giveffect with twin brother and developer wunderkinds Allan and Kevin Shin, Mirza spent several years working in the NGO sector in fundraising management.
"I loved the work I did in the sector, I loved working with our clients and knowing that just coming into work I was making an impact in people's lives," she says. "But I despised the very essence of the software we were using and the data entry."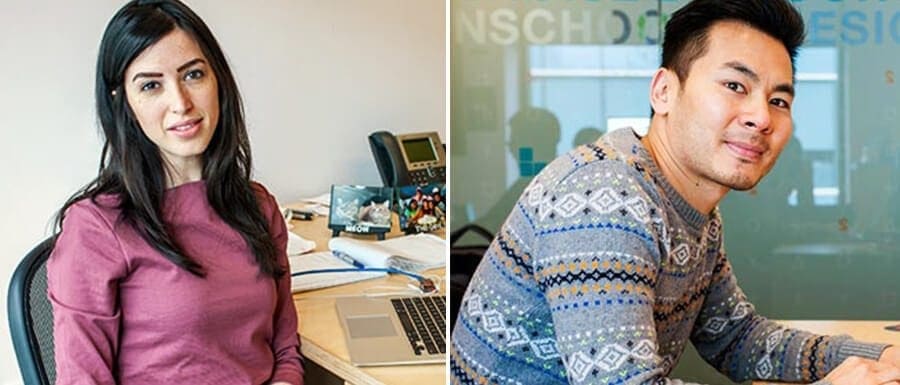 Giveffect makes it easy for charities and change-makers to raise the funds they need. Forget the technological backend; Mirza and co. have you covered.
They've caught attention, from investors in Silicon Valley (where they're launching a new subsidiary in the New Year) and big name non-profits like the United Way and War Child Canada.
"Over the past two years we've worked with 300 non-profits and raised over $500,000 in donations," she says.
Not bad considering Giveffect is comprised of a crew of six.
"We move fast – we're a scrappy team," she says.
In search of a better model
Giveffect is just one of the solutions to come out of the disdain for the glacial-paced innovation (or lack thereof) in the sphere.
Toronto-based FlipGive – a fundraising platform for schools, sports and community initiatives – has focused its disruption on making it easy for big brands like ALDO, Under Armour and Indigo to adopt community-focused initiatives.
"People come to our site, they build teams and the parents go out and ask their friends and family to shop with our retail partners," says Steve Croth, CEO of the startup. "The fundraisers get up to 50 per cent back for their team."
For Croth – a parent of two – the idea came out of the cumbersome process of sending his kids out to hawk frozen foods and overpriced chocolate bars as part of school fundraisers. Products people don't really need–and he'll tell you that, if you ask him.
But his gripe is with the system itself – that chasm between doing good business and doing Good-with-a-capital-G business.
"Why do people always associate doing good with charities? Why can't you have business models that are inherently good?" he asks. "We're trying to commercialize giving in a good way."
They've been at it since 2008, though previously under the name Better the World Inc. The FlipGive rebrand happened last year and coincided with the launch of the platform, he says.
To date, Croth suspects the company has supported about 7,000 campaigns and driven almost $15 million in sales through their platform,with $1.5 million of that going to communities.
They're also a B Corporation – a designation that resonates in the business world much like Fair Trade does for ethical consumers.
"It's a model that can only get bigger as bigger retailers get into the mix," he adds.
The birth of giving
But where FlipGive casts a wide net, Paul Kalra draws on his past experience as a business manager at Proctor and Gamble, looking for brand partnerships that will supply new parents with care packages before they even leave the maternity ward.
The idea for his startup Hospital Connection, which is currently based in Ryerson's Digital Media Zone, came to him when his niece was born and he was still work at P&G. His sister had bought a size one diaper, unaware that there was a newborn size.
"At ten o'clock at night somebody had to go get diapers because in today's environment they don't really give you anything, as it comes at a cost to the publicly-funded hospital," he says.
For some, it would provoke a diatribe about the shortcomings of public health, but for Kalra, he saw an opportunity.
Inspired by Finland's baby box – a cardboard box filled with bedding, clothes and bathing products for newborns given by the Finnish government since the 1930s to parents regardless of their socio-economic situation – Kalra began connecting with brands to see if they could donate products for parents to be disseminated through hospitals.
"One of the coolest moments in your life is having a baby, so when someone appears there in a supporting manner without you even asking for it, that has a hug impact," he says. "So we kind of steal from the rich in terms of all those marketing dollars the brands have and get them to put it towards a good cause."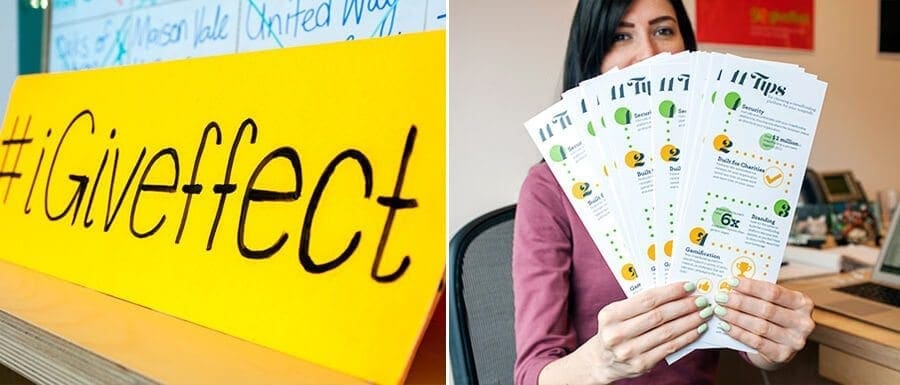 Within each box is items for the newborn like wipes and diapers, sanitary products for mom, shaving kits and other items for dad and the family as well as a call to action, inviting parents to go online and redeem coupons with brands like Babies R Us, Stayfree and Huggies.
"It's a big opportunity for brands to [help] these parents as baby grows up," he adds.
While Hospital Connection initially focused on the GTA, the four-year-old company has donated to at least 150 locations and is now working with prenatal classes and midwives.
He notes that in a given year, there are 380,000 births in Canada.
"Our network can reach about 150,000 of those births," says Kalra.
He's proud – it's there in the way he talks about what he's created. Like FlipGive and Giveffect, Hospital Connection is still growing, expanding in a space with a lot of wiggle-room. They may not know each other, and chances are they've never met, but they're part of the same community.
They've all likely struggled with the challenges of being bootstrapped, of being told there's no place for altruism, idealism or any of those other social-conscientious "isms" in the world of business.
But they know, like we all do, giving is hard. They just want to make it a little easier.
Story by Andrew Seale. Photos by R. Jeanette Martin.
Read more