In the Go-to-Market Interview Series I ask the founders of high-growth ventures across all of MaRS' clusters how they've overcome growth challenges surrounding going to market.
For this second case study, I spoke with David Payne, the founder and CEO of Invent Dev, about his experience growing his company. A few years ago, David came to MaRS as a bright young entrepreneur with an idea for incorporating virtual reality in real estate marketing. He has since taken that idea and turned it into a successful company, which he is scaling right here in Toronto backed by an incredible team. We're excited to see David and his team realize the potential of this great Canadian startup.
Invent Dev Inc.
Established: 2010
Founder: David Payne
Industry: Virtual reality
MaRS cluster: Artificial intelligence/virtual reality, consumer and media
Team size: 10
Web: inventdev.com
Twitter: @inventdevinc
Elevator pitch: Invent Dev creates 3D interactive and virtual reality marketing solutions for real estate developers and home improvement retailers, giving customers the power to design, visualize and experience any 3D space in extraordinary realism. Invent Dev's interactive solutions increase customer engagement, buyer confidence and brand awareness, helping developers and retailers to sell their products with greater ease and speed.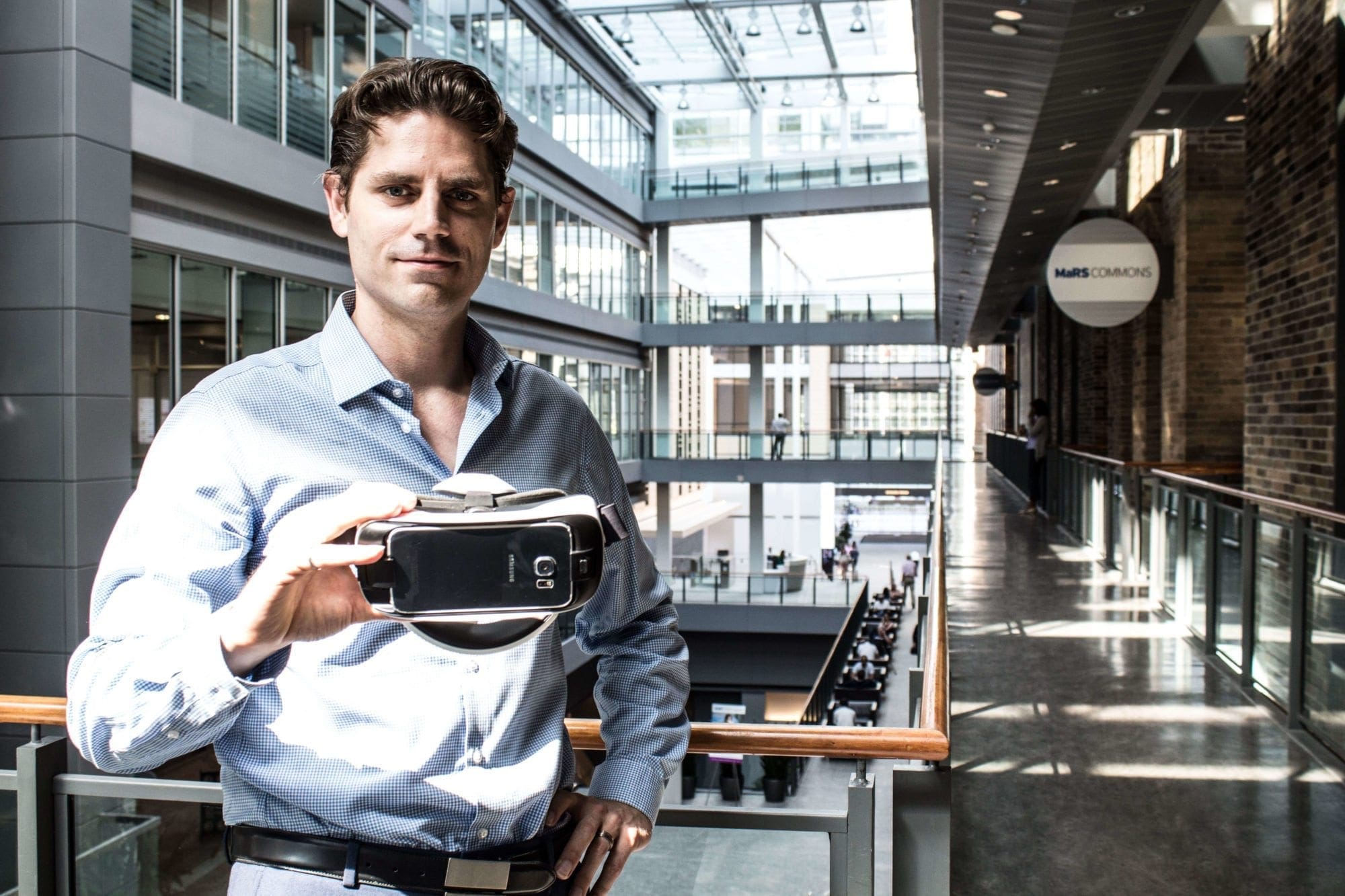 David Payne, the CEO of Invent Dev, has been an invited speaker at IIDEXCanada, Realtor Quest, PechaKucha and MaRS. His insights about virtual reality technology in the real estate industry have been featured in the Globe and Mail, the Toronto Star, Urban Toronto and BuzzBuzzHome.
Media examples:
Q&A with Invent Dev
What challenges have you faced in going to market?
Our first major concern was determining what customer segment to target. Knowing whom to target is the first step in building a sustainable business model. I did heavy customer development across multiple segments to understand which pain points are most important to our clients and, more importantly, whether our clients had the budgets required to allow us to grow and scale. It took a while to figure out what this segment would be and, once we did, we pivoted to a more targeted customer segment and profile.
The second challenge was landing our first customer and large contract. Our target customers, real estate developers, rely heavily on marketing solutions. Developers need at least 80% of their units to sell quickly so they can secure the necessary financing for their projects. Our first project saved our client hundreds of thousands of dollars and sold units rapidly. It also generated a lot of press since it was one of the first sales centres in Canada to effectively use virtual reality (VR) and virtual model homes to sell homes.
Those results gave us the brand awareness and credibility we needed to grow our team, attract the best talent and expand to new markets. Invent Dev is currently being used by one of the largest real estate developers in the world, Vanke in China, where we're growing rapidly and will soon deploy one of the largest VR instalments in the world.
You mentioned that landing your first customer was a challenge. What did you learn from that process and how did it change you?
One of the main challenges of the real estate industry is that it is very slow to adopt new technology. In fact, most sales centres haven't changed their technology for decades. If you go into a client meeting selling "technology or gadgets," our clients will gloss over. Real estate developers care about the value we're delivering to their end customers: homebuyers. We had to gain an understanding of real estate developers' needs and key priorities, and our focus was to create solutions that align with those priorities and to deliver excellent results.
For homebuyers, the challenge is that it is difficult to visualize floor plans, finishing options and the view from a home's windows—that is, all of things they would want to see before they make one of the largest purchases of their lives. Our solution involves creating virtual model homes that are photorealistic and, like brick-and-mortar model homes, created from architectural and interior design drawings. However, unlike physical model homes, our virtual model homes cost a fraction of the price to develop and can be created in weeks versus months. They also showcase all of the possible floor plans and finishing options, and can be visited from anywhere, including online, on mobile devices and in virtual reality.
Our VR experiences are particularly helpful because homebuyers feel as though they are actually inside the space and they can do things such as select colours for the walls or cook a meal in the kitchen, among other activities, as if they were living in the space. Our success comes in part from our focus on making the homebuyer's journey to finding the perfect home easy, engaging and informative.
For example, we recently helped with a Toronto development where a large church is being converted into lofts. The problem was critical: the developer had only sold a couple of units since June 2015 and brought us in to help. We launched our 3D virtual model homes of the lofts just three weeks ago and have already sold over 80% of the units. Of that 80%, over 25% of the units were sold in a single day during an event we hosted where people could walk around and explore the virtual model homes in VR.
You are one of the rare founders I know who bootstrapped past product-market fit. How did you do it?
In terms of investment, we were supported by the National Research Council of Canada's Industrial Research Assistance Program and the Natural Sciences and Engineering Research Council of Canada, which allowed us to secure equipment and resources to help us build our first prototype. We received significant government funding to try to overcome several research challenges in VR, which we were then able to commercialize.
We also developed a very efficient workflow that allows us to take on bigger projects and increase profit margins. Furthermore, we understand the challenges people face when buying a home and this has enabled us to provide effective solutions that deliver results for our clients and has further fuelled our growth.
What are the challenges moving forward?
It all ties back to customer segments. We originally targeted real estate developers, but we're now looking into home renovation retailers. It's a different space, so we need to go back to conducting customer research and development, soliciting customer feedback and securing clients. We want to continue to add value in the customer value chain and target retailers that can help us expand globally. That's our growth strategy: partner with a client that has a global presence, demonstrate our value and leverage the client's existing networks to support rapid growth.
What advice would you give to an entrepreneur who is just starting out versus one with a company at your stage?
My advice would be to get the most out of project innovation centres like MaRS. We engineers often assume we know everything that is required to start a successful business. Sure, we may be technically strong, but the ability to understand product-market fit and to market your services and sell is equally, if not more, important. Fortunately, entrepreneurial hubs like MaRS can provide resources, training and networking opportunities to help you overcome gaps in your early-stage company.
It's also wise to start with a co-founder who really complements your skills. For example, if you're a coding wizard, you probably don't need another coding wizard who has the same skills that you do. Rather you need a go-to-market strategist, someone who can effectively communicate the value of your solution to drive sales. Because I don't have a co-founder, I had to learn it all on my own and I wasted a lot of time doing so. Fortunately, I have a strong team now, but a co-founder could have made the journey easier and shorter.
What's the future of virtual reality?
What's unique about VR is that you feel like you're actually inside a space. You can look around, walk around and interact with the space as if you're actually there. It's a completely unique experience and the closest thing to actually physically being there. VR has the potential to transform a variety of industries, including real estate, retail, gaming and tourism, among others. China is well ahead of North America in adopting VR and, if they're any indicator, VR will become a part of our everyday lives in the very near future.
Invent Dev's VR solutions are already being used in China to sell real estate, which has allowed us to gain a solid understanding of what customers want in a VR experience. More importantly, beyond the initial wow factor, our VR solutions have generated real results in driving unit sales and that is the true litmus test for VR's bright future.
How would you describe your company in three phrases? 
Customer focused. Strategic. Value driven.