As part of the go-to-market offerings of MaRS Venture Services, I'm piloting a new program called Full Stack Marketer, which will examine high-growth ventures across all MaRS clusters with the goal of providing insights into overcoming growth challenges.
In this first case study, I spoke with Eric Lifson, co-founder of unified communications provider Skrumble, about his experience growing his company.
Skrumble
Established: January 2014
Co-founders: David Lifson and Eric Lifson
Industry: Work and learning
Team size: 21 full-time staff
Web: skrumble.com
Twitter: @skrumblehq
Elevator pitch: Finally there is a simplified but truly unified communication tool for the masses. Skrumble integrates your company's phone system, conferencing, team messaging and file sharing into one easy-to-use platform. Tailored to small- to medium-size businesses, Skrumble helps your company to save money, communicate better and get more done.
Q&A with Skrumble
What challenges did you face growing the company?
Our biggest challenge has been securing capital to help us scale. Investors are very much risk averse and are biased toward heavy traction. "What's your monthly recurring revenue?" and "What's your product-market-fit?" are examples of the types of questions we got on our first raise. That's normal, but it was an intense hurdle in order to gain investment.
The majority of companies use expensive hardware that does not foster a mobile, collaborative environment. Even though cloud services are at only 10% penetration, people see the market as saturated. However, the market really is ripe for the taking. Communications is the lifeblood of every business. Every startup needs good teamwork and collaboration, so we're seeing a ripe opportunity in the industry. Current communications and collaboration systems suck. The average worker is given a desk phone and a laptop and asked to communicate.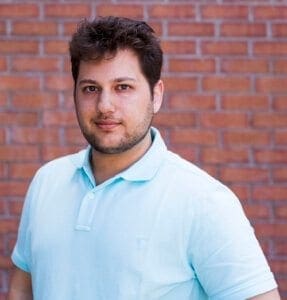 Slack has been a game-changer in raising awareness of the power of team messaging. The product is strongly resonating with tech-oriented teams with development teams (to handle their various integrations) and with large enterprises for department collaboration and communication. However, it's not a solution for the remaining 30 million small businesses in the United States that are not actively using Slack. This is because Slack doesn't solve the true problem of fractured and fragmented communications.
Other options—like WhatsApp, Facebook and Skype—are a little too consumer oriented for our small professional services market. So we decided to re-segment the market and go after it with a unified professional service. We are solely targeting professional services businesses in the US and Canada.
On top of that, platforms like Slack tend to ignore the integration of communications: phone, email, project management, file sharing—it's all there. Targeting the right market and understanding our user group has helped us grow. Customer research with over a thousand companies has paid off. Simple, persistent communications are the future. Having one-off communications that are not integrated just wastes time.
Talk to me about traction. Where are you? What are the challenges ahead? 
We launched on February 25, 2016, and in two months we had 180 companies signed up, equaling 1,100 paying users within those companies. To scale we iterated the platform based on user feedback: we made it super easy for users to refer other potential users within their companies. We had a killer launch party at a venue called the Vault at University Avenue and Queen Street in Toronto, which really helped. We had Amber Mac, Bloomberg, Techvibes and Sirius XM attend and got some initial public relations. We also used Facebook advertising. We used our round of financing to promote the launch and scale.
We also spoke at TechToronto, which was amazing. It really helped us get the word out. We were featured on Accelerator.tv, a series created by Qasim Virjee, who runs IBM's Global Entrepreneur Program in Canada. He interviewed us and then decided to offer our product to the program's 4,000 small professional services. Techvibes has been incredible. We've really leveraged our PR channels and organic growth. We're focused on content and are very strategic about what people are looking for in the communications space.
In summary, a very strong customer focus and understanding and finding the channels that work at scale are critical. For us, it was a lot of testing before we landed on the PR channel to help us grow. PR is not typically a channel for unified communications-as-a-service companies.
What are the challenges ahead? 
Growth. We really want to focus on growth. We're still in that kind of weird mode where we're showing some really great traction, but still aren't at the benchmark monthly recurring revenue, which is great considering we only launched three months ago. We're not at the 100,000 MRR we need to meet the hyper-conservative venture capitalists who can provide us with the serious investment we need to scale. We have a very strong team to get us there and growth is our top priority. The true opportunity is to capitalize on the sea change of how millennials wish to communicate today, while maintaining the professionalism that companies still seek.
How have the challenges changed since when you started?
Now it's all about growth. It's about making a lot of noise so folks really understand our value proposition: communication solutions for business are really fragmented. The people we talk to love our solution and it can be up and running in no time. They realize they don't need to buy multiple subscriptions and phone programs. They can save a lot of money while communicating. The savings allow them to plow it back into other business initiatives.
How has the team changed?
We started in our basements. We moved up to Regus Offices here in Toronto, then got our own offices. We have grown from two co-founders to 21 full-time employees.
What do you think of the quote "Innovation = Technology + Go-To-Market"?
I think that is 10% of the equation, but the other 90% is hard work. You need to listen to experts (and also ignore them sometimes) and listen to customers all of the time. We are a very scrappy company. We are super targeted on who the core customer is. We service the "unloved company"—mostly in the consulting space—that has freelance workers who want collaboration with their clients across multiple territories.
Are mistakes amplified in a scaling company?
I would say it's the opposite. We have enough of a cushion to still make mistakes. It really depends on financing, though. If you don't have the runway or leeway and you mess up, then you burn through it. If you do, you can sputter and absorb it. The plan for the company has changed a lot. We use a lot more digital marketing tactics then traditional business-to-business sales.
Where do you see Skrumble in three years?
We will continue building a great sustainable business. We know that there is a sweeping movement of consolidation in this industry. Whether it makes sense for us to acquire more assets or to be acquired will be determined when the time is right. We just want to keep helping and empowering small teams to communicate better and get more done.
What three words define Skrumble?
Scrappy, accessible and collaborative.