It's not every day that you see the CN tower, a cigarette monster and a superhero husky all in one comic book.
Yet all three are featured in The Supergreeners, a comic book series aimed at educating kids about the environment. The first book, "The Mystery of the Black Smog," features four superheroes that fight smog pollution around the world, including right here in Canada.
Created by Nikhil Gunari, CEO and founder of Green-A-Kid Canada Edutainment, along with his team, the book aims to educate and entertain children about environmental issues, providing them with knowledge and tools to reduce their environmental footprint and achieve carbon neutrality. The book will have its official launch on October 7 at MaRS.
"Our children are the future. In the next 20 years, they are the ones who will lead the charge on environmental issues," said Gunari. "We always look for Hollywood superheroes, why can't we have our own [to help teach about the environment?]"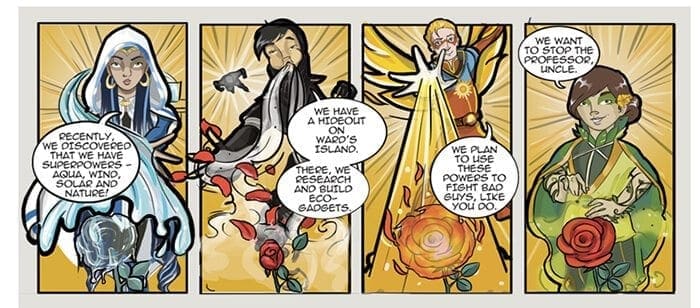 The books feature young superheroes that have special powers related to the environment including the ability to control solar, wind and water energy. There's even a character who can 'greenify' wasteland and a loveable husky puppy with superpowers gained from geothermal energy. Together, the five characters—Scuti Jones, Warlin Lee, Ripa Roy, Nix and Pomi Gomez—help fight cigarette and greenhouse gas monsters, among others, to help stop climate change globally.
Gunari hopes that using comics as a teaching tool will help educate kids ages 8 and up about the causes and effects of climate change in an entertaining way. The idea to produce a comic book about climate change came to him in 2013. Gunari is also the CEO of MaRS venture client Sylleta Inc., which develops cost-effective eco-friendly solutions for the fish farming industry. After winning a Clean50 award for his company's contributions to sustainable development in Canada last year, Gunari began looking for a way to help further climate change progress.
"A few of the winners started thinking about how we can affect climate change. As we get older, people don't want to accept anything related to climate change, they stop caring. I strongly believe in the power of education at an early age," he said.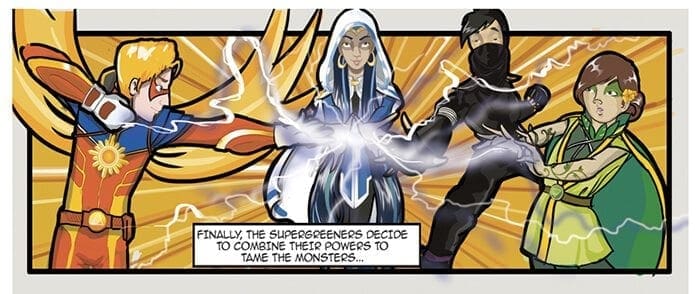 A lover of art and comic books, Nikhil grew up in India reading comics such as Tintin, Asterix and Archie. He also grew up suffering from asthma. Gunari says he's always been aware of the problems climate change can have both on the macro and micro scale.
"I know what breathing trouble due to pollution not only looked like but how it felt," says Gunari, who says the comic book offers real solutions to readers on how to tackle the problems the superheroes encounter. By mixing science and art together, he hopes that young readers will not only begin questioning their role in helping the environment but carry those messages and tools as they grow up.
"If children are taught at an early age about the environment, they will take that with them in their lives. We are trying to find new ways to talk about climate change and comics are a fun way to do that."
The comic books will come with activity sheets for teachers and students, and also feature the latest cleantech research to make the content relevant.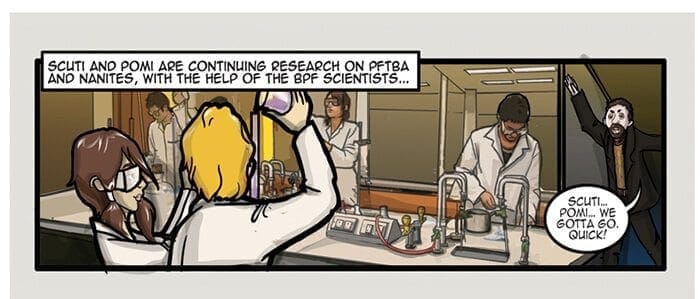 Gunari's goal with the comic book series is to have 35 million Supergreener readers—the population of Canada—who will help achieve carbon neutrality. The comic book will have its official launch tomorrow at MaRS with the Hon. Glen Murray, Minister of the Environment and Climate Change.
Interested in coming? Register for free today!
Read More