It's almost 2:00 a.m. and you're still awake. You have a busy day at work tomorrow, but your sleeping partner just won't stop snoring.
Sound familiar?
If you tell Behrouz Hariri, he'll happily introduce you to Nora to help you get a good night's sleep.
Nora is a smart, non-invasive anti-snoring solution that aims to stop snoring before it wakes anybody up. Behrouz's father, Ali Hariri, a mechanical engineer who already has multiple patents under his belt, came up with the original idea.
Shaped like a large pebble, Nora sits on the snorer's bedside table and detects the early sounds of snoring. Once the noise level reaches higher than the ambient noise of the room, the device activates a mini-pump that inflates and deflates a padded insert under the snorer's pillow. This movement stimulates the snorer's relaxed throat muscles and opens the airway for normal breathing. Nora also connects to an iOS app that monitors and records snoring and sleep patterns to gain insight into what is going on during the night.
Behrouz, who had recently spent a year as a design fellow at IDEO in San Francisco, jumped at the chance to apply what he had learned and turn it into an actual product. His brother, Behzad, who has a background in marketing and customer support services, was brought on to round out the team.
"It was a really lucky coincidence for us to have all these different skills," says Behrouz.
The team's Kickstarter, which launched last October, has raised over $800,000 from more than 3,000 backers. Currently, the company is focused on manufacturing the device, which should be shipped to backers this November. In June, Nora was chosen as one of five winning companies in Shopify's Build a Business Competition.
The initial inspiration for Nora came from looking at the ways people were already dealing with snoring and doing the exact opposite. As a systems designer, Behrouz considers research, strategy and visual communication when creating a product and, as a snorer, he knew that the existing solutions were clumsy and uncomfortable.
"It's about doing a deep dive into understanding the user's needs and bringing that back into the product," he says.
User testing played a very important role in the creation of Nora. In fact, many of the features that Nora carries today are a direct result of the feedback that the company received in the early stages, notes Behrouz.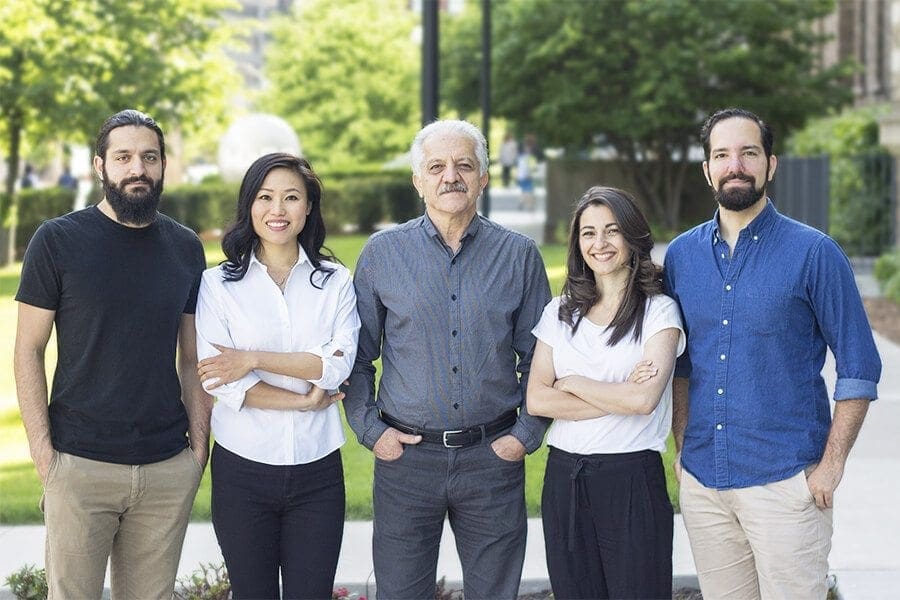 Because of the feedback they received, the team made the device completely silent, compartmentalized the parts for easy storage and created a sleek esthetic that blends into the bedroom. To stand out from other devices, it was essential that Nora was only visible when it needed to be and that it didn't look out of place or like a medical device.
"Snoring is an interesting problem. It's somewhat humourous and somewhat endearing, but it can also be a very serious issue if you're losing sleep," says Behrouz. "We're enabling people to take normal steps to address it as a lifestyle problem."
One of things the company learned throughout its Kickstarter campaign was to listen to what people wanted. Behrouz recalls that many people asked to see a video of the device in action. By this time, the campaign had already passed its goal and the team was initially reluctant.
"We thought it would be boring because the product works gradually and quietly," he explains.
The requests kept coming, though, so the team juggled the demands of the campaign and made the video. They created a quick storyboard and filmed overnight. After the video was posted, the company's conversion rate almost doubled.
As they get ready to finally start shipping the first batch of Nora devices, Behrouz is looking toward the future. He believes that Nora has a lot of potential in terms of integrating with other smart devices in the home, but for now they're just enjoying the ride.
"Definitely a lot of hours go into starting a company, but we're working with our favourite people, so that makes it fun," says Behrouz. "That's the only way you can survive in a startup environment. There's enough work that gets done during the day that we sleep all the way through the night until the alarm clock gets us up."