Cloud DX, a medical device technology company with offices in the Toronto-Waterloo corridor and the Brooklyn Tech Triangle, is one of seven finalists in the Qualcomm Tricorder XPRIZE competition. The $10-million contest focuses on developing a real-life version of the diagnostic device popularized by Dr. Leonard McCoy in the TV series "Star Trek." The final winners will be announced next year.
We caught up with Robert Kaul, founder, president and CEO of Cloud DX, to talk about his experience running a truly transnational venture and about working to remove the "fiction" from science fiction.
Q&A with Robert Kaul of Cloud DX
Lara: Cloud DX is a truly transnational company. How does it benefit from being located in both the Brooklyn Tech Triangle and the Toronto-Waterloo corridor?
Robert: The United States has the largest heath market in the world by far, so you need to have a very American presence. Being based on the east coast you have the ability to market to Americans and to also look American to US customers. We really do have tremendous roots in Canada and it's really important to us to export the best Canadian tech to the world. We're not shy about it. But we're a true multinational. You've got to find the best people and build the team you can whether they're from Israel, India, China or wherever. Geography doesn't matter anymore. We've got a great brain trust in Toronto. All of our logistics are handled out of the US, but our biggest office is in Kitchener-Waterloo. We're very happy to be there to draw on the talent and to draw on everything that Silicon Valley North has to offer. As much as possible we try to keep costs in Canadian dollars, but earnings in American dollars, which is very much in our favour right now.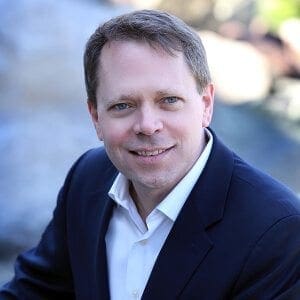 Lara: How did the science fiction connection, especially Dr. McCoy's Tricorder, help inspire your innovation?
Robert: Part of the reason that "Star Trek" is so popular is the imaginations of those who created it 50 years ago. Many technologies that the show envisioned have already been realized, from flip phones to telepresence. Now people are working on transporters, speed-of-light travel and the Tricorder. Looking at all of the other big science-fiction franchises, "Star Trek" is really the only one that had a medical component as a central part of the show—every version of the show had a doctor as a main character. It's the only mainstream sci-fi property that's like that. All the others involved laser swords and spaceships, but they didn't talk about what happens when you get sick. I think that Stargate, Star Wars, "Battlestar Galactica" and "Babylon 5" didn't solve as many real-world problems that involve real people, including medical challenges. It's no surprise that people try to recreate "Star Trek" inventions.
Lara: How does the prototype work? What kind of diseases can it identify?
Robert: We've combined five medical devices with an intelligent software platform: there's a wearable vital signs monitor, our Pulsewave heart monitor, an ingenious otoscope/spirometer and an in-vitro diagnostic system that measures blood and saliva. Our Tricorder can diagnose the differences between different respiratory illnesses, such as bronchitis, pneumonia and tuberculosis, depending on the sound of your cough with a very high degree of accuracy. Bronchitis is one thing, but if you have tuberculosis, that's a very contagious disease.
We're working with a revolutionary new technology: GMR biosensors. These biosensors are like a "lab-on-a-chip" that can do any kind of antibody test in a tiny fraction of the time and money that other tests take. Take the Zika virus, for instance. It has very serious implications, but there are no rapid tests for it. One test for it is a polymerase chain reaction or PCR test, but it only works in the first two weeks that you're infected. The other test is an antibody test, which takes three days. We're working on a test that could deliver results in 15 minutes. This could make a massive difference.
Lara: How has the last stretch been since you made the finals of the Qualcomm Tricorder XPRIZE competition?
Robert: It has been an incredible experience: We won the 2015 Startup Canada Award for Innovation in Ontario and were a finalist in the 2015-2016 Wearable Technologies Innovation World Cup in the healthcare and wellness category. Additionally, we spoke at SXSW and Health 2.0, and a huge institution is doing a documentary about the Tricorder competition that features our team extensively. We've also been featured on the Huffington Post and AOL.
#HumansofMaRS is a regular series celebrating the startups MaRS works with. Meet other #HumansofMaRS in our Facebook Album. To read more about the high-impact companies we work with, our programs and key successes, read our report: Place Matters.