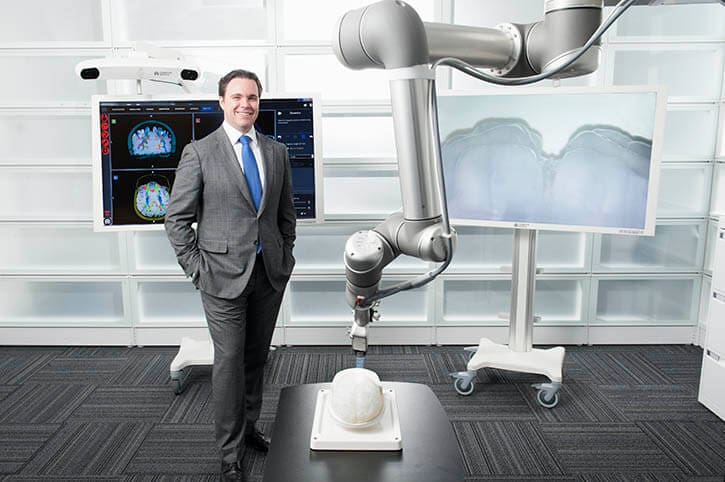 A role that spans business, medicine, physics and engineering might seem incompatible or at least unmanageable. That is, unless you're Cameron Piron. A magnetic resonance physicist and engineer by training, Piron is the president and cofounder of Synaptive Medical, a medical device company that is building "the Google Maps of brain surgery" to revolutionize the work of neurosurgeons.
"When I hit the workforce, I realized I didn't have to pick just one career path or profession… I could do them all simultaneously," said Piron. "With my company today, I'm straddling the worlds of clinical medicine, business, engineering and technology, and I'm constantly switching between them. For me, the value is in the convergence — how each discipline impacts the other."
In just two and a half years, Synaptive Medical has grown from six people to 160, and they expect to reach more than 200 by the new year. Today more than 50% of Synaptive's employees are dedicated to research and development, a ratio that Piron would like to maintain. "When you're growing so rapidly, you need to constantly change the structure of the company to accommodate growth, while at the same time trying to stay lean so that you remain innovative."
That process involves actively seeking out challenges and finding new solutions. "We're constantly chasing problems, an approach that has led us to develop 12 different products at the same time," says Piron. Synaptive's suite of devices and imaging technologies is aimed at providing fully integrated support to brain surgeons, a field that has been slow to innovate. He says: "The field is really siloed. You have companies generating pre-operative imaging, navigation companies, tool companies and optics companies. They've become very niche and there's been no incentive to link them all together."
His long-term goal is to merge imaging and surgical technology together as much as possible in order to guide the operating process in real time.
"Today, we are just excited about scaling and building," said Piron. "There hasn't really been a big Canadian medical device anchor tenant at MaRS and that's what we'd like to be. We'd like to be the one that really pulls ahead of the pack. So far so good."
#HumansofMaRS is a regular series celebrating the startups MaRS works with. Meet other #HumansofMaRS in our Flickr Album. To read more about the high-impact companies we work with, our programs and key successes, read our report: Place Matters