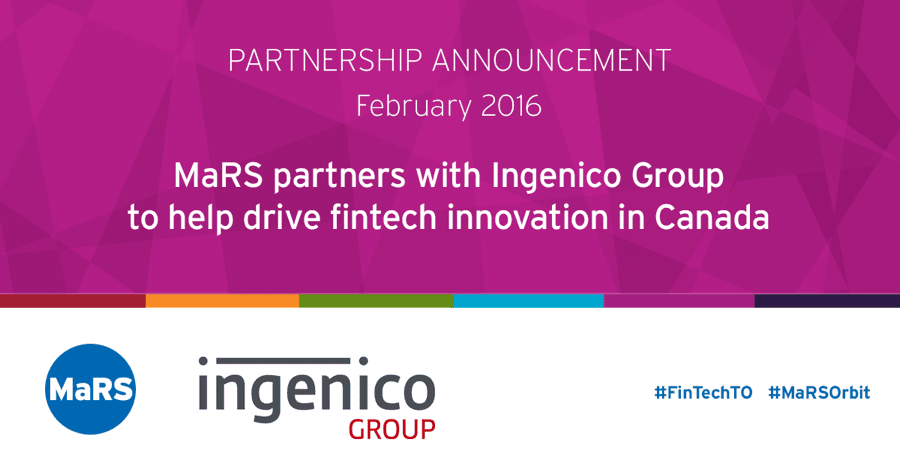 MaRS Discovery District and Ingenico Group Canada, the global leader in seamless payment, have entered into a partnership to drive fintech development and innovation. The collaboration between MaRS FinTech and Ingenico Group will facilitate the development and delivery of new fintech solutions, specifically around authentication, IoT and digital health.
Quick Facts:
Ingenico Group has 30+ years of experience delivering secure payment solutions to merchants.
Ingenico Labs, a new division of the company, provides advanced R&D to drive innovation forward.
Ingenico Group has established partnerships with Intel, Google and Panasonic to develop a strong ecosystem for technology innovation, with a focus on enhancing the consumer journey through connected devices, authentication and more.
Quotes:
"Ingenico Group has made important strides in driving fintech innovation on a global scale, most notably via Ingenico Labs initiatives. As we build and execute our strategy at the regional level, we are confident that our partnership with MaRS will further accelerate our innovation plans for developing solutions involving IoT and authentication, among others."
– Suzan Denoncourt, Senior Vice President of Sales & Strategic Development, Canada at Ingenico Group
"I am thrilled to announce our strategic partnership with Ingenico Group. As part of MaRS FinTech, Ingenico Group will join MaRS' growing community of financial technology companies and entrepreneurs dedicated to driving innovation in financial services."
– Adam Nanjee, Head of MaRS FinTech
---
Additional Resources: