In this instalment of Meet a MaRSian, Angelo Casanas interviews Joeri van den Steenhoven, director of the MaRS Solutions Lab.
The MaRS Solutions Lab aims to develop solutions to the increasingly complex issues facing society today, with a focus on four issues in particular: health, food, work and government. Through their work, Joeri van den Steenhoven and his team are committed to addressing Ontario's future and bringing about positive systems change.
In today's post, Joeri offers insight into his role as director of the MaRS Solutions Lab and shares some of the life lessons he's learned from his training as a dancer.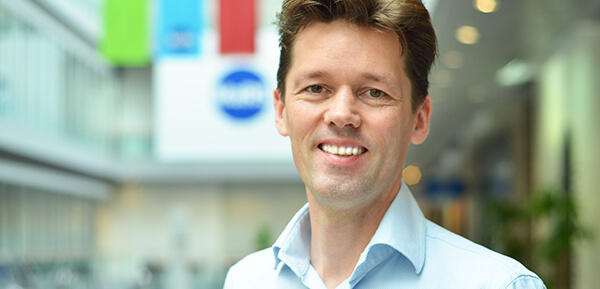 As the director of the MaRS Solutions Lab, what role do you play?
Since this is a new initiative at MaRS, my role is to build the lab. I arrived [from Europe] last spring and I really had to build the lab from scratch. My main role is to build the team and lead them. I also create partnerships with people from government, the private sector and foundations; facilitate and convene key players, stakeholders and users; provide thought leadership on the lab model [approach]; and help others to apply that method to create change.
While we're all working on the four challenges [mentioned above], you can say that another part of our mandate is to not only help other programs and practices at MaRS, but to also help others throughout society who want to make systems change and do so effectively. We do this by sharing our knowledge and the tools we have developed in the lab, thereby building the capacity for change in society.
A number of people have noticed your skills on the dance floor and have hinted about proper training. How did you get started dancing?
I've been dancing since I was four. I did classical dance—ballet—for about eight years until I decided not to pursue it any longer. I had the option of either entering a pre-academy [program] to become a professional dancer or to continue my normal schooling. I decided not to pursue dancing for a number of reasons, but it has always been an important part of my life and has taught me a few life lessons.
What lessons have you learned?
First, dancing has taught me flexibility and agility. Leading a lab and connecting different parts of society—from government to the private sector to non-governmental organizations—is similar to a dance. You have to dance between them and with them. Dancing with the government is different from dancing with the private sector, so you should know how to [address] that. Dancing, in a way, is like seduction. It's about being on the dance floor and inviting others to dance with you.
Second, dancing has taught me how to jump. When I quit dancing, I thought about what I wanted to do next and I landed on volleyball. I did very well at it because I had learned [from dancing] how to jump high. I even made the national youth team—despite my height, which in the Netherlands was considered small. Learning how to jump taught me not only how to reach high and to be ambitious, but also how to take that leap, that risk, which comes in handy when working in a lab.
Third, dancing is hard work. Next to swimming, dancing is one of the most physically strenuous sports that you can undertake, especially on a professional level. In ballet, being a professional in a dance company takes a lot of hard work for a long time and with little success. In that sense, dancing instilled in me a strong work ethic.
Finally, I was not afraid to be on the stage; I rather liked it and found comfort in performing. Having facilitated a workshop here at MaRS just the other day, you get to be the centre of attention. That stage presence has come from dancing and performing in front of everyone.
Do you still dance nowadays?
Occasionally at parties, the last occasion being a MaRS one! If there's dancing at a party, there's a good chance I'll be on the dance floor.