Jeff Ruby had an epiphany at a doctor's office. His father's oncologist had just dropped the C-bomb: his father had an abdominal cancer that would kill him within two years.
Jeff remembers hearing his 54-year-old father ask, "How did I get this?" The answer to that question took Jeff somewhat by surprise: genetics and lifestyle choices.
Until that moment, Jeff wasn't aware that this combination was a perfect recipe for cancer. After connecting the dots to his own DNA, he walked out of the doctor's office concerned not only about his own future, but also about the future of millions of people whose lives could be affected by the power of knowledge.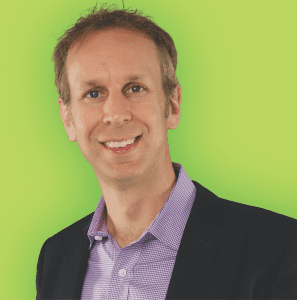 "I quickly realized that if we could get people to understand their genes, they could make better lifestyle decisions and stay out of sick care," explains Jeff, now the CEO of Newtopia.
He refers to the healthcare system as "sick care" because it is designed to treat people when they get sick, rather than to prevent disease in the first place.
With a staff of 35 people and valued at roughly $30 to $40 million, Newtopia uses personal genetics and engagement science to encourage people to make healthy lifestyle choices. Those using Newtopia's platform begin by undergoing a genetic test. However, rather than being used as a diagnostic tool, the test is used as an engagement tool to educate users. Through the platform, Newtopia's coaches prepare customized lifestyle recommendations for users in the areas of nutrition, activity and behaviour management. The platform also uses online live coaching, an app or web interface, a social health community, gaming and wearables to customize and keep people engaged in their individual programs.
While getting Newtopia off the ground, Jeff learned that more than 100 million people in the United States and Canada meet the threshold for metabolic syndrome, a diagnosis given when people have at least three of the following conditions: a large waistline, a high triglyceride level, a low HDL cholesterol level, high blood pressure or a high fasting blood sugar. Metabolic syndrome raises the risk of diabetes, heart disease, stroke, hypertension, chronic kidney disease and other health problems.
In the US, the cost to insure an employee rises 60%—from roughly US$3,400 to about US$5,400—for people with metabolic syndrome, says Jeff. Identifying at-risk individuals is not a challenge and does not require genetic testing. Back in 2014, Newtopia started working on a randomized control trial with Aetna to show that its platform for disease prevention management translated into savings for the health insurance giant beyond regular wellness programs.
The results of the Newtopia-Aetna study were published in the peer-reviewed Journal of Occupational and Environmental Medicine in March. The study found that 76% of those engaged in Newtopia's program lost an average of 10 pounds (or an average of 5% of their body weight). In addition, healthcare costs were reduced by US$122 per participant per month versus the control group, for a total of US$1,464 per participant per year.
"As a result of those outcomes, we signed a contract and moved forward with Aetna," says Jeff. "We're very much in the scale-up stage. We're focused heavily on growing and selling our platform to large self-insured employers and insurers in the US based on the outcomes we've published and we're fundraising to support that growth."
Newtopia is a past winner of MaRS HealthKick. Join us this year for the MaRS HealthKick Innovation Challenge at RESI on MaRS, where Canada's leading health ventures will pitch their businesses.