Product development is a tough, ongoing process. According to Chris Eben, managing partner of The Working Group (TWG) and last Wednesday's Entrepreneurship 101 speaker, product development demands process, and the process demands rigour, discipline and iteration. Product development also demands that you put on your product manager hat—whether or not that's your official title— and keep it on.
"If you're going to have a successful business, product development never ends," said Chris.
Think like a product manager
A product manager takes a vision or idea and turns it into plans and milestones. They should be able to translate the startup's vision into something executable. Even if "product manager" is not your official title, if you are able to turn a vision into a plan, leverage that to the benefit of your team. Don't stress about which approach you should use (for example, waterfall or V-model). Instead, Chris recommended that you do what makes sense for your team, but remember that whichever approach you use, you will need to iterate on your product.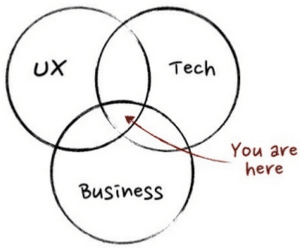 Build it. Test it. Break it. Repeat.
If you learn just one thing from the Entrepreneurship 101 course, you should learn that there is infinite value in applying the lean methodology to your startup's operations. In fact, the Agile process is the method that TWG uses. Chris recommends minimizing how much you build in the early stages of the product development process, and says that if you have to build, you should apply the lean methodology, which recommends that you build quickly, test, measure, iterate and repeat. In building and testing, you can draw insights from A/B testing, big and unstructured data, surveys, customers, usability testing and myriad other avenues.
This is where minimum viable products come in particularly handy. Start with something basic, and allow your team and your customers to break it, pull it apart, critique it and get mad at you. Then fix it and build on that. You'll still be 10 steps ahead of the guy who's been in stealth mode for the last year with no clue about what his customers like and dislike.
Manage your process and communicate
Keep in mind that iterating is part of the process, so build it into your planning. To help keep you on track, build a product roadmap (ideally 18 to 24 months for the short term) and develop some backlog build. A roadmap also gives you something to work toward. Once you have the roadmap ready, programs like Trello can help you manage the development process and the backlog build. As a product manager, you will also need to be a communications expert; clear communication within the team is an important principle in managing particularly using the agile method.
Begin your journey with the business model canvas
While all this sounds exciting and I'm sure you're excited about starting to build your product, it's important to ensure that there is demand for the product you are investing your time and money to build. "If you want to create a successful product, it needs to create value in the marketplace," said Chris. Before you begin, make the time to go through the rudimentary aspects of your business idea using the business model canvas. Working through the business model canvas benefits you even more than it does a potential customer at this stage.
The product development process may seem overwhelming at first, but the more often you do it, the more adept you'll become.
For a more in-depth look at what Chris shared at Entrepreneurship 101, check out the video from his lecture and our related resources.
Join us for the next session in the series on Wednesday, November 12, 2014, with our Meet the Entrepreneurs – Social Innovation panel.
Resources
Want to connect?