This is part four in the MaRS Smart Transportation Market Insights, part of the Connected World Market Insights series.
What will shape the future of transportation in urban cities? Some people think that ride-sharing will help to determine that answer. Ride-sharing, or shared mobility, is defined as an "innovative transportation strategy that enables users to gain short-term access to transportation modes on an as-needed basis." It can include various forms of transportation, such as car-sharing, bike-sharing, carpooling and platform-based ride services (e.g., Uber, Lyft, BlaBlaCar).
Historically, an individual could choose to move around an urban area in a variety of ways. New travel alternatives enabled by new technology and business models have provided individuals with even more choices. The convenience of requesting a ride from your phone, sharing a ride with a co-worker or grabbing a bike outside your home has helped to propel ride-sharing to the forefront of the sharing economy.
PwC predicts that the five main sharing economy sectors, with transportation being one of the largest, will generate global revenues of $335 billion by 2025. This potential revenue will propel it to match revenues generated by the traditional retail sectors. According to Frost & Sullivan, transportation is one of the most promising sectors for investment opportunities.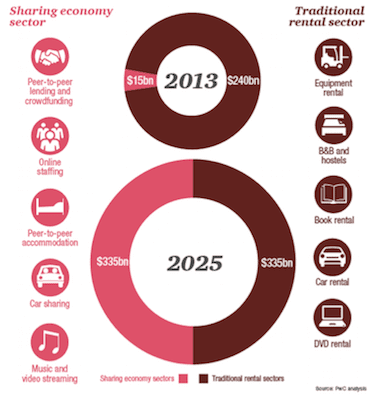 McKinsey&Company predicts that vehicle ownership will move from being the dominant form of mobility to becoming a smaller piece of the transportation pie. This shift will force governments to regulate ride-sharing platforms, such as Uber, so that they can operate fairly in an industry previously monopolized by taxi companies. Cities must accept that ride-sharing is here to stay. Rather than fight ride-sharing, cities should look for ways to integrate new travel options into the current transit system and create a multimodal system. Real Tanguay, Auto Advisor to the Minister of Industry Canada and Minister of Ontario Economic Development, spoke to us about the future of mobility. He stated, "There [are] many different ways of moving people, and that's why we say the future of mobility could be quite different in India than it is in North America. It's a big question, and the answer is not so simple."
Ride-sharing is complex and can be a difficult concept to define. To simplify, companies working in this space can be categorized into two main groups based on their business models. The first group is platform-based ride-sharing: companies that coordinate rides through a platform, such as Uber, Lyft and BlaBlaCar. The second type is inventory-based ride-sharing: companies that own assets, like fleets of cars or bikes, that are shared among users, such as Bike Share Toronto, car2go and Zipcar.
Digitizing mobility solutions with platform-based business models
A digital platform-based business model creates value by connecting individuals or parties. These types of businesses are becoming more common through the evolution of the Internet, and many industries are moving toward platform-based models. Examples of well-known platforms include industry giants eBay, Amazon and Facebook. We're now seeing transportation startups such as Uber, Lyft and BlaBlaCar adopting this business model. According to Forrester, the digital platform companies that collectively make up the sharing economy represent a $100 billion market.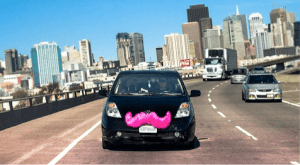 Companies are using platform-based business models to increase productivity and ensure the efficient use of their assets, while minimizing their capital expenditure. In fact, most platform-based businesses don't own the assets that are core to their businesses. This is exemplified through sharing economy companies such as Uber and Airbnb, which are taking advantage of the low personal use rates of cars and extra bedrooms, respectively. UCLA professor Donald Shoup estimated that cars sit unused and parked for 95% of the time.
Platform-based companies have some key advantages over traditional asset-owning businesses. For instance, platforms avoid much of the high upfront capital cost, which minimizes barriers to entry and allows rapid diversification of service offerings. For example, Apple is evolving its music store into a streaming service, while Uber is expanding to include food delivery through UberEats. Platform-based companies are also able to nimbly expand their operations to different geographies, which allows them to establish global brands almost immediately after launch.
Mark Boncheck and Sangeet Paul Choudary wrote an article for The Harvard Business Review that attributed this ability to three transformative technologies: cloud, social and mobile. The authors stated, "The cloud enables a global infrastructure for production, allowing anyone to create content and applications for a global audience. Social networks connect people globally… Mobile allows connection to this global infrastructure anytime, anywhere." Sanjeev Kapoor, Senior Project Manager at Ford Motor Company, stated the following during an interview: "Digital transformation is across all the industries. These are good opportunities for startups. They can put efforts into developing something, say for connected cars, but they can easily customize that technology for other emerging or evolving industries." This increased adaptability and flexibility sets these businesses up for success.
The power of Uber
"To bet against Uber is to bet against the future." – Paul Barter, Co-author of "The Uber of Everything" and Professor at the Schulich School of Business
"In a world where technology can deliver the ride you need within five minutes wherever you are in the world, just imagine all the goods and services you could one day get delivered quickly and safely, with just the single touch of a button." – Travis Kalanick, CEO, Uber
As of March 2016, Uber has expanded to 397 cities; in 2014, it was available in fewer than 100 cities. The company has nearly quadrupled its geographic footprint in two years. Frost & Sullivan predicts that Uber will be present in 500 cities by the end of 2016, with a current estimate of eight million users.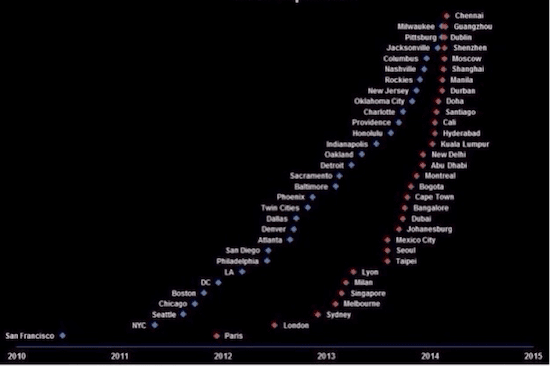 Despite Uber's exponential growth, the company is currently the topic of political debate across the world. Some believe that Uber is unfairly taking market share away from incumbent taxi companies. Ipsos conducted a qualitative research consultation for the City of Toronto, wherein consumers described what they liked and disliked about Uber compared to taxis. While taxis are easier to hail, inconsistent payment methods, vehicle conditions, poor customer service, trust issues (such as the recent debit card scandal) and high prices have driven some customers to choose Uber. Frost & Sullivan identified the main reasons that customers use Uber, which include ease of payment (35%), short waiting time (30%), faster commute (30%) and ease of approach (21%). However, Ipsos found that consumers disliked Uber's unclear insurance policies, surge pricing, the inability to hail an Uber, and uncertainty about data security and safety issues.
As a company with no assets related to its core business, Uber might face a threat that is common to all platform-based services: a new platform that offers a superior service at a lower price. Regardless of Uber's global brand awareness and first mover advantage, it might not be immune to competitive threats. Big names have been wiped out in the past; just as Facebook displaced Myspace, it is possible for larger companies—such as Google and Apple, which both have extremely flexible, adaptable and functional platforms—to eventually move into the ride-sharing space. Sean Parker, former president of Facebook and co-founder of Napster, argued that Myspace's demise was due to its inability to evolve its product over time. He stated, "There was a period of time where if they had just copied Facebook rapidly, they would have been Facebook." It will be important for companies like Uber to continually develop their platforms to adapt to increasing competition.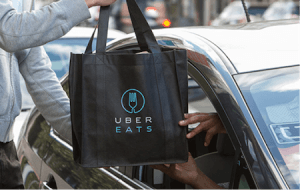 Frost & Sullivan expects Uber to grow at a CAGR of 28.9%, reaching over $42 billion in revenue by 2025. This growth not only derives from geographical expansion, but from the exploration of other services that can evolve from the app. We've already seen Uber enter the food delivery market with UberEats and begin to explore the goods delivery market with UberRUSH. Paul Barter argues, "You think of Uber as a taxi disruptor now, but anything that moves from A to B… they can be in that business. When you want to predict the potential size of the Uber market, you don't just count up all the taxi businesses around the world – you count up anybody who provides services moving anything from A to B. Uber can enter all of those markets."
Digital platform players
Ride-sharing brings trust and safety concerns
Startups and large corporations have shown great support for the ride-sharing movement. The response from consumers on ride-sharing platforms has been vastly positive, as demonstrated by their tremendous global growth. However, there has been some pushback on important issues unique to platform-based services. Trust, in particular, has been one of the most concerning issues for both riders and drivers.
Almost anyone with a driver's license, registered vehicle and insurance can be an Uber driver if they pass the background check. However, most people don't trust just anyone. Pew Research says that 19% of Millennials believe that most people can be trusted, while 31% of GenXers felt the same; interestingly, Boomers were the most trusting at 40%.
Companies such as Uber, Lyft and BlancRide have all diligently tackled trust issues for drivers and passengers by implementing features such as two-way feedback. According to one study, 75% of people trust peer reviews, which have become the foundation for how individuals evaluate holiday destinations, restaurants, consumer goods and even people. This feedback system addresses many inherent trust issues of entering a stranger's car, and is very strict. For instance, if an Uber driver's rating drops below 4.6 out of 5, they are at risk of being deactivated. Companies have implemented other measures to enhance trust, such as social media verification and using Twilio to disguise drivers' phone numbers.
As previously mentioned, 75% of people trust peer reviews, but what about the other 25%? Ride-sharing incidents, including assault, sexual assault, rape and men harassing female drivers, have received a lot of online press. This has caused both riders and drivers to become skeptical of ride-sharing. Female drivers and riders have been on the receiving end of the abuse, bringing greater societal issues into the ride-sharing picture. Some companies, such as BlaBlaCar, have allowed female drivers and passengers to select other females to ease safety concerns. Other companies, such as Uber, have done the opposite by putting out sexist ad campaigns, which were quickly taken down. Regardless, it is clear that the current low number of female drivers (Uber 14%, Lyft 30% and Sidecar 40%) can be attributed to the perceived risk of being a driver. As one female driver recounts, it took over a week for Uber to reply to her complaint of being sexually assaulted by a male passenger, which caused her to quit driving for the company.
Sharing inventory to maximize efficiency
Car-sharing
Paul Barter, co-author of The Uber of Everything and Professor at the Schulich School of Business, describes the sharing model as the "hotel model." In contrast with platform service companies, players in the hotel model own inventory for consumers to share, similar to how a hotel has an inventory of rooms for guests. Car-sharing companies use one of two business models. The one-way model allows drivers to borrow a car and drop it off at a designated parking station in the area. The two-way model requires drivers to pay an hourly rate to use the vehicle and must return it to the same location from which they picked it up.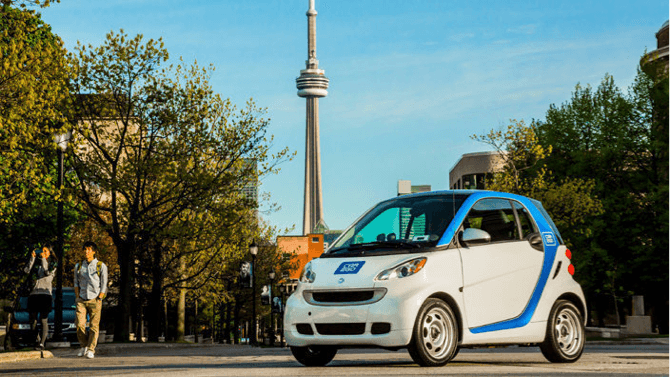 The major players operating in this space in the Greater Toronto Area include Enterprise CarShare (previously AutoShare), car2go and Zipcar. Of these companies, car2go is the only provider that offers one-way usage of its fleet. However, one-way models can encounter regulatory hurdles regarding parking vehicles on the street. Cities are concerned that public street parking might become overcrowded, especially around subway lines and shopping districts. Toronto has been slow to update its regulations to accommodate one-way car-sharing providers. car2go, which has been frustrated by this issue, recently gave its members permission to park on city streets without the city's approval. The company has assured its members that they will not be responsible for parking tickets as long as they follow car2go's parking guidelines.
Users have warmly welcomed car-sharing in Canada. The country has 20 car-sharing services with more than 336,000 members and more than 5,200 vehicles as of January 2015 – a member to vehicle ratio of 64:1. Between January 2014 and January 2015, car-sharing memberships grew by 50% in Canada, while membership rates dropped by 4% in the US.
College students and young professionals constituted nearly 66% of the US car-sharing market's revenue in 2015. Zipcar, for example, currently offers its service at more than 300 schools across the US, while Enterprise CarShare is available at more than 125 colleges and universities. Figure 6 shows the breakdown of American car share users by age group.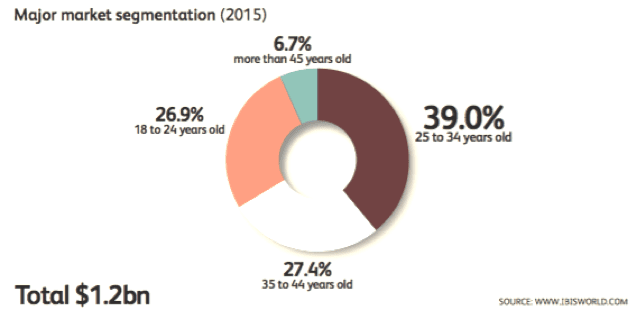 OEM players
Bike-sharing
In 1965, the first bike-sharing program, Witte Fiesten, was established in Amsterdam. You can now find bike-sharing programs in major cities across the world. This growth is evidenced by the dramatic increase in cities adopting such programs. Looking back, in 2007 only 68 cities had bike-sharing programs but in 2015 that number increased to 850. Bike-sharing programs are growing in popularity as they provide access to a new travel option, one-way travel, and an active, enjoyable way to get around. Figure 7 shows the number of shared bikes within countries that have adopted bike-sharing programs. China leads the world by a wide margin. The first bike-sharing program opened in Hangzhou in May 2008. By 2015, there were 162 programs across the country. Today, China is being recognized globally for its commitment to sustainable transportation. The 2016 Sustainable Transport Award was awarded to the city of Yichang for "excellent leadership in sustainable transport reforms in bus rapid transit, transit-oriented development, cycling and parking." The city has improved bicycle conditions by adding 30 kilometres of bike paths as part of a planned 220-kilometre network. A Yichang bike-sharing program is slated to open in early 2016 and will be integrated with the bus rapid transit (BRT) system.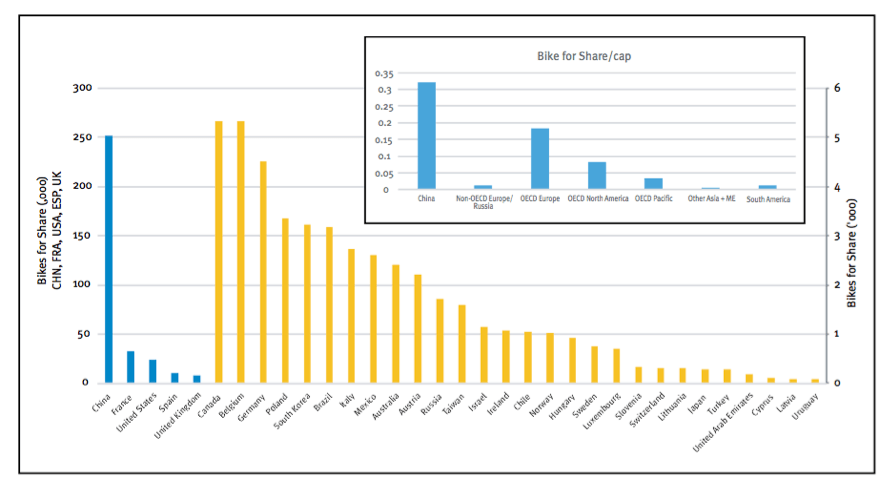 Bike-sharing programs have not been as quickly adopted in North America, as shown in Figure 7. In 2015, the Institute for Transportation and Development Policy (ITDP) reported that bicycle/electric bikes account for about 6% of urban trips worldwide. North American urban cycling accounts for only about 1% of the worldwide total. However, there is evidence that efforts are underway to grow the programs. The Government of Ontario created Metrolinx to improve the coordination and integration of all modes of transportation in the Greater Toronto and Hamilton Area.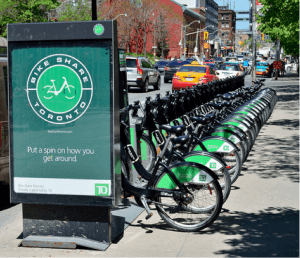 In 2015, it was announced that Metrolinx would invest $4.9 million to double the size of Toronto's bike-sharing program. The primary goal was to make more bikes available at transit stations. Permission is currently being sought to expand the bike share network outside the city limits to connect with other programs across the region. Start the Cycle is a Hamilton-based non-profit organization that provides bike-sharing access to college and university campuses in its area. We spoke with Shiloh Covey about Start the Cycle's efforts to teach sustainable practices while on a student budget. Read the full profile here.
The rapid growth of bike-sharing programs, as well as experimentation with new technologies for bikes and their systems, demonstrate that there will be continued growth for this affordable transportation option. North American cities should emphasize integrating bike-sharing programs with transit systems. This type of forward thinking will place North America on the forefront of sustainable transportation.
Shifting the status quo of consumer behaviour
Platform-based ride-sharing
Over the past few years, ride-sharing companies have grown their market share worldwide, and are having noticeable impacts on other industries. For example, in San Francisco, the taxi industry has suffered a 65% decrease in rides since Uber's arrival. Without a doubt, ride-sharing is changing how consumers interact with the taxi industry, but is it really disruptive? Clayton Christensen, the Harvard Business School professor who invented the term "disruptive technology," argues that companies like Uber are not all that disruptive. Christensen claims that for a company to qualify as disruptive, it must meet one of two criteria: it must either originate in a new market or first target the low-end market. Uber does not meet these criteria. Uber and similar ride-sharing companies have strategically entered an already flourishing taxi industry, and have attracted existing taxi users. As Christensen states, "That's what happens when you develop a better, less expensive solution to a widespread customer need."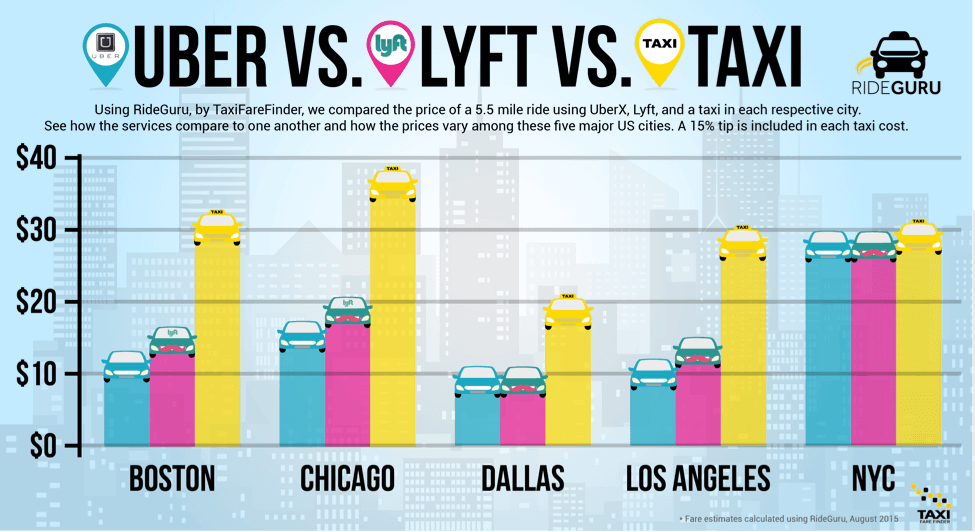 That is not to say that the platform-based business model will not change the status quo. For consumers, it has the potential to provide an all-in-one and on-demand platform at a lower cost, as seen in Figure 9. All transportation needs, such as food delivery, taxi services or courier services, can be streamlined and charged to a credit card using a single platform. While it might not be clear how drastically it will change peoples' livelihoods, customers seem to prefer using ride-sharing platforms over taking traditional taxis.
Whether one classifies Uber as disruptive or not, it has definitely influenced consumer behaviour in the automotive industry. A CNBC survey revealed that 22% of Uber users aged 17 to 64 in the US were delaying the purchase of a car specifically because they had access to the Uber service. This translates to approximately three to four million people holding off on buying cars in an industry that sells about 15 to 20 million units per year.
However, Sanjeev Kapoor, Senior Project Manager at Ford Motor Company, believes that the sharing economy will have a positive impact on the automotive industry. In an interview we conducted with Kapoor, he stated, "While there might be fewer cars on the road, the amount of mileage will increase." Kapoor also sees the ride-sharing economy as an accelerator to innovative automotive technologies: "Connectedness will be very important in a sharing car. Car-sharing initiatives will be a win-win for both automotive companies and the consumers."
Uber has even changed how some car dealerships are marketing themselves. A Toyota dealership in the Dallas area gives Uber drivers hefty discounts to have its dealership's license plate frame on Uber cars. The dealership sells approximately 200 cars per year to Uber drivers, which is about 6% of annual sales. The dealership is losing a significant amount of profit, but as the general manager claims, the loss is made back from valuable advertising on Uber cars.
Asset-based ride-sharing
Car-sharing provides a solution to individuals and households who normally would not have been able to afford either owning a car or using a taxi service as their primary mode of transport. In fact, even for those who can afford a car, if they drive 9,700 kilometres or less per year, it's probably cheaper to share than to own. This translates to about 27 kilometres per day, which is most likely exceeded only by people who commute long distances to work. Most people who live in the city would actually benefit from opting for car-sharing over owning a car.
Not only is car-sharing increasing accessibility, it also creates environmental benefits. According to the Transportation Sustainability Research Center at UC Berkley, for each car-sharing vehicle, there are about nine to 13 fewer cars on the road, as members either sell their cars or postpone a purchase. This allows households to reduce their carbon emissions by 34–41% per year.
Both platform models and inventory-sharing models are applicable on a global scale. The same app can be used whether you are at home or travelling, which provides users with a familiar and convenient experience. It is evident that customers are changing their behaviours to adapt to this new technology. However, some cities are struggling to initiate urban planning in a timely manner to accommodate for shifting consumer preferences.
Urban planning for the future
Ride-sharing is a hot button issue in cities around the world and rightfully so. Planning for how cities will operate today and in the future is an intricate process. Listening to current demands and trends is just as important as predicting future ones. At the rate that technology is currently evolving, it can upset plans that have been years in the making. Governments must consider accounting for future trends during the city planning process to avoid surprises down the road.
Toronto waited for decades to enjoy a convenient direct link between Toronto Pearson International Airport and the downtown core. In the spring of 2012, long-awaited construction began for the Union Pearson Express (UPX). Unfortunately, in the time it took to plan and begin construction, an unanticipated competitor arrived in Toronto. Paul Barter spoke to us about the arrival of the Uber model: "Today from where I live at Yonge and Eglinton, the option I would have to utilize [to get to the airport] would be to go down the subway to Union [Station] and then take the Union Pearson Express. Alternatively, I can get into UberX and get to the airport faster and for a lower price." The UPX opened in June 2015 and by December it averaged 2200 riders a day, well below the daily target of 5000. In a city desperate for improved transit, the UPX was too expensive and inconvenient to make usage worthwhile. This has brought the whole regional transit strategy into question. The Metrolinx Board of Directors met on February 23, 2016 to discuss the UPX Business Strategy. Kathy Haley, President of the UPX, indicated that market conditions changed since launching the UPX, which were not predicted at the onset of the project. She went on to say that changing market conditions were predominantly in relation to ride-sharing services. "When we had done the forecasting, we had not anticipated that new market condition coming into effect." Metrolinx was forced to reduce fares this month in an effort to boost ridership and Haley has resigned from her position as president of UPX.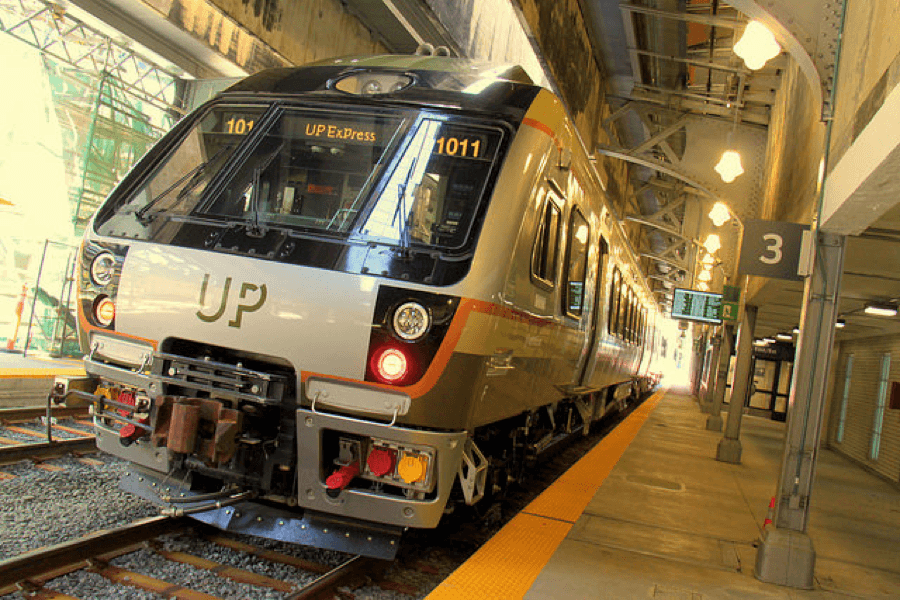 Mobility differs from city to city, so it might be useful to look at the strategies adopted around the world when planning a large-scale transportation project. The National League of Cities (NLC) conducted a content analysis of city and regional transportation planning documents from the 50 most populous US cities, as well as the largest cities in every state – a total of 68 communities. These results uncovered two troubling facts. First, only 6% of plans consider the potential effect of driverless technology and only 3% of plans account for companies like Uber or Lyft, despite the fact that they operate in 60 of the 68 markets. These statistics are alarming. Cars dominate most major cities in North America, which makes change difficult to bring about. However, heavy traffic, long commutes and environmental concerns might help to move public sentiment toward a more sustainable future of transportation.
On the other hand, India has been proactive in addressing urban transportation issues. In 2015, the Government of India launched its Smart Cities Mission to promote cities that provide core infrastructure and give citizens a decent quality of life, a clean and sustainable environment, and application of "smart" solutions. The United Nations projects that India will add 404 million urban dwellers to its cities by 2050, adding pressure to ensure that their infrastructure can support such growth. To address these looming issues, the Smart Cities Mission will distribute $15 billion USD between national and local governments to help cities invest in sustainable infrastructure and growth. The mission will support 100 cities over five years. The first 20 proposals were recently selected. They focus on different areas of improvements including BRT planning and design, street design and car-free Sundays, and improvement of pedestrian facilities.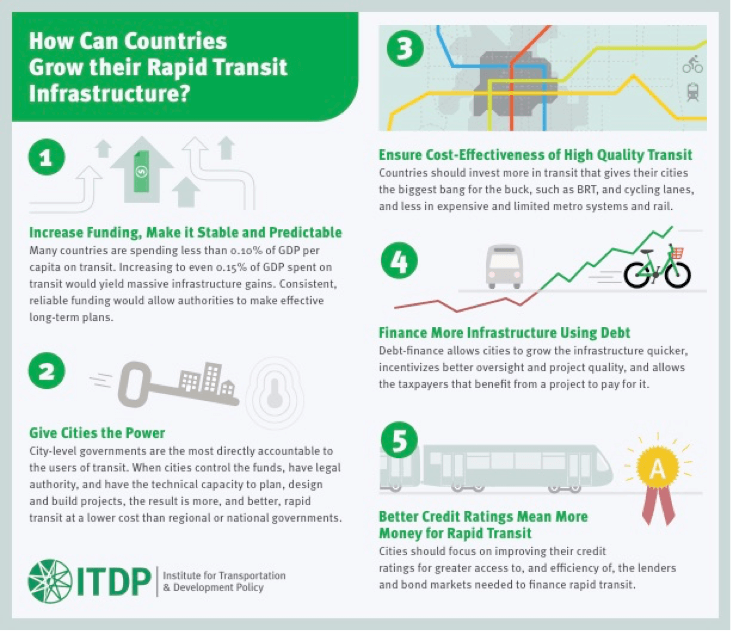 Certain North American cities are beginning to see the value that Uber can provide with the wealth of data it has at its fingertips. Uber recently partnered with the City of Boston to help expand the city's capability to solve problems by leveraging data provided by the ride-sharing platform. The city will use the data to see where Uber rides begin and end. Paul Barter spoke to us about this partnership: "[Boston] can respond to changes in the transportation environment literally overnight." By reviewing the detailed information on passenger travel trips, city planners might be able to better plan infrastructure and recognize future transportation trends before they become a reality. Speaking of future transportation trends, the National League of Cities predicts that, by 2020, transportation network companies will not only provide mobility services, but also delivery and freight, and they will be at the point of considering the use of autonomous vehicles. This makes it clear that cities need to accept new mobility solutions and update their regulations.
Regulators and policy-makers playing catch-up
MaRS Solutions Lab recently released a report on the sharing economy that outlined policy recommendations to help Ontario governments introduce effective regulations. The report identified that, while the sharing economy "is adding value for consumers and offering alternate ways to get around, it has also blurred the lines between personal and commercial activities, effectively challenging the grey zone of regulation." In response, some cities are implementing new regulations and bylaws.
In January 2016, Edmonton became the first Canadian city to vote to legalize Uber (provided the company's drivers obtain legal commercial insurance). The same month, Uber received a taxi brokerage license in Toronto, but UberX continued to operate illegally in the city. In April 2016, Toronto released its regulatory plan to accommodate for ride-sharing. Calgary and Ottawa have also implemented regulations. In December 2015, Austin, Texas, approved an ordinance to the city's code that would require Uber and Lyft drivers to go through mandatory fingerprint requirements. Both companies have now threatened to leave the city if they do not reach an agreeable solution. On the other hand, companies like BlaBlaCar and BlancRide are able to avoid regulatory attention by allowing drivers to only recover costs, which prevents them from turning a profit. Currently, regulations vary by city and can result in unique complex issues for global ride-sharing platforms.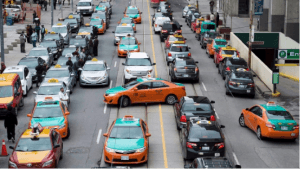 One prominent issue that has been highlighted in Toronto's ride-sharing debate is that of taxi drivers fighting to keep their income safe from the Uber threat. While it is important to protect jobs, it is also important to recognize that professions must evolve and transition with technological advancements. A new system might offer an innovative opportunity for society that could challenge the current incumbents' system. However, two parties make up the incumbents in the traditional taxi industry: drivers and investors.
"We need to have regulations in place that support taxi drivers and Uber drivers on an equal footing," argues Paul Barter, an adjunct professor of technology strategy at the Schulich School of Business. When it comes to the investors, he says: "You don't protect the people who invested in Blockbuster because Netflix did a better job."
The government plays a critical role in helping users and operators to overcome barriers. Through regulation and funding, the government is integral in "guiding and steering the expansion of shared mobility across metropolitan areas." However, the reality is that many governments are unsure of how to properly regulate ride-sharing models.
Last year, the Mowat Centre published a report on policy-making for the sharing economy. The report's authors, Sunil Johal and Noah Zon, wrote that governments' unfamiliarity with sharing economy models has adversely affected their abilities to recognize the potential benefits. These benefits include innovation, economic growth and more efficient networks for urban transportation and logistics.
Governments and their departments developed the current rules and regulations over a period of decades, and most of them pre-date the sharing economy. In the end, businesses are consumed by a mass of regulations. This means that governments cannot keep pace with the rate of technological innovation and are slow to respond to the regulatory needs of new businesses. This can result in transportation-system silos, as various modes of travel are established separately instead of working together.
Ride-sharing and transit systems working together for a multimodal network
Ride-sharing has emerged to provide the public with varied transportation options to fill the gaps in their travel journey. Ride-sharing might solve the "last mile" problem (the distance between a transit station and final destination). ITDP reports that bike-sharing and car share users decide to use ride-sharing when public transit underserves their origin or destination. Navigant Research estimates that the demand for multimodal solutions in urban locations will increase by 20% each year for the next five years, and then level out to 12%. This indicates an opportunity for ride-sharing services and platforms to form partnerships with local governments.
The American Public Transportation Association (APTA) conducted an independent study to examine the relationship between public transportation and ride-sharing systems, including bike-sharing, car-sharing, and platform-based companies like Uber and Lyft. The study found that platform-based companies complement public transit and help to enhance urban mobility. It found that services like Uber and Lyft were most frequently used late at night, especially on the weekends, when public transit services are least available. Public transit agencies are encouraged to engage with ride-sharing services to collaborate and build partnerships. It is noted that "such a system is only possible if public sector entities make a concerted effort to ensure that collaboration with private mobility providers results in services that work for people of all ages, incomes and mobility needs."
Uber and the Metropolitan Atlanta Rapid Transit Authority (MARTA) reached a cooperative agreement to improve their passengers' "last mile" problem. MARTA users can access the Uber app while using the public transit system to help them reach their final destination. Uber has reached a similar partnership with Dallas Area Rapid Transit (DART) to help create a solution for mobility issues within the city. The value added to users is the ease with which they are able to transfer between the two modes of transportation. These types of partnerships keep people moving through urban areas and demonstrate the importance of multimodal transportation initiatives.
Uber has recognized that multimodal transportation provides them with a huge opportunity to expand and build partnerships. They have learned that they do not need to own the trip from point A to point B. Instead, they can be an integral part of the trip. Earlier this year, Uber announced a partnership with transportation technology company TransLoc. By connecting public transit with ride-sharing platforms, users have an alternative to using their private automobiles. If urban areas continue to adopt multimodal transportation, we might see a decrease in the number of households purchasing vehicles. This could be achieved by combining transit options into a seamless system to make travelling around a city easy, equitable and enjoyable.
Looking forward…
As previously evidenced, there is no one solution to solving transportation woes; a multimodal system is necessary. It won't be a bike or a bus that solves the transportation problem. It will be a mixture of multiple transportation modes that allows urban mobility to reach its full potential. This can only be achieved if regulators and policy-makers catch up to fast-paced technological advancements that users have so readily adopted. It's clear that ride-sharing is here to stay and is making an impact on the transportation industry. It is important for entrepreneurs to continue pushing the boundaries in creating new solutions to shape the future of transportation. If one thing needs to be made clear, it is that ride-sharing lives in a very fluid environment and it might not look the same tomorrow as it does today.
Ride-sharing venture profiles
We spoke to three companies about their technologies and go-to-market plans. Read the profiles: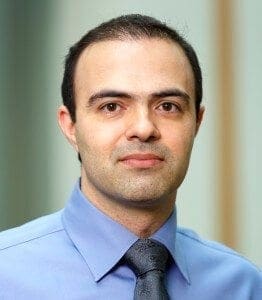 We met with Hamid Akbari at the BlancRide office to discuss their carpooling app, which strives to solve social, environmental and economic problems through the use of mobile platforms, while connecting people using new and emerging technologies.
What industry do you see BlancRide operating in?
We are at the intersection of three industries: transportation, the sharing economy and mobile technology. It's going to be a new space of its own. Taking on the challenge of building something fundamentally different, unique and brand new means that our fight is not with competitors. Our challenge is learning how to build a new space for the general public that is ready for innovative technology, and that is ready to adapt to a different way for transportation.
Could you tell us more about your product and the problem you're trying to solve?
BlancRide is the Social Transportation Network, and as such, we strive to bring users the ease of a seamless commute with the added bonus of making a real-life connection. Typically, we look at people who are travelling from the suburbs to Toronto, a commute that is anywhere from 15 to 75 kilometres. Taking a taxi on a daily basis is not financially feasible for much of the population, and using public transit can be time-consuming, boring and more often than not uncomfortable.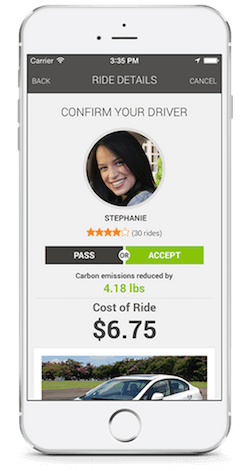 In contrast, there are people who drive this route—people who opt out of taking public transit. However, there is a trade-off when taking your own vehicle: traffic. Along with traffic comes the pain of wasted time, spending money on vehicle upkeep and paying for parking. If you're a Canadian driving to work alone, you're not alone. In fact, 83% of Canadians make their trip into work by driving alone.
BlancRide's goal is to connect these two groups: the ones who need seats with the ones who need seats filled. The app is able to pair drivers and passengers who are travelling along the same route. In this way, people looking for a seamless and convenient ride can get one for a fraction of the cost, while those looking to give someone a ride are able to offset the costs of gas, vehicle upkeep and parking. BlancRide is also able to connect those who share certain interests, so not only do people share the ride but they're able to do so while enjoying a good conversation.
On a larger scale, BlancRide wanted to change the face of transportation and how we get around by taking vehicles off the road. If people were to adopt carpooling as a true means of transportation, we would be able to get around faster while also spending less money on road infrastructure. On an even larger scale, the potential positive impact it could have on our environment would be very significant. To track the impact of carpooling, BlancRide's eco-impact feature is able to tell you just how many pounds of carbon emissions you've offset with each ride. Studies have shown that 600 pounds of carbon emissions saved is the same amount of CO2 emissions a tree will offset in its lifetime. Therefore, any time you reach the 600-pound mark within the app, you're given a virtual tree badge and BlancRide plants a physical tree in Ontario in your name.
Do you find it's difficult to change habits?
Yes, and I believe there are three contributing factors to this. The first is that changing the habits of commuters who have been travelling the same way their whole lives is no easy feat and has been the most challenging aspect of growing our platform. With that being said, timing is on our side. Twenty years ago, it would have been impossible (if not extremely difficult) to incite such a drastic behavioural change. Nowadays, with the constant mobile access we have with our smartphones, it brings a whole other level of convenience in terms of helping you find solutions to everyday problems, such as finding a carpool or sharing rides with your colleagues.
The second aspect of it is psychological. The arrival of other sharing platforms, like Airbnb, helps people adjust to the idea of sharing. They think, "Okay, I can start working with others. I can start sharing my time, my resources, my assets and my slack capacity," so from a psychological perspective, people are more ready to share than they've ever been.
The third part, which is huge, is the trust aspect: it's not easy to trust a stranger. We've been taught from a young age the perils of stranger danger, and that has clearly stayed with us into adulthood. Many people are not comfortable sharing a ride with a stranger. As a result, ride-sharing or carpooling is limited to friends who happen to live close to you, leaving at the same time and going to the same destination. With so many constraints, it's pretty much impossible and highly unlikely to find someone who fits these criteria. To help with breaking initial resistance, we have built the trust aspect into our app. We want to help people to overcome that psychological barrier and help people to feel comfortable sharing a ride with each other.
Do you have a vetting process for your drivers and riders?
We have five mechanisms to establish trust. First, at the end of a trip, both parties rate each other. The community will naturally filter out those with a low rating. Second, we have staff verification. When a person registers, we verify their information. For drivers, we might ask for a photo of their driver's license, insurance and vehicle ownership, as these features are built into the app. If further verification is necessary, we contact the individual to make sure that people using the platform are helping the platform and becoming a part of the community.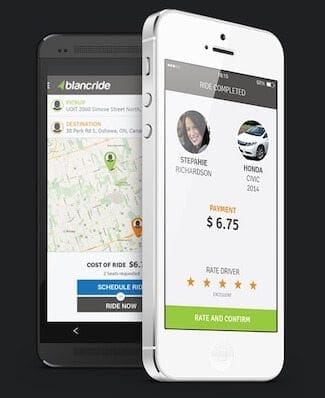 Third, we have GPS to track the ride for safety precautions. Fourth, we integrate with Facebook so that users are able to see common friends and gain trust in whom they're riding with. The final trust mechanism is that users have the final say and choice. We provide you with matches so you can choose whom you want to share a ride with. It is a mutual decision. The app provides you with a chat option so that you can communicate beforehand to confirm that you would share a ride with someone.
Who are your users?
We have two major groups of users. The first group is students who commute to campus or who travel from one city to another city. For example, they might go to school in Waterloo but their friends and family live in Toronto. So at the end of each week they are making a trip between cities. The second group is the professional workforce that has a long daily commute.
We're looking to move up and start building relationships with big organizations that employ thousands and tens of thousands of employees. One issue they're facing is the dissatisfaction of employees due to the location of the workplace and the resulting long commute. We want to offer a customized solution to organizations to help employees experience a more convenient commute to their workplace and connect them with people who work in the same organization. Our goal is to help increase employee engagement, satisfaction and productivity. We also see organizations that have serious problems when it comes to parking infrastructure, to the point where there's no space for employees to park their vehicles. BlancRide can help to solve problems like this with our carpooling solution.
Who would you consider your competitors, and how do you differentiate yourself from them?
In this case, we don't see competitors but potential collaborators. We're all players in transportation, whether it's a cab company, a ride-sharing company like Uber or public transit. We want to work with them all. We offer a unique service in the sense that we target specific needs. If you need a ride to the airport, our platform is not what you need. We're a carpooling company built for regular commuters who need to get from home to work and back.
What would you say has been your biggest challenge to date as a startup and in bringing your product to market?
The biggest initial challenge was convincing people to shift their mindset and try carpooling. To overcome the challenge of early adoption, we targeted a campus to convince students to join. In a few months, 10% of students adopted the app.
We're now challenged with convincing big organizations to support, join and promote the platform. We have limited resources so it's challenging to spread awareness and market BlancRide.
However, we're finding creative ways to overcome these challenges. We're identifying frequent users who benefit from sharing rides on a daily basis.
What are your next steps?
In the next six months, we're going to build relationships with big organizations and onboard them for employee carpooling. We want BlancRide to work flawlessly in Toronto and show the world that a new form of transportation can actually work and be successful. Not only are individuals saving hundreds of dollars each month but there is also the added positive economic and social impact for the city. From there, we would like to replicate this model in 24 major cities in North America.
We spoke with Jason Guanzon from ecoRIDES to discuss their economical and eco-friendly automotive transportation solutions.
Tell us about ecoRIDES.
ecoRIDES is a limousine-style transportation service, currently using the Tesla Model S. Our mission is zero emissions. We are an eccentric, economical and eco-friendly transportation service provider, keeping Conscious Capitalism in mind.
We use a franchise-based business model to grow our fleet, where electric vehicle owners can offer their cars to our sharing service when they are not using them. Our customers can order their ride through our mobile app, and one of our professional drivers will pick them up. We also offer in-app payment, a driver feedback system, and the ability to GPS track and communicate with your driver prior to pickup.
What is your market? Who are your customers?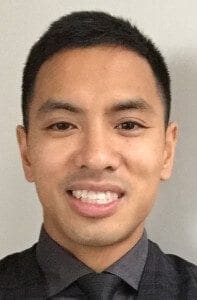 We are in the black-car market and the ride-sharing market. If you look at the ride-sharing market, it is all basically technology companies. We are coming into that market as a transportation carrier first. We want to take the Uber business model one step further and create home-based business programs using only zero emission fleet vehicles.
Our current customers are mainly business executives. We do a lot of airport transit. We're also getting into wine tours and social events.
How do you differentiate from your competition?
We are one of the only companies to use an all-green fleet of vehicles. We want to be a leader in zero emission transportation. We're one of the first in the black-car market to use a mobile application to book a ride. We're also cheaper than regular limo companies. Our price points are more similar to UberX rates.
We have a competitive advantage in safety and customer experience. First, we use Teslas, which are rated the safest vehicles in North America. Combine that with the autopilot feature, we also have the safest drivers in the world since we can eliminate much of the human error attributed to accidents.
We also don't run into the regulatory issues many ride-sharing companies do. All of our vehicles are commercially insured and have local limousine permits. Our drivers also have permits.
There is still some stigma around safety issues with Uber. You don't know who is picking you up. We don't have that problem. We are a referral-based organization in which our clients and drivers are usually within three degrees of separation. We are able to build relationships with our clientele and provide a personalized experience to match their needs.
What are your next steps?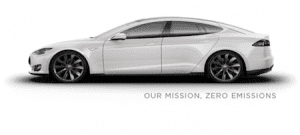 Later this year, we will be branching out into more of a ride-sharing service and reaching more cities across Ontario.
We are planning to expand our fleet with economical electric vehicles as well to cater to a wider audience, and with the Tesla Model X when that is released.
We also want to incorporate a feature into our app that counts your environmental impact by using our green-car services. We think it is important for our customers to visually see the environmental impact they are contributing by switching to an eco-friendly transportation service.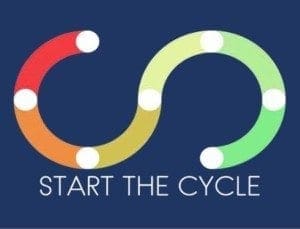 We sat down with Shiloh Covey of Start the Cycle to discuss how her startup will impact the future of transportation.
Tell us about Start the Cycle.
Start the Cycle is a not-for-profit that is bringing a campus bike-share package to colleges and universities in Southern Ontario. Students can go to their library on campus and check out a bike from our service, like they would a book, with their student card. The bikes are locked to racks outside the library, and students can check out the key at the circulation desk. It's free and they can keep the bike for up to 48 hours. As we grow, we are hoping to expand Ontario-wide and nationally.
We're trying to get students to think of bikes as an alternative option for transportation, whether it's commuting, riding to the grocery store or even just exploring the residence. A lot of times, students get stuck in this bubble, especially if they are living in residence – we're trying to encourage students to be more active through cycling. .
Who are your customers?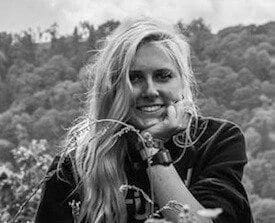 Right now, we're strictly a campus bike-share program, so students [are our customers]. We're currently operating at two libraries at McMaster University and one at Mohawk College, and we will be at the University of Guelph by the fall.
What problems are you trying to solve?
There is a cost barrier to accessing active transportation resources (even though a bike isn't as expensive as a car). Students are short on time too. We're trying to help students increase efficiency while teaching them sustainable practices and doing so on a student's budget.
We find that our model tends to work well on a smaller scale since there are also financial barriers to city-wide bike-share programs. For example, in Hamilton we have SoBi, the city-wide bike-share, which costs the city about $1.6 million. A lot of smaller towns don't have a budget for something like a SoBi bike-share, but libraries are already established in every community. We just go in, partner with libraries and they can run it on a city level as well.
Who are your competitors? How do you differentiate from your competition?
Our biggest competitors are city-wide bike-share programs. We differentiate from them by removing the cost barrier. A membership with SoBi is definitely reasonable… it's $85 a year, but if you are on a super-tight budget, then a free bike is favourable.
Start the Cycle is also convenient for students. Our bikes are located right at the library and they can be checked out with their student cards.
We're actually the first organization in North America to use the idea of a bike library – partnering with libraries to check out bikes.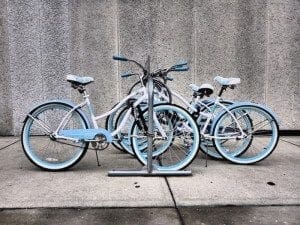 What has been your biggest challenge?
Our biggest struggle has been growing in a sustainable fashion. Too many universities want our service, and as a not-for-profit offering a free service, we don't have enough sponsorship money to bring the program to all these schools as quickly as we would like.
We were initially targeting the youth demographic, kids aged five to fifteen, and partnering with public libraries. We found this a bit tougher since young kids might not know how to ride a bike already. We found more success with post-secondary students since they are a bit older and can generally figure out how to ride a bike if they don't already know. There's also a lot less safety training involved.
What are your next steps?
We're planning to move into two more universities by the end of 2016 to continue promoting sustainable and active lifestyles to students.