Entrepreneurship in Canada is rapidly evolving and the garage startup is quickly becoming a thing of the past.
Gone are the days of the isolated genius, today's entrepreneurs thrive with access to groups of like-minded individuals, mentors and advisors who can facilitate connections to talent, capital and customers. This is the reason we're seeing an explosion of accelerators, incubators as well as the rise of the urban innovation hub. Smart startups and entrepreneurs know that taking advantage of these facilities means their business is more likely to succeed.
Similarly, opportunities to network and learn from the successes, and failures, of others is critical.
That's why The Globe and Mail is hosting The Globe Small Business Summit in Toronto on May 3.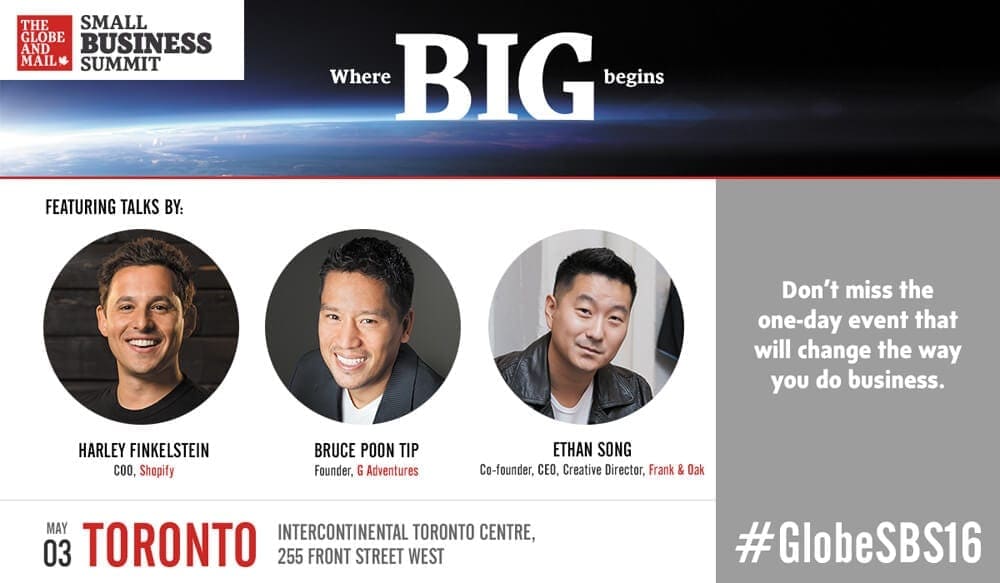 The Globe has assembled many of Canada's brightest entrepreneurs to share their insights including keynote speaker, Harley Finkelstein who started his first company at age 17 and financed his own law degree by selling T-shirts to universities all over the country. Harley now holds the position of Chief Operating Officer at Shopify, which powers over 200,000 online stores and successfully launched an IPO on the NYSE and TSX in 2015. Throughout his career, Finkelstein's strategy for success has been the same: have the best product out there — and hustle to get your message out.
Panelists Eva Wong from fintech lender Borrowell and Ethan Song, Co-founder, CEO and Creative Director from retail clothing brand Frank & Oak will talk about how technology is transforming finance and retail.
You'll also hear success stories from renowned entrepreneurs like Peter Freed of Freed Development and Ryan Smolkin of Smoke's Poutinerie.
The final keynote speaker is successful entrepreneur and Founder of G Adventures, Bruce Poon Tip. Bruce started G Adventures 25 years ago to change the way people viewed their holiday time. Since then, G Adventures has become not only the world's largest adventure travel company, but a global leader in social entrepreneurship.
MaRS members get a special discount rate $247.50+tax (regular $495). Promo Code: MARSDD16
For more information go to globesummits.ca or follow the hashtag #GlobeSBS16.