Social innovation labs (also called design labs and change labs) are an approach to tackling complex societal challenges that require systems change. This new league of labs provides a structured process for approaching messy and complex challenges and a safe and creative environment to experiment and prototype radical innovations. It also enables deep collaboration among multi-disciplinary teams and diverse stakeholders, and takes a user-centred approach as opposed to institution- or organization-centred approaches.
Labs are part of a global movement and Canada is no exception. There are a number of formal labs and organizations using lab-like approaches sprouting up across Canada. Some of these include:
It is worth mentioning that MaRS Solutions Lab is a pioneering partnership with the Government of Ontario, an example of hybridization where the government is co-creating a lab physically established on its borders rather than entirely in-house (where escaping "innovators' dilemmas" is more challenging).
Last Thursday, Joeri van den Steenhoven, director of MaRS Solutions Lab, presented his views on systems change and social innovation labs to an audience of over 300 people. Joeri's broad demographic audience ranged from federal, provincial and municipal public servants to global consultancies to grassroots NGOs and changemakers galore, not to mention citizens who as "passionate amateurs" hold the flame of commitment to a range of vexing social and environmental challenges.
Joeri brings to the lab a decade of experience in the lab world, founding and directing Kennisland (or Knowledge Land), a think-tank turned social innovation lab based in Amsterdam, Netherlands. It is not surprising, then, that his email inbox is filled with requests from across Canada for help implanting lab thinking and lab doing in this thematically diverse and dynamic field of social innovation solutions generation, prototyping and scaling.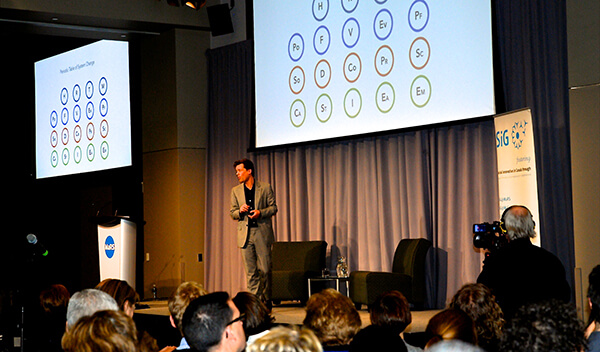 With more and more practitioners, organizations and groups embracing lab-like approaches, Joeri's expertise and reflections are timely. Below are some of the top tips and common lab pitfalls he highlighted in his talk, which include an emphasis on scaling, learning and doing.
1. Scale: Build in the potential to scale solutions up and out

If your lab has systems-tipping ambitions, it's important to ensure that the emerging solutions have the potential to scale. When it comes to social innovation, scale refers to both scaling out—that is, replicating solutions horizontally across locations and geographies while adapting to local context—and scaling up—integrating solutions vertically across hierarchies.
In an article for Ecology and Society, Michele-Lee Moore and Frances Westley explain how the impact of an innovation and its ability to span boundaries are positively correlated: "Complex challenges demand complex solutions. By their very nature, these problems are difficult to define and are often the result of rigid social structures that effectively act as 'traps'… Therefore, when a social innovation crosses scales, the innovation is crossing a boundary that separates organizations, groups, hierarchical levels or social sub-systems, whether they are economic, cultural, legal, political, or otherwise. The more boundaries that the innovation crosses, the wider and possibly deeper the impact, and the more likely the result is more transformative change."
While isolated solutions can and do positively impact communities, a solution that intervenes across vertical and horizontal scales has the potential to fundamentally shift systems and get at the root causes of our really tough societal challenges. (Tim Draimin expands further on this topic in his blog post: "The Social Innovator's Guide to Systems Thinking.")
2. Learn: Enable key stakeholders and users to learn and reflect together

The challenges that labs tackle are not simply black and white—they're layered, messy and daunting. Part of the lab's role is to enable stakeholders to deepen their understanding of the challenge by helping them to see themselves as part of the system and gain perspective into the challenges and tensions felt by other stakeholders. No one group has the answer, but by working together the lab is able to develop holistic, relevant and responsive solutions. Furthermore, involving stakeholders from the get-go builds champions that enable the solutions to reach scale.
3. Do: Push through the failure, sweat and resistance of implementation.

Traditional think-tanks stop at the brainstorming. Labs must take the next steps by trying out their recommendations and adapting them based on the realities on the ground, by navigating bureaucracies and building networks, partnerships and champions, and by doing the hard work of figuring out how to implement and scale. Labs act as a vehicle for change, but the road to systems change is long and winding.
Want to learn more about labs?
For more about the MaRS Solutions Lab, including the challenges that the lab is currently tackling (the future of food, the future of health, the future of government and the future of work), visit their website here.