Note: This is the first post in the Talent Thursdays series — weekly profiles of some of the top startups in Toronto on the hunt for new talent. Want to join a great team? Advance your career? Do important work? Read on!
---
Who knew your home thermostat could be such a know-it-all? Toronto startup ecobee has developed a home thermostat that not only helps you keep cozy (or cool) while cutting energy costs, but also plays songs, reads the news or places grocery orders for you. And you don't even have to lift a finger.
Just say the word
Ecobee's newest thermostat connects to Amazon's Alexa Voice Service over wi-fi. Translation: you can turn up the heat and order dinner without getting up off the couch.
Founded in 2007, ecobee's mission is to make homes smarter and more energy efficient. Just how energy efficient? At the company's quarterly all-hands meeting, CEO Stuart Lombard said in one quarter the company had saved its customers (and the planet) about as much energy as that consumed by a city the size of Sacramento.
Does your toaster barter for cheaper electricity? It will soon.
In tomorrow's smart home, appliances will get starring roles rather than bit parts. All devices will connect to the web and to each other, which means they'll be doing much more than toasting bagels and making ice. Your washing machine will text you when the load is done. Your toaster could collaborate with the refrigerator to hold an auction looking for the cheapest electricity. Maybe your kitchen appliances will discuss Game of Thrones.
Companies such as Google, Amazon, Apple and Microsoft are working hard to be the backbone of these new home networks.
Slick downtown digs… times two
Ecobee's downtown office is right in the heart of downtown Toronto, on University Avenue a few strides south of all the hipness of Queen St. Because it is aggressively hiring, the company is soon opening a second office on Queen's Quay.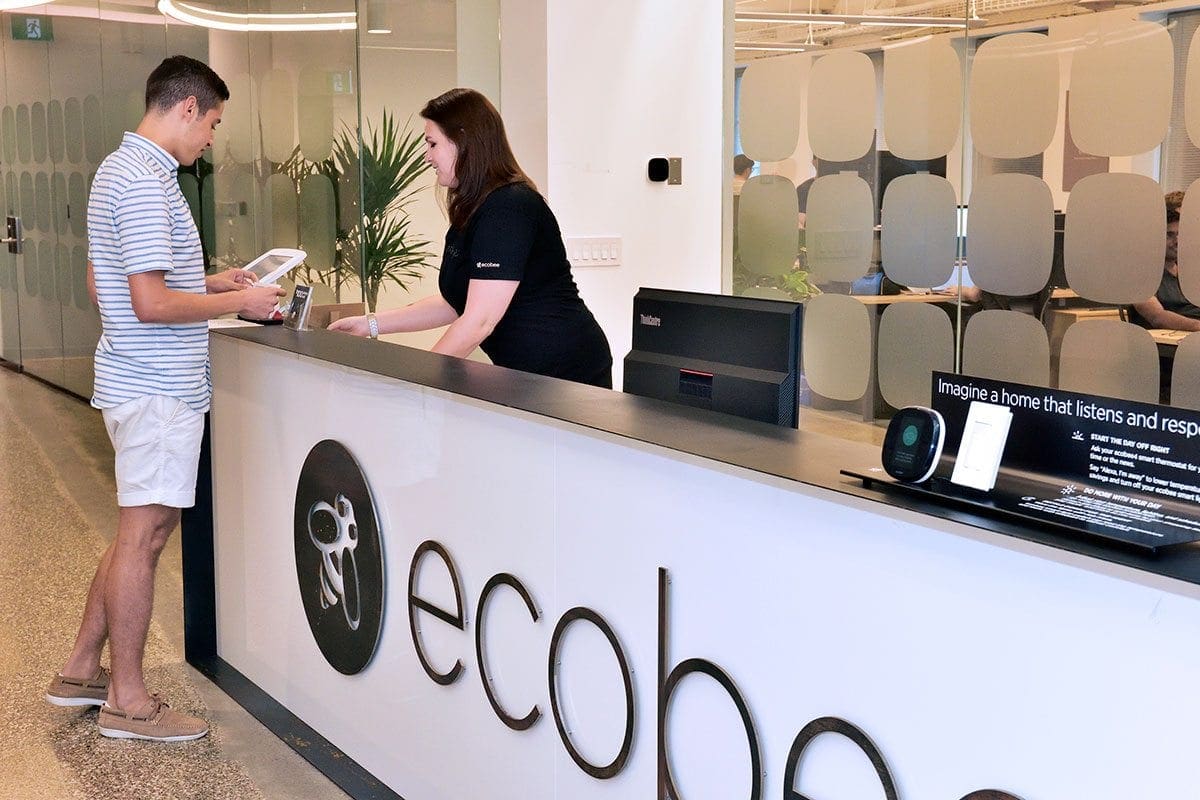 Coders rub shoulders with hardware techs
Part software, part hardware, the ecobee thermostat is built by staff who wear a variety of hats. Some coders, some builders.
Meet Dennis and Natalie, two ecopeeps
Lead User Researcher Dennis Lagman and Web Development Manager Natalie Girard are totally pumped that their employer is bettering the environment. "Waste bothers me," says Natalie. "Here, I'm contributing my developer skills to help users reduce energy waste, which is great."
Cash rewards for growing the hive
Ecobee offers a $2,000 referral bonus to employees who help the company find a new worker.
And more cash for growing your brain
Let's Be Great is also the name of the company's education program. Employees are given $1,500 each year to use toward conferences or classes or buying books. Natalie used it for leadership training before becoming a manager.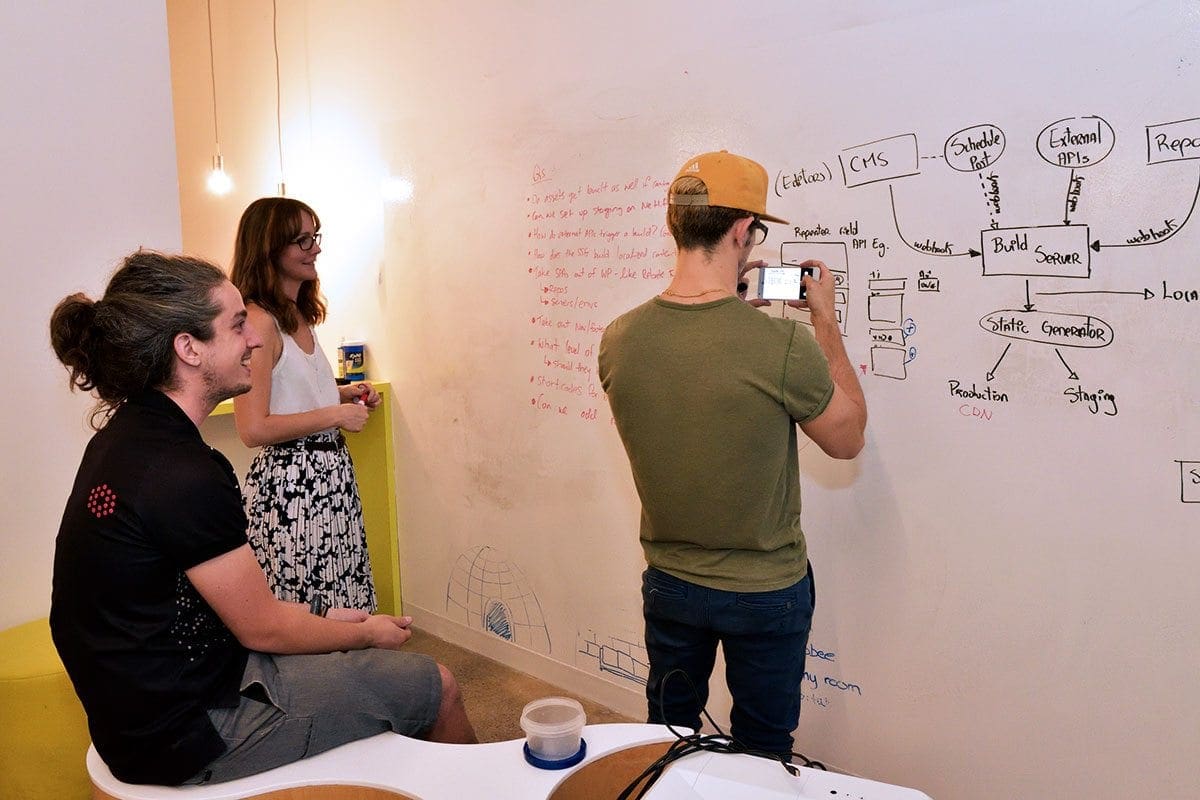 Dennis loves that the company is always open to new ideas. During weekly demo days anyone can demo what they're working on to the whole company, bringing visibility to everything happening across the organization.
Best thing about the company: the people
Dennis says the best thing about working at ecobee is the "culture, collaborative spirit, and the passion that everyone brings to their job, which is felt throughout the office."
Natalie agrees. "It's the people. They make this company a great place to work."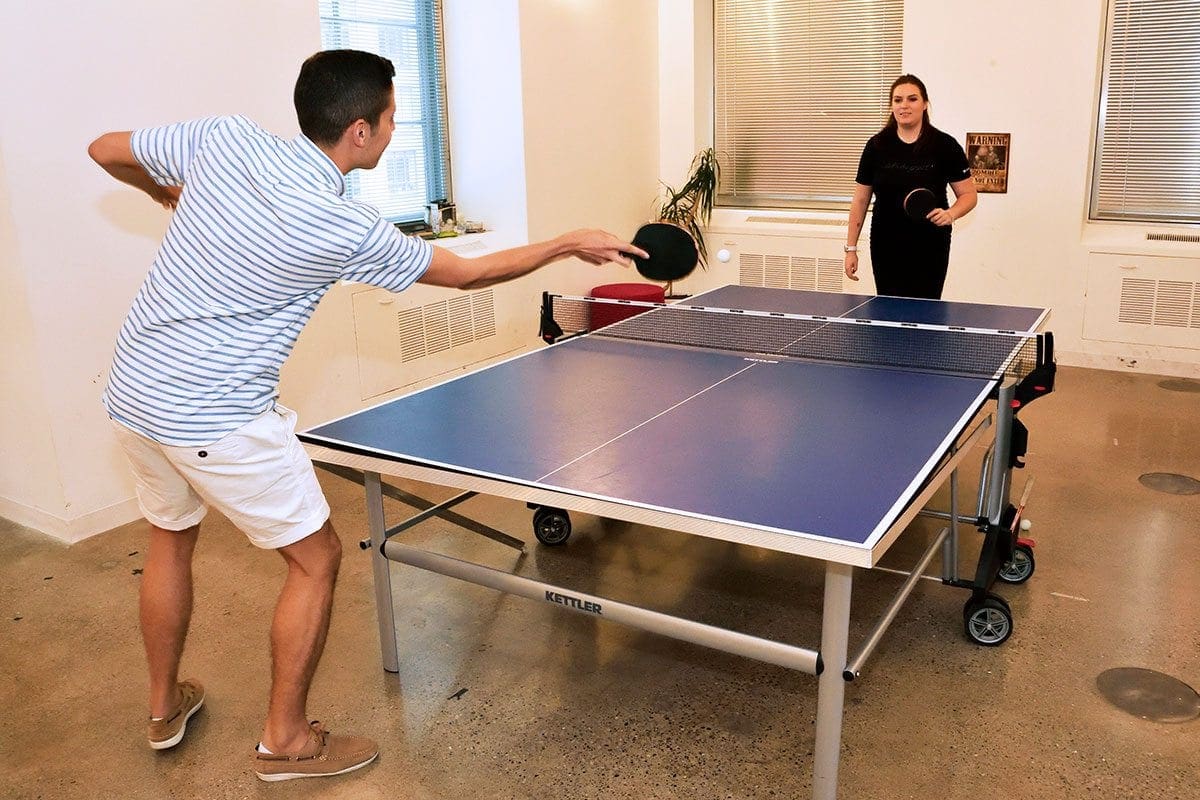 Asked to describe the work culture in three words, Dennis says "open, fun and involved."
Natalie's take: "Let's be great." All employees want to be the best person possible, and make the best products with quality code, she says. "So, I think that really sums it up – let's be great."
What about ping pong? Axe throwing? Check and check.
Ecobee employees like to have fun, whether pitted against each other in intense ping pong sessions or off-site axe-throwing events.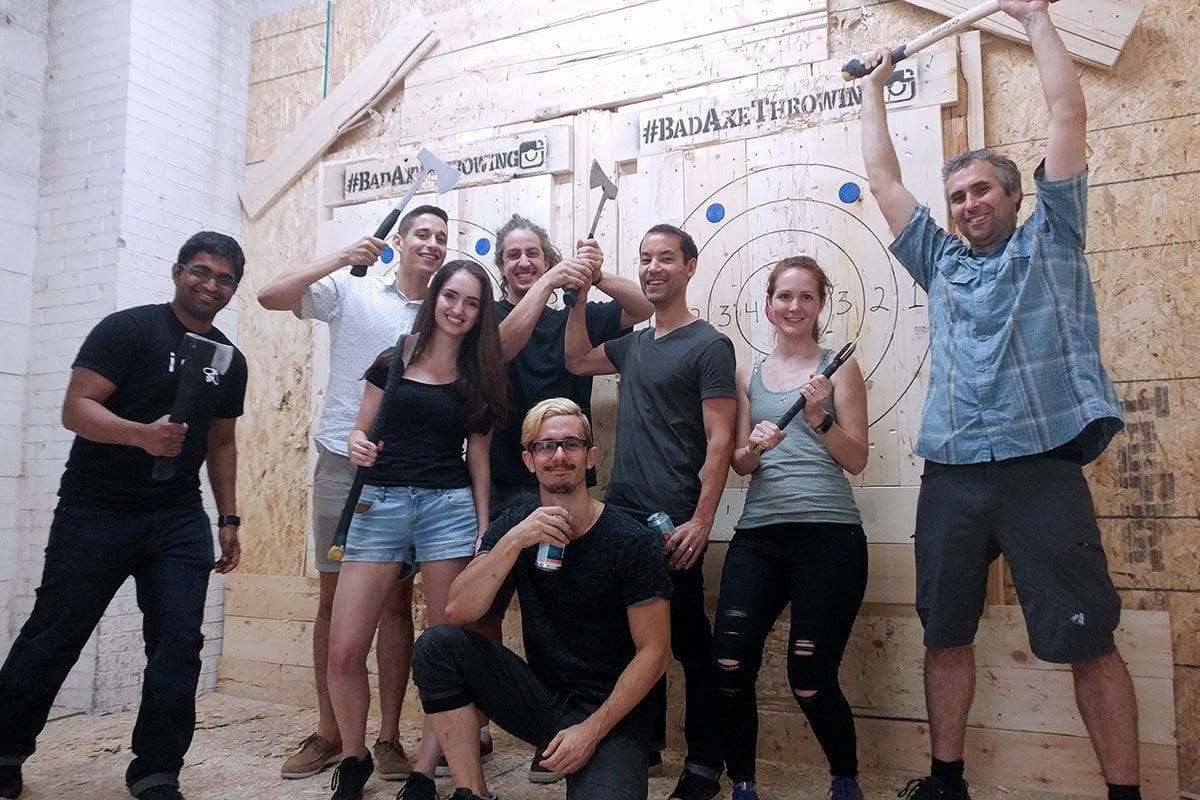 Like food? There's a Slack channel for that.
Employees have all kinds of other interests too, from video games and food to kayaking and playing soccer. "If you have a passion for something, you essentially create a channel on Slack to connect with people who have the same interests," says Dennis.
Advice for applicants: Check your ego at the door.
"We are a very collaborative and accepting organization," says Dennis, "and everyone can contribute to the overall success regardless of their skillsets or responsibilities and roles. Anyone who joins the company needs to be open and flexible."
Natalie says her biggest advice is to be honest about your skills. "We value honesty here specifically, so if you're very open and honest about where you need improvement, we will value that a lot more."
And be ready to grow your career. There is no shortage of career growth opportunities, say Dennis. "We're quickly growing and because of this, keeping up with the pace as well as with the growth of the company requires people that have a proactive approach to their own learning."
Ready to apply?
Get the latest startup jobs delivered to your inbox with the MaRS Startup Careers newsletter.
Work at a startup