Last year the True North conference sparked a conversation about tech's role in making the world a better place for everyone. This year, we're continuing the conversation at True North 2019, taking place on June 19-20 in Waterloo Region. Throughout two days and three packed content tracks, more than 70 global speakers will offer their insights.
While Waterloo Region is only a 100-kilometere drive from downtown Toronto, the 401 can sometimes make it seem… further. So why make the trip? Here's what some Torontonians had to say about why they're returning this year.
Great content tracks and speakers
Valkerie founder and CEO Sarah Stockdale is most excited hear from Kara Swisher. "I've followed her career and I love how she speaks the truth about tech in a voice that doesn't waver. We need more of her clear-eyed skepticism and honesty without buzzwords," said Stockdale.
Marsha Druker, founder and director of Fuckup Nights Toronto, is most excited about the Living Digital track, which looks at the way technology is altering every aspect of our lives: our homes, commute, work, health, and our relationships with each other and the planet. "I'm really looking forward to hearing Sir Tim Berners-Lee, inventor of the World Wide Web, share his thoughts on the future of the Internet and the impact on privacy and mental health."
Making 'tech for good' a reality
Other attendees are interested in the Building Bridges, Not Walls track, which examines how tech can better connect people, communities and countries so they can thrive in the digital age. "To me, 'tech for good' means seeing technology through the lens of humanity," said Avery Swartz, founder of Camp Tech. "Being honest about both the potential and limitations of what we build, who builds it, who we're building for and how it will be used."
Building diversity and inclusion into our companies is also key – and there's a need for it to be more than just lip service. "'Tech for good' means that we include people of all backgrounds and genders in building the products that will shape their future," added Sarah. "It means we care above and beyond platitudes and 'community standards,' and build for a better humanity, not just a lucrative acquisition."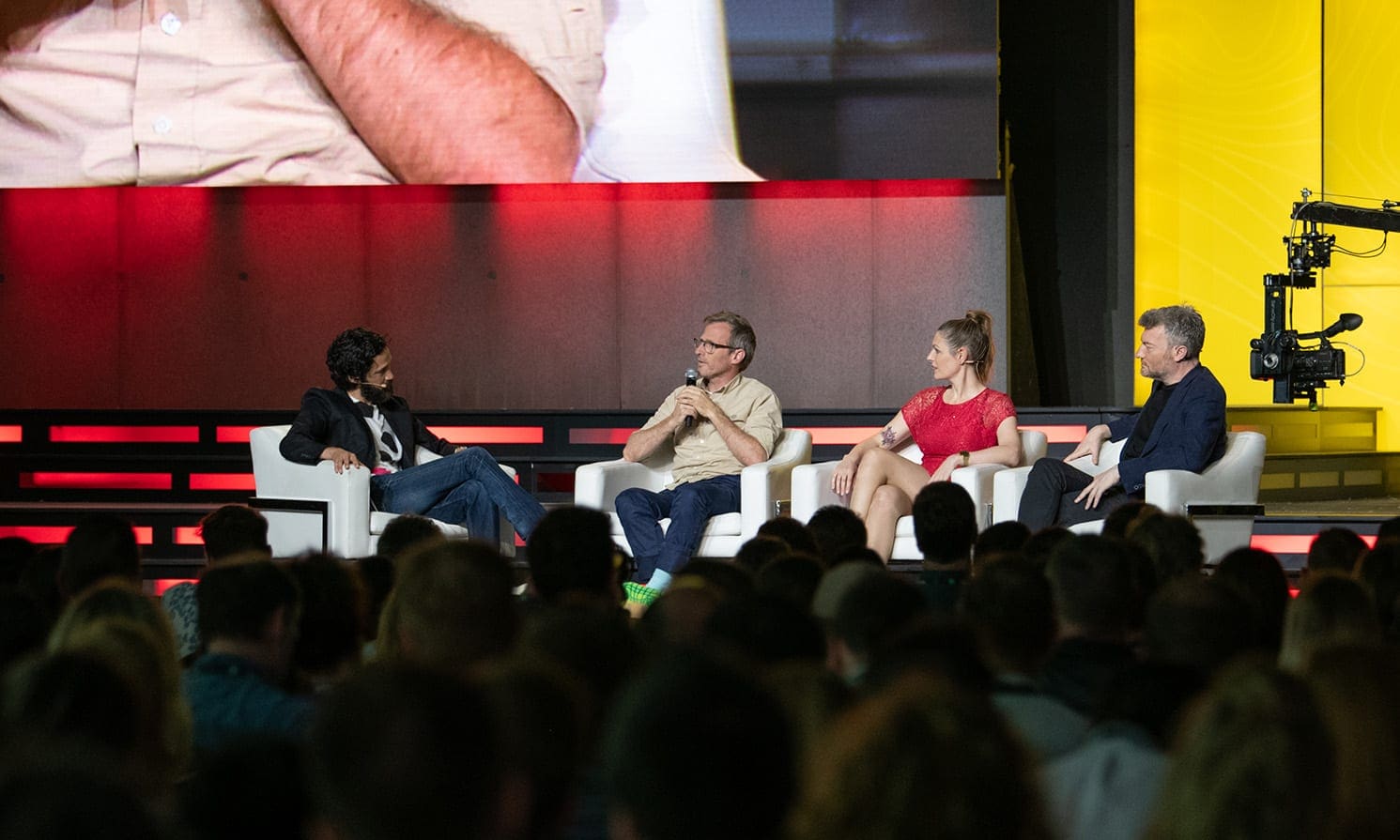 More than a conference, it's a community
"Waterloo is an awesome city!" said Sarah [Ed. note: We did not bribe her]. "I went to school there, and I love coming back to visit. It's a great balance of talent and community, and the perfect place to host a conference like this."
Marsha also says she's "blown away" by the sense of community in the region. "The startup landscape has something for everyone: new and established companies with a local and international workforce."
"This sounds kind of obvious," added Avery, "but Waterloo Region is its own place, with its own culture. It's not an extension of Toronto. True North is a great opportunity to spend a few days in the area, getting to know what's different."
Jam-packed days, fun-filled nights
The conference doesn't end at 5:00 p.m., either. Stay overnight and take to the streets to check out some of the more than 50 events happening during the True North Festival – including concerts with Great Lake Swimmers and DJ Frank Walker, pub crawls, outdoor yoga and interactive art displays.
True North 2019 takes place on June 19-20, 2019 at LOT42. Get your tickets today!